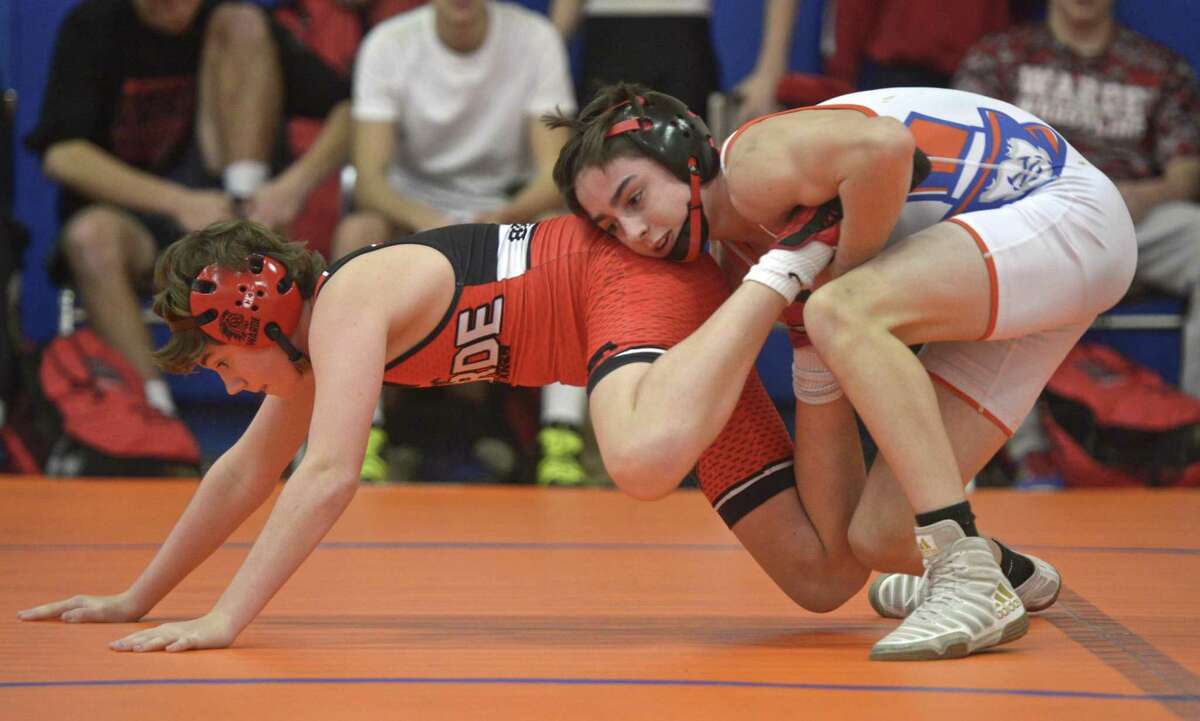 Warde claimed the first big title of the state season by winning the Guilford Invitational, which featured a pool of talented grapplers.
The Mustangs — who also wrestled tough in a 45-24 loss to Danbury this week — got first-places from Keenan Yu (120), Will Ebert (160), Griffin Galatti (182) and Alec Nardone (220). Warde scored 239 points as a team.
Warde is coming off a season that ended with its first runner-up finish at the State Open in program history. Underclassmen have been thrust into key roles this year, including freshmen Connor Breheny and Ebert, and sophomore Dylan Cruvinel.
Joe Gjinaj is a serious contender to win the 195-pound title, having reached the State Open final last year. Noah Zuckerman was fourth in Class LL at 120 a year ago while a strong junior class led by Gallati, Nardone, Hunter Rasmussen and Cole Shaughnessy forms a strong squad.
"I feel we'll be in a good place when the time comes at the end of the season," Warde coach Jason Shaughnessy said. "We're a kind of young team with some bumps and bruises; I'm looking over the course of the season to get everyone healthy and hopefully put out as a strong a 14 as I can."
STREAK CONTINUES
Bristol Eastern has won 38 straight meets dating back to 2015-16, but its season opener was one of the closest calls. The Lancers met Southington to begin the season Dec. 12 and the talented programs went back-and-forth in a tight match.
Eastern trailed 34-33 heading into the final match, but fortunately for the Lancers they had Trinidad Gonzalez on deck. Gonzalez — a finalist at 195 last State Open and the defending Class L champion — scored a pin to give Eastern the 39-34 win over one of its rivals.
The Lancers — who host a meet his weekend — have won the last two Class L championships and finished in a three-way tie with Warde and Killingly for second at the State Open. Eastern is also coming off a win at the McCormick Invitational in Berlin, a tournament that saw it claim seven individual titles.
Gonzalez and Justin Marshall lead Eastern, which is integrating eight new starters into the lineup. It's more reloading than rebuilding, though, as Eastern's new grapplers have experience outside the varsity realm.
"The youth club in town has been critical for that," Lancers coach Bryant Lishness said. "We're getting guys where you don't have to start at square one; … it allows you to move quicker with things. Most of the guys in the lineup have wrestled varsity-level competition and have been chomping at the bit for their chance."
Junior Trent Thompson earned All-American status by placing seventh at a national championship in Fargo, North Dakota and will immediately be one of the favorites to take down the 106 title. Sophomore Tom Nichols and senior Carson Sassu will also be key pieces.
"I don't know how many specific goals we have with this group," Lishness said. "We want to take it a day at a time, getting better every single day and keeping everything in order. We broke it down this way and not letting them get ahead of themselves because I think they can be good when it comes the end of the season."
Southington bounced back from the opening-night loss too win the Lancer invite in Waterford.
TAMING THE BEAST
Danbury, Xavier and New Canaan will send wrestlers to the Beast of the East tournament, a mammoth gathering between private and public schools this weekend at the University of Delaware. The entire Hatters team will attend, giving wrestlers both experienced and not the chance to enjoy the competition.
"I can't wait," Danbury coach Ricky Shook said. "It's not for a team title or anything, we're wrestling against all private schools. It will be fun to get away from Connecticut. A lot of the guys will be done early, but the upper echelon guys will be tested. It will be good for the younger guys who have never been there to experience it."
The Rams dynamic duo of Tyler Sung and Justin Mastroianni scored wins this week against Staples and will head into the Beast hoping to making deep runs. Both reached the semifinals at the New England championships last winter.
Xavier placed second at the Guilford Invitational, scoring 218 to finish 21 points behind the Mustangs. Mike Rapuano (113), Grant Barber (138), James Lunt (145) and Dylan Sousa (170) won individual titles there. Last season graduated senior Ryan DeVivo (now at Johnson & Wales) reached the quarterfinals of the Beast.
The competition will prepare the Hatters well for their bigger goals down the road. Danbury won the New England title in 2017 and finished third in 2018.
MEETS TO WATCH
Beast of the East, Dec. 22-23, University of Delaware: Several locals have a chance of making deep runs against some of the top performers in the country.
Enfield Duals, Dec. 22 at Enfield: ECC champion Killingly placed second to Southington at the Lancer Invitational last week and leads a host of schools heading to the northern part of the state.
Frank Chaves tournament, Dec. 22 at Simsbury: A crowded field of 18 squads will visit Simsbury for a holiday tournament.