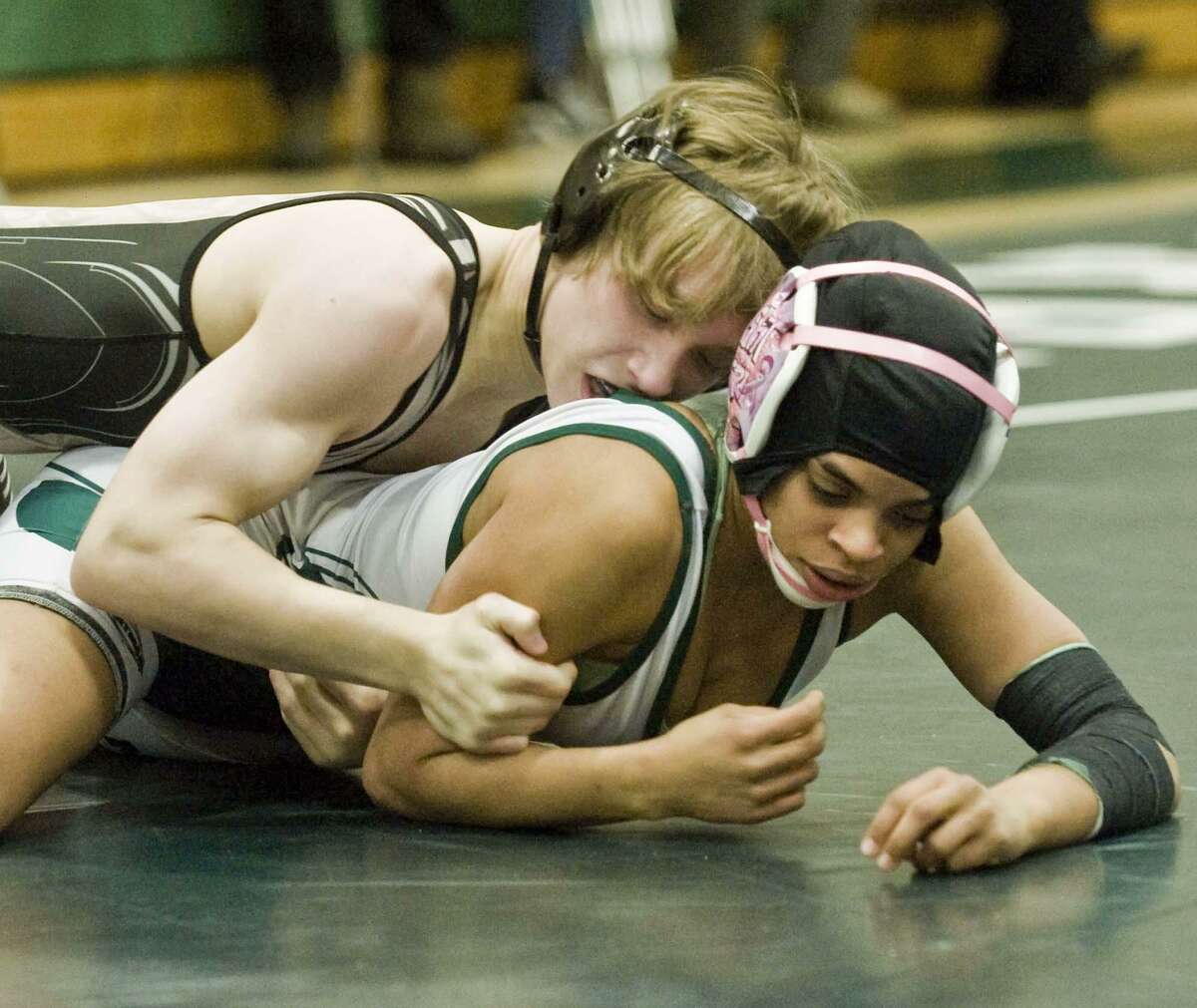 NEW MILFORD — No team in the South-West Conference could beat the New Milford High School wrestling team during the regular season — and none even came close at the SWC championships on Saturday.
The Green Wave placed wrestlers in the top four in 13 out of 14 weight classes, put 10 in the finals and captured seven individual titles to claim its third consecutive conference crown and its 11th in the last 12 years. New Milford scored 249.5 points, while Barlow placed second with 141, and Pomperaug finished third with 106.
"This is a special group for me," said New Milford coach Chris Piel, who had coached many of his current wrestlers when they were youngsters as a coach with the New Milford Youth Wrestling program. "It's awesome to see them finish off like they are."
New Milford senior 132-pounder Colin Lindner became only the sixth wrestler in the 23-year history of the tournament to win four SWC titles.
"With all the work I've put in, it's nice to see it pay off," Lindner said. "It feels good."
Fellow seniors Brandon Leonard (120), Mel Ortiz (126) and Tyler Schultz (138) all won their third straight SWC titles, while Luke Schell (113), Kyle Fabich (182) and Julian Reza (195) all won their first.
"I'm really proud of everybody here," Leonard said. Everybody wrestled well, and everybody left their heart on the mat, and everybody knew that, for all the seniors we have, this would be the last time we'd be wrestling at the high school. We wanted to go out with a win."
Other wrestlers who won titles were Josh Brault (106), Ben Coppock (152) and Carson LiCastri (170) of Barlow, Curtis Fedorko (145) of Masuk, Tim Cocchiola (160) of Pomperaug, Nick Cote (220) of Bethel and Sergio Ferreira (285) of Stratford.
Fedorko and Ortiz were named co-Most Outstanding Wrestlers, an award Ortiz won for the third straight year. Ortiz was also honored with the Outstanding Career Award.
"I still have some things I need to work on that I saw in the match I just wrestled," Ortiz said. "I'm really happy to have my team here all doing well. That's the best part."
New Milford junior Joanne Ortiz, Mel's sister, placed second at 106, making her the first female finalist in SWC tournament history.
"I'm proud of her," the elder Ortiz said. "She has things to work on, everyone does, but it was a good day."
Also for the Wave, Vincent Rago (145) and Mike Haggerty (220) both took runner-up honors, Alex Richardson (170) placed third, and Richie Morrell (152) and Jacob Colley (160) both placed fourth. New Milford didn't enter a wrestler in the 285-pound division.
New Milford has won the SWC title 15 times in the 23-year history of the league. The Wave had previously won five titles in the old Western Connecticut Conference, the SWC's predecessor.
EMERGING POWER
Barlow took home runner-up honors from the SWC tournament for the first time ever. In addition to their three champions, the Falcons claimed five other medals, with Charlie Prather (113) taking second, Ben El-Wardany (220) and Ben Bai (285) finishing third, and Alex Klein Wassink, Barlow (145) and Shayne Ortiz (182) placing fourth.
"We've been slowly trying to get more and more kids, especially from the youth ranks to come up," said Barlow coach Philip LiCastri, who is in his seventh season at the help of the Falcons, the first six of which were spent as a co-op team. "We had two freshmen (Brault and Prather) come out and get into the finals, and that's the first time that's happened since I've been coaching."
Earlier this year, Coppock had become the third wrestler in Barlow history to reach 100 career wins, joining 2016 graduate Emmett LiCastri — Philip's son and Carson's older brother — and 2003 graduate Justin Unger.
"He's been a great captain and a great leader for us," the coach said of Coppock. "He's really been an inspiration to the rest of the team."
NOTEWORTHY
Fedorko won a 3-1 decision in the 145-pound final after trailing 1-0 entering the third period to New Milford's Rago. Fedorko started the third period on defense, escaped with 57 seconds remaining to tie the score, then scored the go-ahead takedown with 47 seconds on the clock.
His brother, Michael, was a two-time SWC finalist — at 113 in 2016 and at 120 last year — but never won a title. He was in attendance to see his younger brother win on Saturday.
"It feels like no other. I've never felt this great in my life," said the younger Fedorko, who brought the Panthers their first SWC individual title since Eric Tucker won the 220-pound class in 2012 on his way to the Class L title and State Open runner-up honors. "My brother came home from college just for this. He's my number one supporter."
Stratford's Sergio Ferreira successfully defended his 285-pound title, and he worked overtime to do it against Newtown's Joe Zeller. The score in their match was tied at 3 through regulation and the first two overtime periods. Ferreira started the third overtime period on defense and escaped with eight seconds remaining to win, 4-3.
"I've worked hard for this and never stopped," Ferreira said. "He was a tough opponent."
Bethel's Cote won the 220-pound title after placing second at 220 each of the last two years and fourth at 195 as a freshman. Cote's win brought the Wildcats their first individual title since Brendan MacIntyre won the 182-pound crown in 2015.
2018 SWC WRESTLING CHAMPIONSHIPS
Saturday, New Milford High School
Team scores: 1. New Milford 249.5; 2. Barlow 141; 3. Pomperaug 106; 4. Newtown 104; 5. Bethel 78; 6. Masuk 65; 7. Stratford 54; 8. Brookfield 51; 9. New Fairfield 50; 10. Notre Dame-Fairfield 47; 11. Weston 31; Bunnell 30.5; 13. Immaculate 16.
106: Championship: Josh Brault, Barlow pinned Joanne Ortiz, New Milford 2:48; Consolation: Kendra Ryan, Pomperaug pinned Drake Nguyen, Brookfield 2:46.
113: Championship: Luke Schell, New Milford won by injury default over Charlie Prather, Barlow; Consolation: Ashton Capichiano, New Fairfield dec. David Jutcawicz, Pomperaug 7-0.
120: Championship: Brandon Leonard, New Milford dec. Hunter Chin, New Fairfield 7-1; Consolation: Mike Amorando, Bunnell pinned Tanner Mitchell, Stratford 1:50.
126: Championship: Mel Ortiz, New Milford major dec. Aaron Occhipinti, Newtown 9-1; Consolation: Devin Anderson, New Fairfield dec. Louis Stabile, Brookfield 5-3.
132: Championship: Colin Lindner, New Milford pinned Dan Germain, Pomperaug 5:32; Consolation: Nik Accousti, Newtown major dec. Breon Phifer, Weston 10-0.
138: Championship: Tyler Schultz, New Milford pinned Gabriel Ortiz, Immaculate 2:16; Consolation: Julian DeMatteo, Bunnell dec. Steven Leuci, Newtown 5-2.
145: Championship: Curtis Fedorko, Masuk dec. Vincent Rago, New Milford 3-1; Consolation: Eamon Toland Matos, Bethel, dec. Alex Klein Wassink, Barlow 3-2.
152: Championship: Ben Coppock, Barlow dec. Nick Marchak, Bethel 6-4; Consolation: Jason Lobdell, Masuk dec. Richie Morrell, New Milford 3-0.
160: Championship: Tim Cocchiola, Pomperaug dec. Tavon Simpson, Notre Dame 9-5; Consolation: Max Khoshabo, Bethel pinned Jacob Colley, New Milford 2:06.
170: Championship: Carson LiCastri, Barlow pinned Rodolfo Mathews, Masuk 3:55; Consolation: Alex Richardson, New Milford pinned Steven Voumazos, Newtown, 4:26.
182: Championship: Kyle Fabich, New Milford pinned Mike Reilly, Pomperaug 3:08; Consolation: Doug Carreiro, Newtown pinned Shayne Ortiz, Barlow 3:43.
195: Championship: Julian Reza, New Milford dec. Dan Geriak, Notre Dame 11-8; Consolation: Adam Frame, Brookfield dec. Emmanual Sianville, Stratford 9-7, OT.
220: Championship: Nick Cote, Bethel dec. Mike Haggerty, New Milford 8-2; Consolation: Ben El-Wardany, Barlow pinned Omar Yunes, Newtown 1:16.
285: Championship: Sergio Ferreira, Stratford dec. Joe Zeller, Newtown 4-3, OT; Consolation: Ben Bai, Barlow pinned Anthony Martinez, Weston 2:25.
Most Outstanding Wrestlers: Mel Ortiz, New Milford; Curtis Fedorko, Masuk.
Outstanding Career: Mel Ortiz, New Milford.