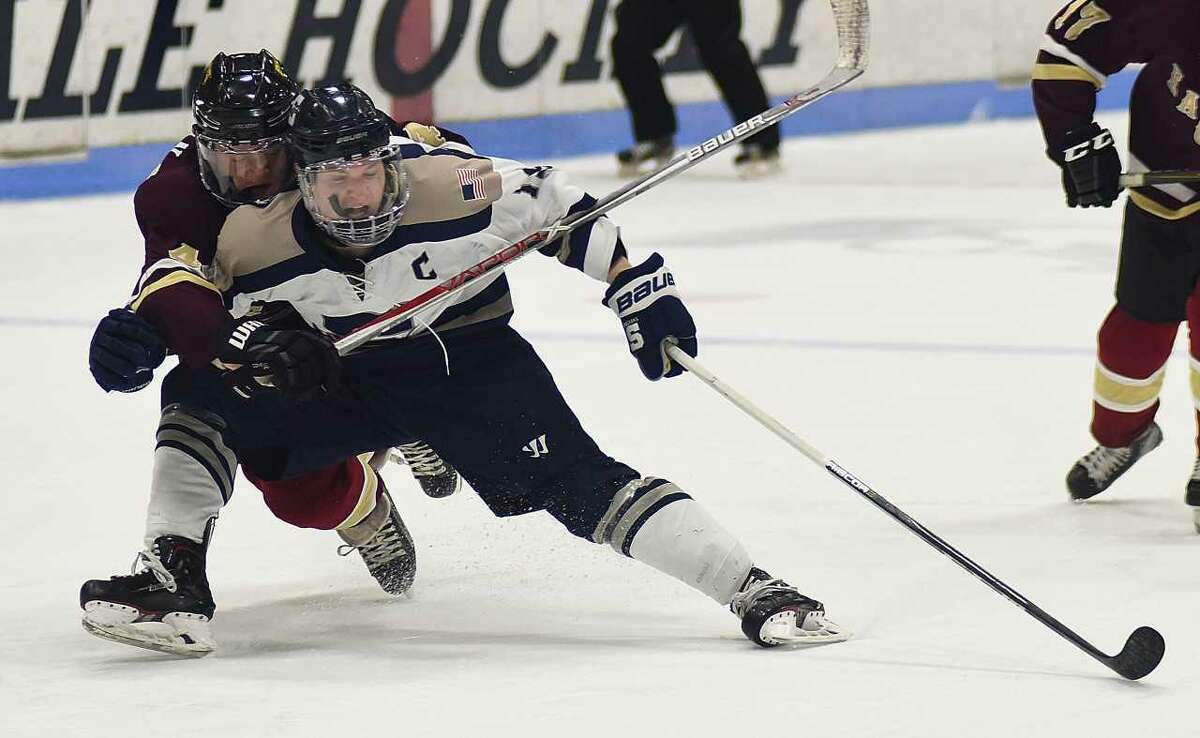 NEW HAVEN — After Staples' star senior Sam New scored his third goal of the game with 2:15 left in the third period to tie the score at six, no one on the Eastern CT Eagles' bench panicked.
Not a single player or coach. And it showed out on the ice.
Less than 30 seconds later, senior Kevin Close found the back of the net for the second time in the period to give the Eagles the lead for good as No. 5 Eastern CT held on to knock off top-seeded Staples 8-6 on Thursday night in a wild affair.
In a game that featured six ties and seven lead changes, the Division III state title game would have its final representative, as the Eagles move on to face Tri-Town on Saturday after the Knights knocked off Enfield-E. Granby-Stafford in the first semifinal of the night.
Last two minutes of Staples vs Eastern Conn. #cthk https://t.co/wEzmzFlkRS

— John Nash (@NikonNash) March 16, 2018
But even as the big moments came in droves for the Eagles in the fight against Staples, the pressure never got to the team once, coach Randy Craig said.
"We have great leadership," he said. "They've been in three years of not winning and they've built a culture as they've gone. That's so important. The bench is calm. The bench was calm with two minutes left. The bench didn't erupt until there was nine seconds left and we shot an 180-foot shot."
Staples jumped out to an early lead a little over five minutes into the first period on a goal from Zach Strober. But it was quickly equalized 19 seconds later — a goal that would begin a trend on the night.
Each goal that the Wreckers scored to take the lead, Eastern CT would have an answer. The Eagles just wouldn't go away, no matter what Staples threw at them, coach Chris Avena said.
Staples Wreckers tie it at 6-6 with 2:15 left. #cthk pic.twitter.com/12ubWWrvMb

— John Nash (@NikonNash) March 16, 2018
"They just kept coming and coming," he said. "We knew that next goal was going to be big and they got it and we didn't."
The Wreckers led at the end of the second period 4-3. That was when all the fireworks began.
Staples and Eastern CT scored seven goals in the final period combined as Ingalls Rink turned from a Yale hockey rink into a prize-fighting arena.
Both teams swinging hay-makers at one another, waiting for the final knockout punch.
Who will win the Division III hockey championship?
Eastern CT (17-3-3)

Tri-Town (15-7-1)
Total Response: 46 Votes
Loading ...
The Eagles were the first to think they had it one, when back-to-back goals from Evan Tower and Close gave them the lead for the first time in the game.
And just as the Wreckers were about to go down, New came right back with his third goal to tie the game at six. A hat trick for the Division III Skater of the Year that sent the Staples faithful into a frenzy.
But the celebration would be short-lived.
"We couldn't really catch a break," New said. "In those circumstances, it's hard because momentum shifts and we score and then they score. It's going to be hard to look back on."
As they had all game long, when Staples hit them with a big momentum swing, the Eagles remained composed and trusted in their leaders.
That was when Close, one of eight seniors on the team, was able to skate into the Wreckers zone and finish the goal that would send Eastern CT to the state finals.
"You've got to take into account that they're a good team," Close said. "We knew coming into this that they were going to put up numbers. So I think that it's actually reassuring to see us just climb back every time."
PLAYERS OF THE GAME
In a game that had too many stars performing when it mattered most, there couldn't be just one. Both Kevin Close and Sam New led their respective teams in a back-and-forth matchup for the ages. New finished with a hat trick, including the tying goal late in the third period. While Close finished with a pair of goals and an assists — including the go-ahead goal right after New's goal to give the Eagles the lead for good and eventually the win.
QUOTABLE
"We said all along that if we weren't going to win the state title, we wanted to be beat. We didn't want to lose and we got beat tonight. They were excellent. They did everything they wanted." — Staples coach Chris Avena said after the Wreckers loss to Eastern CT in the Division III Semifinals on Thursday night.
EASTERN CT 8, STAPLES 6
EASTERN CT 2 1 5—8
STAPLES 2 2 2—6
Goals: S—Sam New 3, Zach Strober, Matt Bidgood, Cameron Day; E —Devyn Jordan, Kyle Jacobson 2, Will Cannella , Evan Towers, Ryan Huta, Kevin Close 2
Assists: S—Casten Ernberg, Matthew Bidgood 3, Ryan Purgay, Cameron Day; E—Evan Tower, Jordan Riley, Kyle Jacobson, Kevin Close, Ryan Huta
Goalies: S—Zack Bloom (24 saves); E — Rylin Fowler (14 saves).
Shots: S—24; E—29
The 2018 CIAC Winter Championship Weekend Schedule / Scoreboard