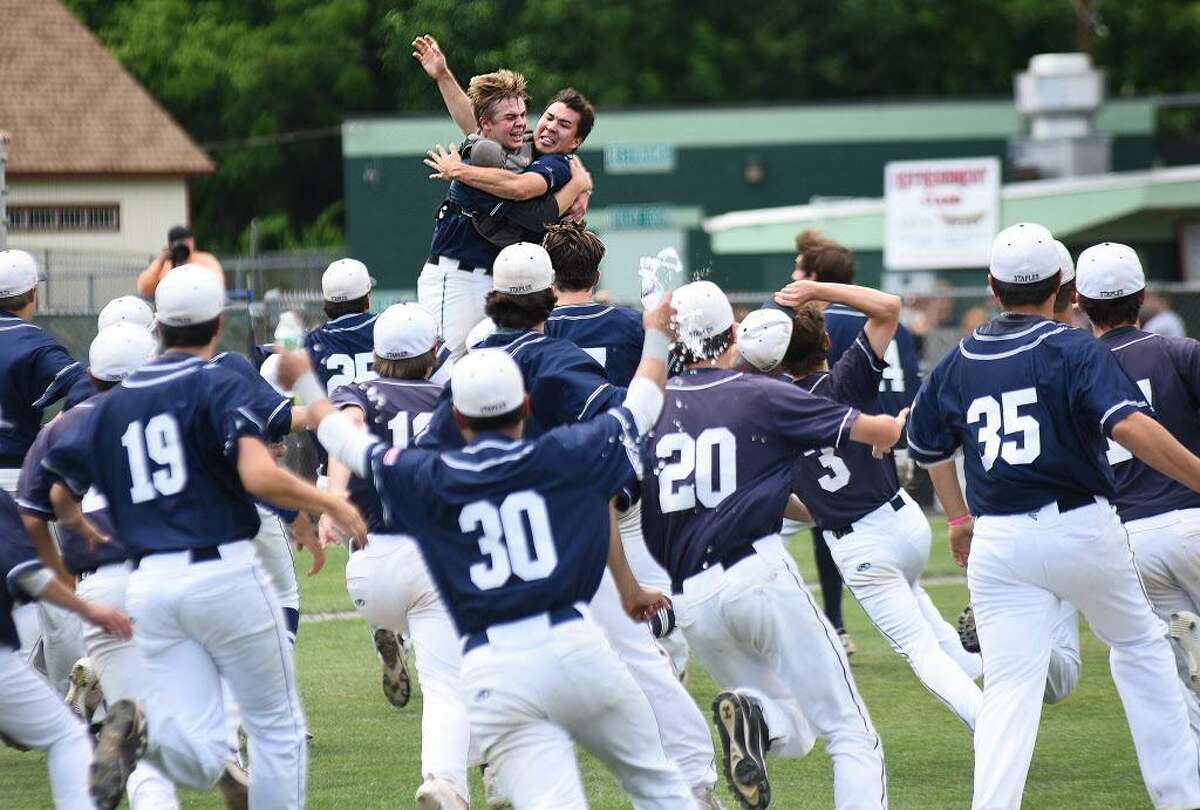 WESTPORT — When the dust cleared at the end of the gauntlet that was the Class LL baseball tournament last season, the Staples Wreckers stood upon the ashes as champions.
After falling in the title game two years prior, the Wreckers ended Amity's streak of four straight LL titles and took home the nutmeg-shaped trophy.
But that was last season.
Staples enters the 2018 campaign with seven of the nine starters back from that championship team, but also with a giant target painted on their backs.
No worries — that's just how they like it.
"We love it," senior catcher Matt Stone said. "Everyone wants to beat us, and knowing that teams will play with that intensity, it's great."
The Wreckers, led by Stone, along with ace Chad Knight and slick-fielding centerfielder Chris Drbal, will look to get to their third state title game since 2015. Although coach Jack McFarland said he understands that in order to do that, Staples will have to get high-quality performances out of the pitching staff.
"We've got there with great pitching depth," McFarland said. "The key is going to be finding the pitching depth; kids are going to have to step up to do that."
After losing nearly the entire staff from last year — including Connecticut Gatorade Player of the Year Ben Casparius — the Wreckers will lean on the right arm of Knight.
The star of the state title game last season, Knight has done it all for the Wreckers on the mound and at the plate. Last season as a sophomore, he batted .449 with nine home runs and 35 RBIs, including a clutch two-run home run in the state title game.
But on the mound is where Knight shined brightest, finishing with a 3-1 record and a 1.47 ERA and 44 strikeouts in 33 innings — including a complete-game victory to win the LL title.
It's more than just Knight's play that leads Staples, and he said this team will get back to the championship because they aren't afraid of the big moment.
"Our team is the type of team that plays well with pressure," Knight said. "We're gonna play our type of baseball."
The junior also is looking to take a major leadership role this season as one of the top returning players.
"This year I'm going to have to be myself," he said. "When my number is called, I'm just going to have to be another player and do my job."
Knight has displayed leadership qualities during his time at Staples and has continued to do so coming into this season, McFarland said.
"(Chad) is a real good leader," he said. "He wants to win and he's been a real positive influence on the rest of the team."
But a mentality of pulling up one another has been something that has kept this core unit together for years, Stone said.
"We've all played together a ton," he said. "Just knowing what everyone can do, we have the confidence in one another knowing the other guy will be there. It's huge."
Stone will also look to help bring the pitching staff along as the season begins, while also building on his own successes from a year ago when he batted .325 as a junior.
But the team has proved its resilience.
Last season the Wreckers lost in the opening round of the FCIAC tournament at home. But they bounced back and won five straight postseason games — three straight over FCIAC opponents — to capture the championship.
As the journey begins anew this season with Staples taking on Masuk at home Tuesday afternoon, the road back to Palmer Field gets under way.
After months of cold weather coupled with high expectations, Knight said he and the team are just focused on getting a chance to get back on the field.
"We're just ready to play," he said. "First and foremost everyone has to stay healthy and everyone has to do their jobs, timely hitting and making those big plays in the field. We've had a couple of good scrimmages and we're looking to defend the title."