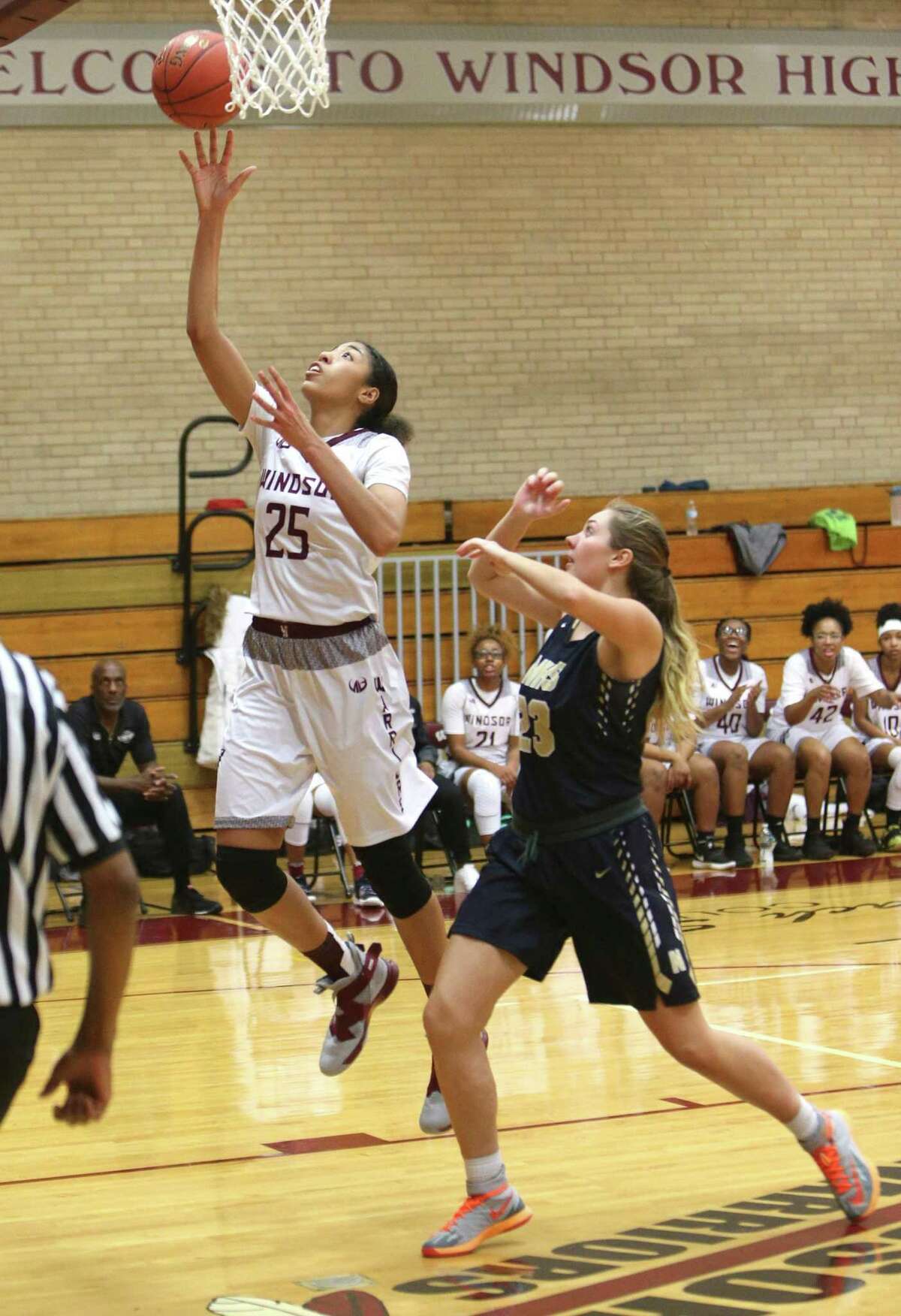 WINDSOR — Nahriel Gelly just smiles when asked if she prefers playing man-to-man defense. It's a smile similar to that of her coach, Kendrick Moore, when asked to assess where his Windsor girls basketball program is in the rebuilding process three years into his tenure.
It was the Warriors man-to-man defense, ignited by the play of senior guards Gelly and Tyra Anderson, that sparked Windsor to its 42-27 win over Newington Monday. Windsor, ranked seventh in the GameTimeCT.com Top 10 poll, switched to man to start the second half. The Warriors, who led 14-11 at the half, quickly built a commanding lead with a 9-2 run.
Windsor coach Kendrick Moore following Warriors 42-27 win over CCC foe Newington Monday. #ctgb pic.twitter.com/PIRYygVele

— GameTimeCT (@GameTimeCT) January 29, 2019
"I knew it would be an intense match up," Moore said. "I knew they would come out and come at us 120 percent. The key was for our kids not to get too emotional. We've come out in zone, and it's been successful for us this year. We usually like to start out in zone, but the majority of the time, especially last year, we would change back to man. We haven't done that a lot this year. But we thought with them having two ball handlers, that if we could just contain, and pressure them and try to get them involve other people, we thought our man was the best way to do that."
Newington, ranked 10th in the state, chipped away to pull within 23-15, but poised and promising freshman guard Karissa Zocco was injured and did not return. Newington coach Marc Tancredi did not believe the injury was serious.
"They are a very good team, they'll make a deep tournament run," Tancredi said. "We'll be in good shape, too. A lot of the things that hurt us, were on us. But they have a really good defense. Bloomfield is probably closest we've seen to their defense. We were able to respond against them. We were not able to respond tonight. It's a learning experience."
Junior guard Ashanti Frazier led Newington with 13 points.
Windsor, which will compete in the Class L state tournament with the likes of Notre Dame-Fairfield and East Haven, improved to 16-1, its only loss to New York's Mary Louis Academy. Newington, which is in Class LL, dropped to 14-2, its only other loss to Sheehan.
"Those are the games you want going into the conference tournament, going into the state tournament," Moore said about Monday. "You want battles, you want to face different opponents that's going to challenge you in different ways. We appreciate those type of games more."
Windsor had 19 steals, led by Anderson's six and Gelly's four.
UMass Lowell commit Denise Solis, a 5-11 senior forward who battled foul trouble, led the Warriors with 11 second half points, seven in the fourth quarter. Solis added seven rebounds and three blocked shots.
Azure Riley lead Windsor with eight rebounds. Gelly added six points for Windsor. Anderson also had seven rebounds and five points.
"When I started I told them they were going to need to work hard, buy in to what we were trying to do and be the foundation," Moore said of his seniors, who were sophomores when he took over. "They came to practice, worked hard, played in the summer to improve and have given their blood, sweat and tears for this program. February 11, when we have Senior Night, that's going to be one of the most emotional nights of my life. They've meant so much to this program."