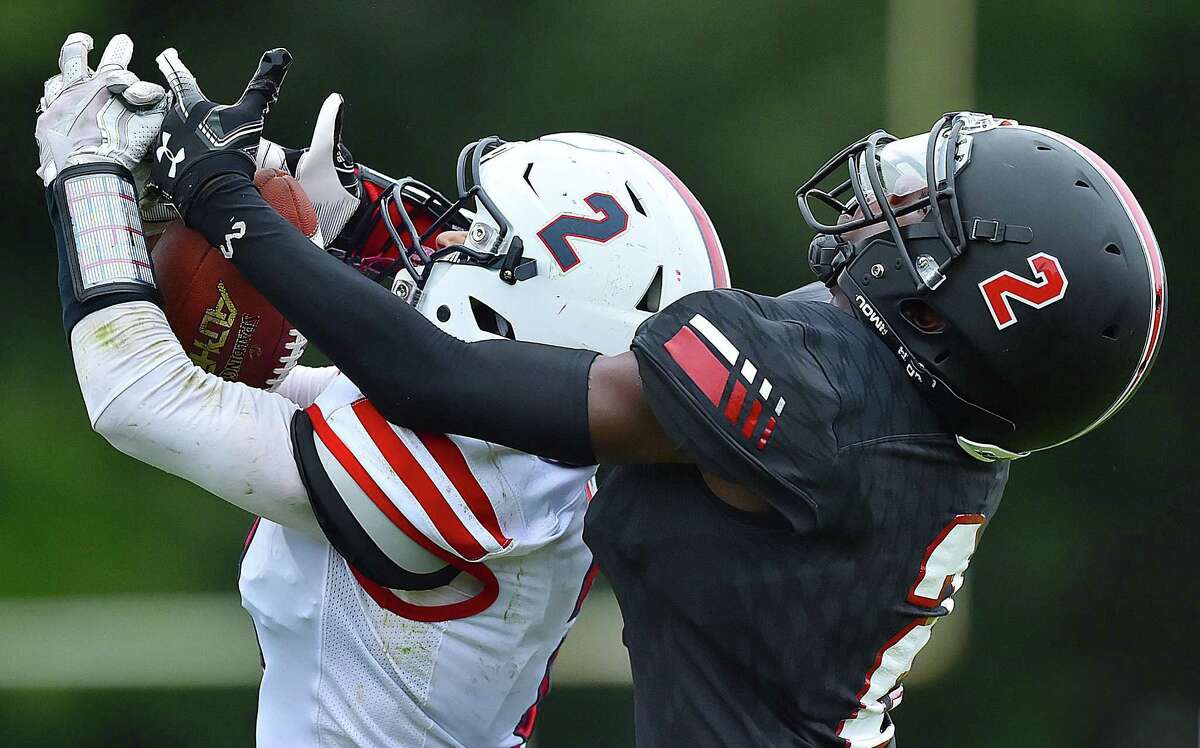 NEW HAVEN — It took the first quarter for the Foran and Wilbur Cross football teams to get in a rhythm in their season-open Southern Connecticut Conference Tier 2 matchup at Barbarito-Marone Field on Friday.
While the passing game kicked in for the Lions in the second quarter for a 13-point lead, the arm and legs of Wilbur Cross quarterback Leshaun Hicks took center stage in a Governors' comeback victory.
Hicks had 15 carries for 157 yards, including a game-winning 74-yard touchdown run in the third quarter. He also completed 4-of-8 passes for 76 yards and a touchdown as Wilbur Cross hung on for a 14-13 win over Foran. Jasiah Barnes chipped in with 55 yards on 23 carries for the Governors.
Trailing 13-8 to start the second half, Hicks bolted through a huge hole up the middle and went untouched for 74 yards and a 14-13 lead with 9 minutes, 10 seconds to go in the third quarter. The two-point conversion rush failed.
Here's Hicks' 42yard TD pass to Jones @NHRDanNowak spoke of to get Cross within 13-8 of Foran at halftime. #cthsfb pic.twitter.com/jMGZPFRsp1

— Sean Patrick Bowley (@SPBowley) September 7, 2018
"I knew I could get through their defensive line with the holes our offensive line players were creating throughout the game," Hicks said. "On my big run, they opened a huge hole for me and I just went with the flow. As soon as I took off I knew I could score.
"I was pretty confident that one-point lead would hold up with the momentum we had at that point. Getting this win to start the season is big for us, especially against a tough league opponent. This is our momentum for the season, this is big for us to get this first win."
Foran took a 13-0 lead when quarterback Andrew Janik connected with receiver Richard Piscitelli for a 50-yard touchdown and a Drew Izzo kick made it 7-0 with 11:05 to go in the second quarter. Janik completed a 27-yard touchdown pass to William Phelan with 5:21 to go in the second quarter for the 13-point lead.
Andrew Janik tosses another TD pass to 8, who — of course — is not on my roster. #week1probs
13-0 Foran late 2 #cthsfb pic.twitter.com/22fwXRjUPJ

— Sean Patrick Bowley (@SPBowley) September 7, 2018
On the Governors' last possession of the second quarter, Hicks completed a 42-yard touchdown pass to Enasj Jones. A Barnes two-point rush cut the Lions lead to 13-8 with 17 seconds to go in the half.
"Our touchdown to close the second quarter was a big momentum changer for us," Wilbur Cross coach John Acquavita said. "We showed some life in that second quarter and our kids showed a lot with how hard they played on offense and defense the whole game.
"Barnes and Hicks did a nice job. They are a big part of our offense, how they do is how we do."
Janik ended up completing 11-of-32 passes for 232 yards. Phelan had four receptions for 94 yards and Piscitelli had two receptions for 94 yards.
Well this is something. Foran strikes first. Andrew Janik to Rich Piscitelli. 7-0 Foran early 2 #cthsfb pic.twitter.com/c8st9jpopa

— Sean Patrick Bowley (@SPBowley) September 7, 2018