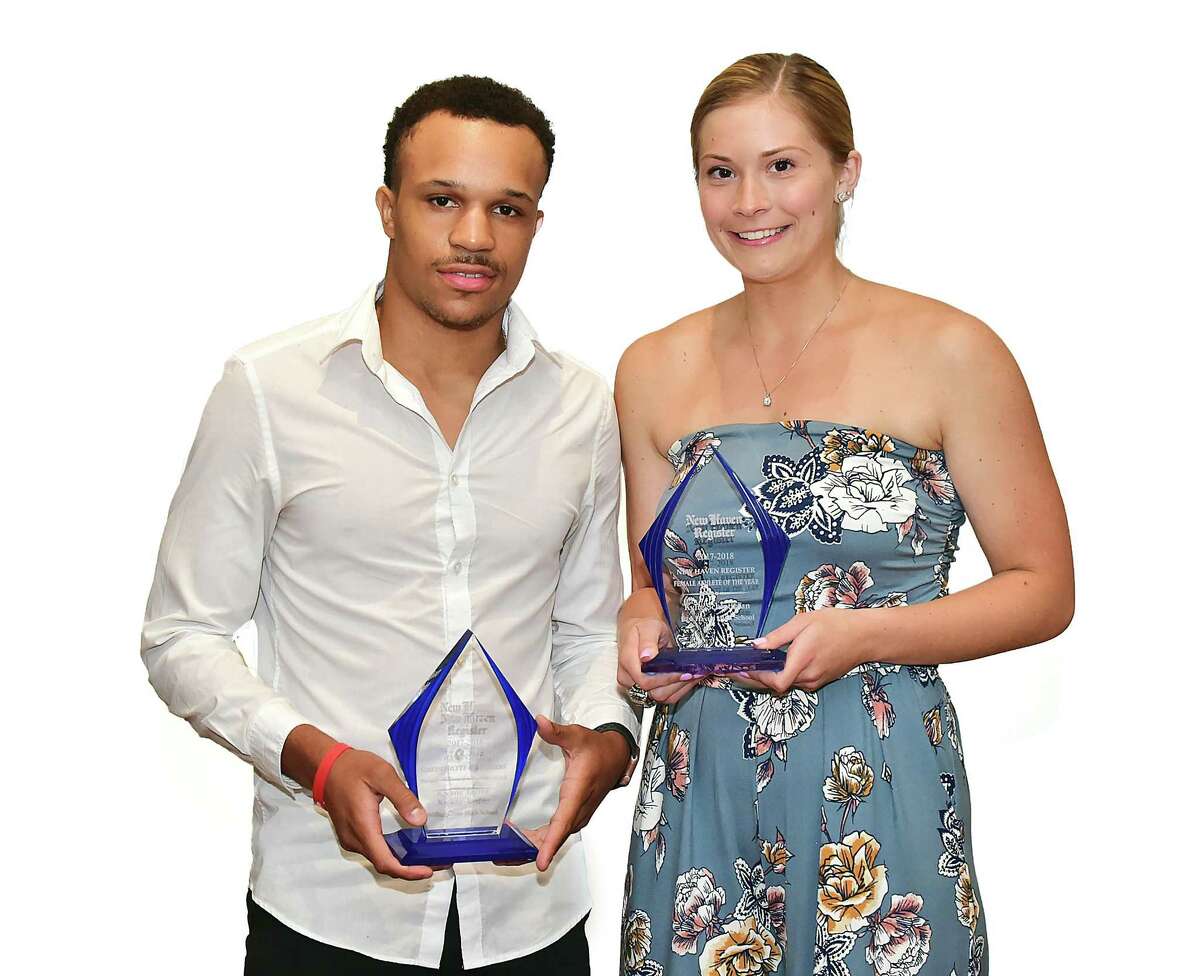 NEW HAVEN — Kwane Taylor was reminded on a few occasions over the past four years to enjoy himself while competing. Or, more accurately, to at least look like he was having fun.
"He's all about business," says John Acquavita, Taylor's football coach at Wilbur Cross. "I always encourage him to have a little more fun, and he'll give a little smile. But that's who he is. He's serious about his sports."
Kylie Schlottman was resolute about athletics, too, a tireless worker who spent hours on conditioning and fundamentals. But a playful personality helped keep things loose at East Haven practices.
"When the game's on the line, she's focused. But she's also kind of a goofball," East Haven girls' basketball coach Anthony Russell said. "She keeps it in perspective and that's how she led."
Their approach may have differed but the results were the same.
Taylor, a football and boys' basketball standout at Wilbur Cross, and Schlottman, a volleyball and girls' basketball star at East Haven, enjoyed unparalleled individual and team success over their high school careers.
They were named the New Haven Register's Male and Female Athletes of the Year on Thursday night at the 24th annual All-Area MVP banquet at Amarante's Sea Cliff.
It became clear to their coaches early on that Taylor and Schlottman were special talents.
Taylor became starting point guard on the basketball team as a freshman. And though he didn't become a starter in football until his sophomore season, Acquavita now says he probably should have started as a freshman.
"I've been playing football and basketball since I was 5 years old. I love both games. I play every down, every possession like it's my last," said Taylor.
His athletic ability and understanding of the position allowed him to become one of the state's premier defensive backs, so reliable that coaches could focus their concerns on other areas.
"He was a kid who knew what he was doing all the time, like another coach on the field," Acquavita said. "We're younger as a team now, and realizing we have to coach that corner position. We didn't have to do that for three years. His value, besides being a great player, was you didn't have to coach his spot because he had it all set."
The Governors won seven of 10 games this fall, including a 26-20 victory over Hillhouse on Thanksgiving in which they erased a 20-point deficit. Taylor transitioned to basketball, averaging 15.2 points, six assists and four steals for a team that reached the Division I state quarterfinals.
At a shade under 5-feet-10 and 150 pounds, Taylor's size likely prevented college coaches from offering a full football scholarship. He'll attend Central Connecticut State this fall as a preferred walk-on, likely as a slot receiver for a team that reached the Football Championship Subdivision playoffs last season.
Acquavita is certain Taylor's scholarship status will change soon.
"I told the Central coaches he'll be a (scholarship) money guy within one year," Acquavita said. "
Schlottman helped take East Haven athletics to new heights.
The CIAC first instituted state tournaments for girls' basketball and volleyball in 1974. Over the course of those 44 years since girls' athletics emerged from the dark ages, East Haven basketball had never reached a state championship game. The volleyball program was there once before, winning a title in 2004.
Both teams would play for titles during the last school year, the Yellowjackets bringing home Class M trophies as girls' basketball champions and volleyball runners up.
It's no coincidence Schlottman played key roles on both teams, a first-team all-state outside hitter in volleyball and a first-team all-state forward in basketball.
"I would be kind of lighthearted and they realized they didn't have to be serious all the time. You can fool around sometimes. When we had to be serious, we were, but there were times we could fool around because that's what sports is all about, having fun," Schlottman said.
Basketball has long been her specialty. This winter she averaged 19.7 points, 8.6 rebounds a 2.1 blocks, breaking the school record for career points that had stood for 38 years as well as the single-game scoring mark of 40 points.
"She helped the program turn a corner," said Russell, in his 10th season. "A lot of where we are today, winning our first state championship, is because she picked East Haven over a slew of other high schools she could have gone to."
East Haven, which also had an all-state guard in MaKenzie Helms, went 25-3. Its historic season ended with a 49-47 victory over Career in the Class M final, won when Isabella Ragaini hit a basket as time expired.
Schlottman, a three-time all-state pick with 1,693 career points, was as consistent as they come. She will attend the University of New Haven in the fall, where she plans to enter a dentistry program while playing basketball for the Chargers.
East Haven, which reached at least the quarterfinals of the state tournament each of the past three years, is poised to remain a dangerous team even without the luxury of Schlottman. But her influence and impact on the program won't soon be forgotten.
"She was a calming presence because you knew what you were going to get out of her," Russell said. "She's not flashy, but that 20 and 10 was going to be there most nights. She's a tremendous athlete. I wouldn't call her the most polished player but she's the type of player that finds a way; a good teammate that always got others involved. When needed a big basket we usually got it from her."
Athlete of the Year Recipients
1994-1995: Pierre Venditti (Law) and Diane Potkay (Derby)
1995-1996: Steve Coughlin (Ansonia) and Lisa Barbaro (Morgan)
1996-1997: Mike O'Keefe (Notre Dame-WH) and Lisa Barbaro (Morgan)
1997-1998: Peter Fink (Haddam-Killingworth) and Sarah Katinger (Bunnell)
1998-1999: Adam Greenberg (Guilford) and Nicholette Chambers (Hillhouse)
1999-2000: Chris Tracz (North Branford) and Megan Miller (Law)
2000-2001: Glenn McFadden (Hillhouse) and Jenn Piazza (Lyman Hall)
2001-2002: Brian Mariano (Naugatuck) and Emily Hardy (Westbrook)
2002-2003: Randy Gress (Notre Dame-Ffld) and Melissa McGow (Branford)
2003-2004: Mike Tamsin (Branford) and Brittney Carfora (Branford)
2004-2005: Craig Kenney (Branford) and Natasha Harvey (Career)
2005-2006: James Nixon (Hyde) and Kristen Frost (Hand)
2006-2007: Terrell Wilks (Hillhouse) and Katie Yanagisawa (Amity)
2007-2008: Rob Moir (Seymour) and Ann-Marie Clarke (Hillhouse)
2008-2009: Jeremy Moore (Hillhouse) and Allison Barwise (Amity)
2009-2010: Conor Keniry (Notre Dame-WH) and Courtney Schissler (Branford)
2010-2011: Pat Gillen (Shelton) and Sage Esposito (Foran)
2011-2012: Jake Scinto (Cheshire) and Bria Holmes (Hillhouse)
2012-2013: Andre Anderson (Hillhouse) and Precious Holmes (Hillhouse)
2013-2014: Arkeel Newsome (Ansonia) and Danae Rivers (Wilbur Cross)
2014-2015: Chris Jean-Pierre (Valley Reg.) and Danae Rivers (Wilbur Cross)
2015-2016: Nico Ragaini (Notre Dame-WH) and Danae Rivers (Wilbur Cross)
2016-2017: Nico Ragaini (Notre Dame-WH) and Gabby Martin (Hand)
2017-2018: Kwane Taylor (Wilbur Cross) and Kyliee Schlottman (East Haven)