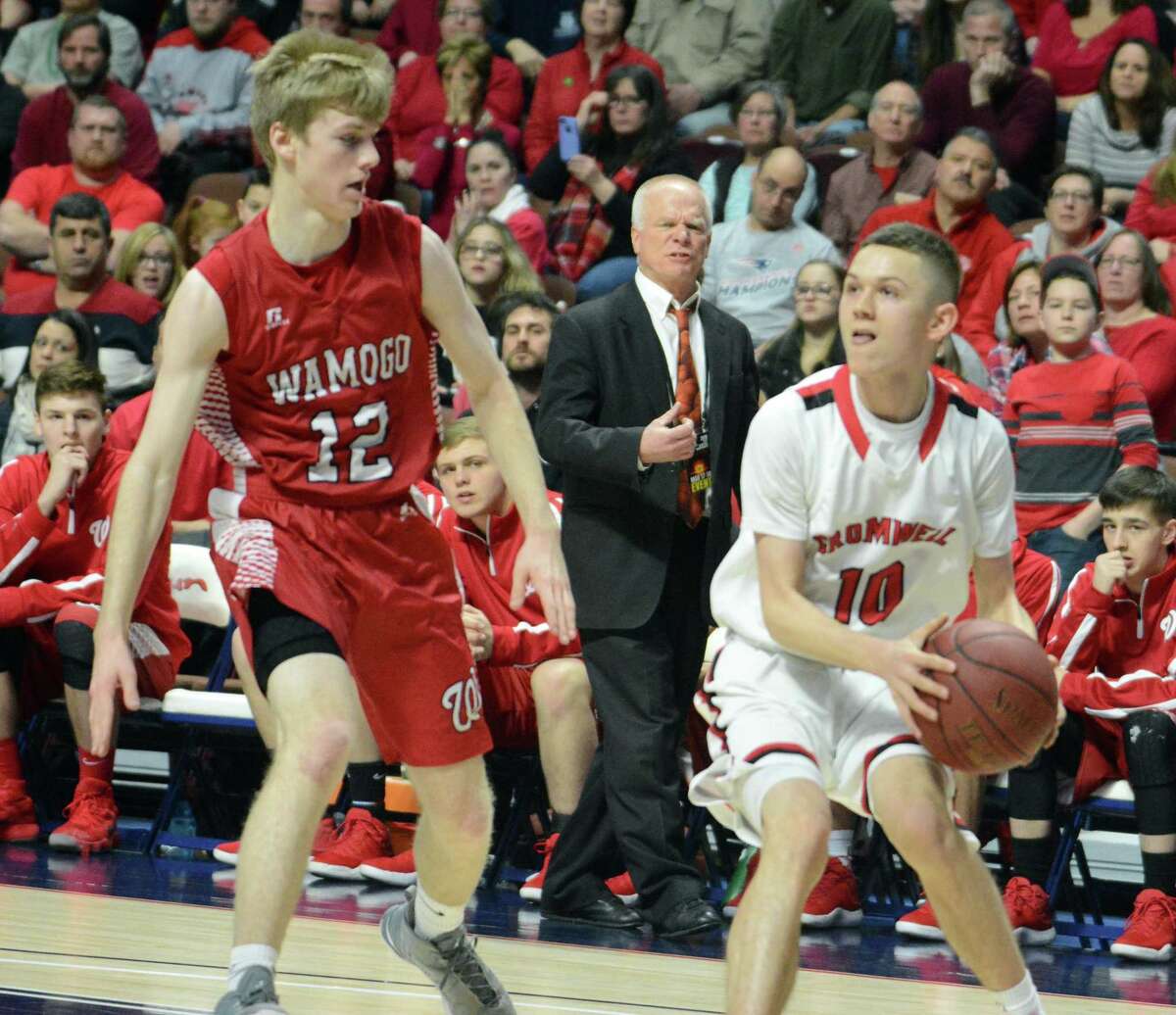 FINE PERFORMANCES
Robert Simmons, Classical Magnet: Finished with a triple-double (59 points, 20 rebounds and 10 assists) in a 104-94 overtime win against HMTCA. He added 34 points in a 77-63 loss to Wamogo in what was a battle of undefeated teams.
Garrett Sattazahn, Wamogo: Scored 33 points in Wamogo's 59-38 victory over Litchfield, allowing Wamogo to win its first outright Berkshire League title since 1973. He then scored another 33 points as Wamogo beat Classical Magnet 77-63.
Matt Knowling, East Catholic: Scored 30 points in East Catholic 87-60 win over Tolland.
D.J. Ransom, Wilcox Tech: Scored 33 points in a 72-55 win over Platt Tech.
Jamaal Waters, Sacred Heart: Scored 31 points in the Hearts' 98-50 win over Kennedy.
Byron Breland III, Hamden Hall: Finished with 30 points in the Hornets' 79-69 win over Rye (N.Y.).
Holden Murphy, Berlin: Scored a career-high 39 points in the Redcoats' 69-60 victory over Maloney.
Gabe Charleston, Cromwell: Scored 31 points in a 80-56 win over Morgan to keep Cromwell undefeated.
Joey Reilly, East Catholic: Shot 7 of 10 from 3-point range en route to 33 points for East Catholic in a 86-59 win over East Hartford.
Timmond Williams, Trumbull: Scored 35 points in a 69-60 loss to Wilton.
Rafael Mahario, Chase Collegiate: Scored 38 points in a 67-66 win over Watkinson.
Kyle Menaker, Enfield: Had 32 points and 14 rebounds in a 94-66 loss to Norwich Free Academy.
QUOTABLE
"The effort we put forward defensively, that's a championship effort. That is very capable of winning the Shoreline or at least competing for the Shoreline and Division V (championships)."
— Valley Regional coach Kevin Woods following the Warriors' 42-36 loss to unbeaten Cromwell.
GET OUT AND GO
East Lyme at Waterford, Wednesday, 7 p.m.: East Lyme is minus its best player, Dev Ostrowski, likely done for the year after ankle surgery last week. East Lyme is the only team to beat Waterford in overtime on Jan. 18.
Stratford at Immaculate, Thursday, 7 p.m.: First team to 50 points wins with the top seed in the SWC tournament likely on the line.
East Catholic at Windsor, Friday, 6:45 p.m.: Game of the Year in the CCC. Teams met four times a year ago, with Windsor winning the last one, at the buzzer of double overtime in the Division I state tournament quarterfinals.
Manchester at East Catholic, Saturday, 6:45 p.m.: Weather permitting, Manchester will try to end East Catholic's 54-game regular season winning streak.
Old Lyme at Cromwell, Monday, 7 p.m.: Game of the Year in the Shoreline Conference. A loss to Hand by Old Lyme the only reason this isn't a battle of unbeatens.
OF NOTE
A.J. Edwards from Amistad surpassed 1,000 career points last week at Old Saybrook. Edwards reached the milestone in just 54 games.