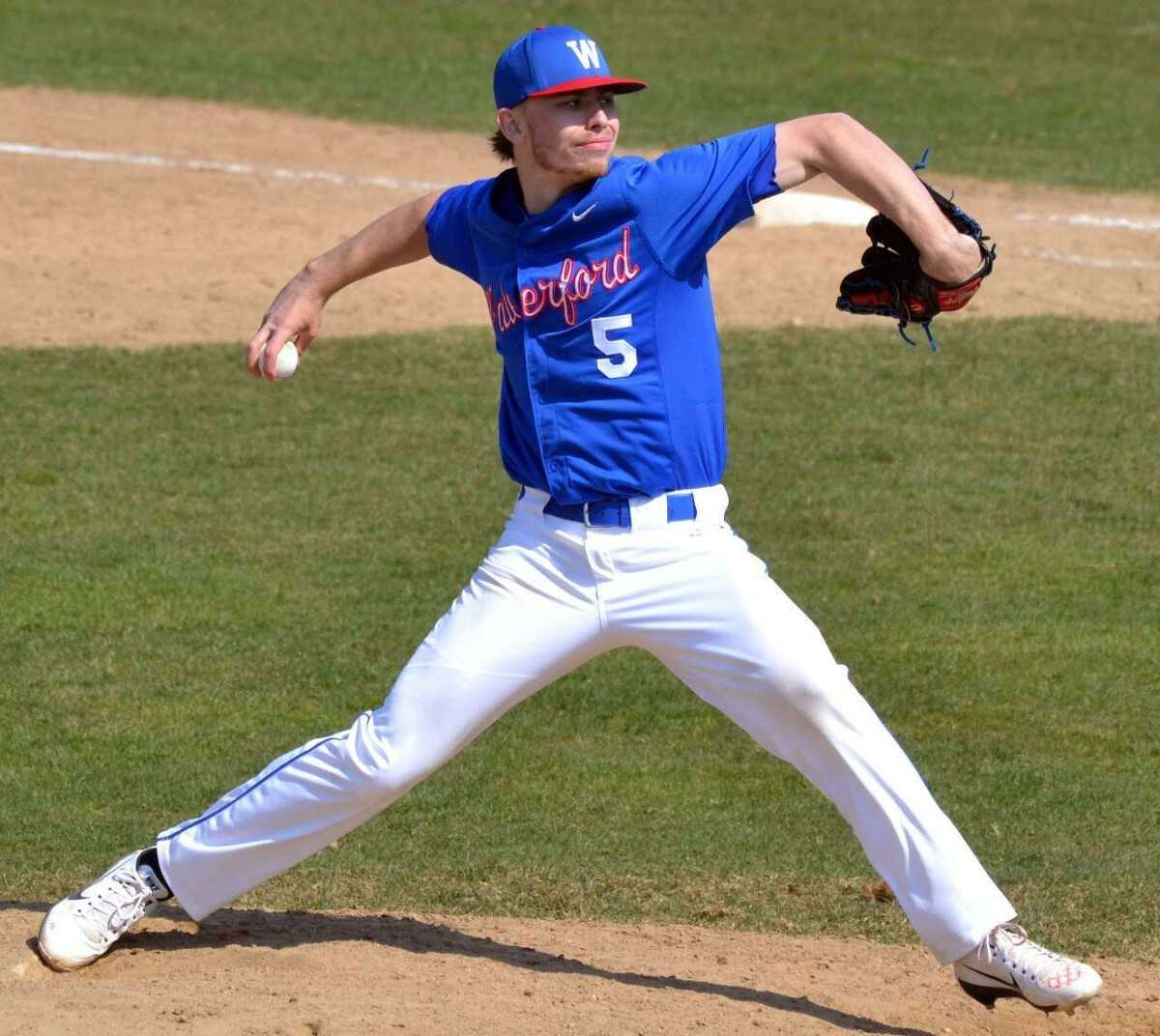 Most recent high school graduates spend their summer hitting the beach and spending their final couple of months with friends before heading off to college.
Michael Burrows is spending his a bit differently. He's down in Florida, but it's not for the beaches.
Burrows was drafted by the Pittsburgh Pirates in the 11th round of the 2018 MLB draft and recently inked a $500,000 signing bonus. The Waterford product reported to the GCL Pirates, Pittsburgh's Rookie-level affiliate in Bradenton, Florida, a couple of weeks ago. He hasn't pitched yet but should make his pro debut in about 10-12 days.
"You've got to get five bullpen sessions in before your first start," Burrows said by phone last week. "They kind of take you slow, since I'm a high school kid, a young arm in the system."
For now, Burrows' typical day goes something like this: breakfast around 6:30 a.m., team meeting, active warm-up, throwing program, conditioning, lifting, lunch, then watch his team play a game.
It's what Burrows signed up for when he eschewed a scholarship offer from UConn after a decorated career at Waterford High.
"College is great," he noted. "I love the coaching staff at UConn and everything about it there. But it just came down to wanting to play, wanting to get after it now."
Burrows couldn't have been much more dominant the past two seasons at Waterford. He went 6-0 with a 0.38 ERA this past spring and notched back-to-back no-hitters. As a junior, he posted a 21-strikeout no-hitter and led Waterford to the Class M state title, hurling a 15-strikeout, two-hitter in the finals against Lewis Mills.
UConn thought it had a pretty good chance to land the 6-foot-2, 183-pound right-hander, but things changed when the Pirates weren't able to sign first-round pick Gunnar Hoglund. The team turned its focus on Burrows and signed him for about $375,000 more than his 11th-round slot value, since any money saved in the top 10 rounds can be used toward later picks.
With a half-million in the bank (plus another $140,000 should he decide to get a college degree), Burrows' decision was made a lot easier.
The GCL Pirates' season ends on Aug. 25. Three weeks later, Burrows will report for instructional league, again in Bradenton. It's impossible to say what the Pirates, who have shown a recent affinity for Connecticut-born players, have planned for him after that. There's a chance he could be pitching with West Virginia in the New York Penn League at some point over the next couple of seasons, meaning he could find himself at Dodd Stadium against the Connecticut Tigers.
For now, Michael Burrows is just happy to get after it as a pro.
Promotions
There's been a lot of movement among players with Connecticut ties in the minor leagues over the past couple of weeks.
Milford's Joe Zanghi earned a well-earned promotion to Double-A Binghamton after posting a 1.15 ERA in 18 outings out of the bullpen for High-A St. Lucie. Binghamton visits Hartford Aug. 22-23.
Wallingford's P.J. Higgins was bumped up from High-A Myrtle Beach to Double-A Tennessee on July 11. Former Central Connecticut star J.P. Sportman got his first career promotion to Triple-A Nashville on July 17 after hitting .282 with eight homers at Double-A Midland. New London's Nolan Long was promoted to Double-A Tulsa on July 5.
Former UConn ace Antony Kay was recently promoted to St. Lucie from Single-A Columbia. Former UConn star John Andreoli got his second big-league call-up to Seattle on July 7, but it was brief. He was sent back to Triple-A Tacoma on July 10 after not playing for the Mariners.
Meanwhile, Sacred Heart University/Washington Depot product Troy Scribner was released by the Angels on July 2.