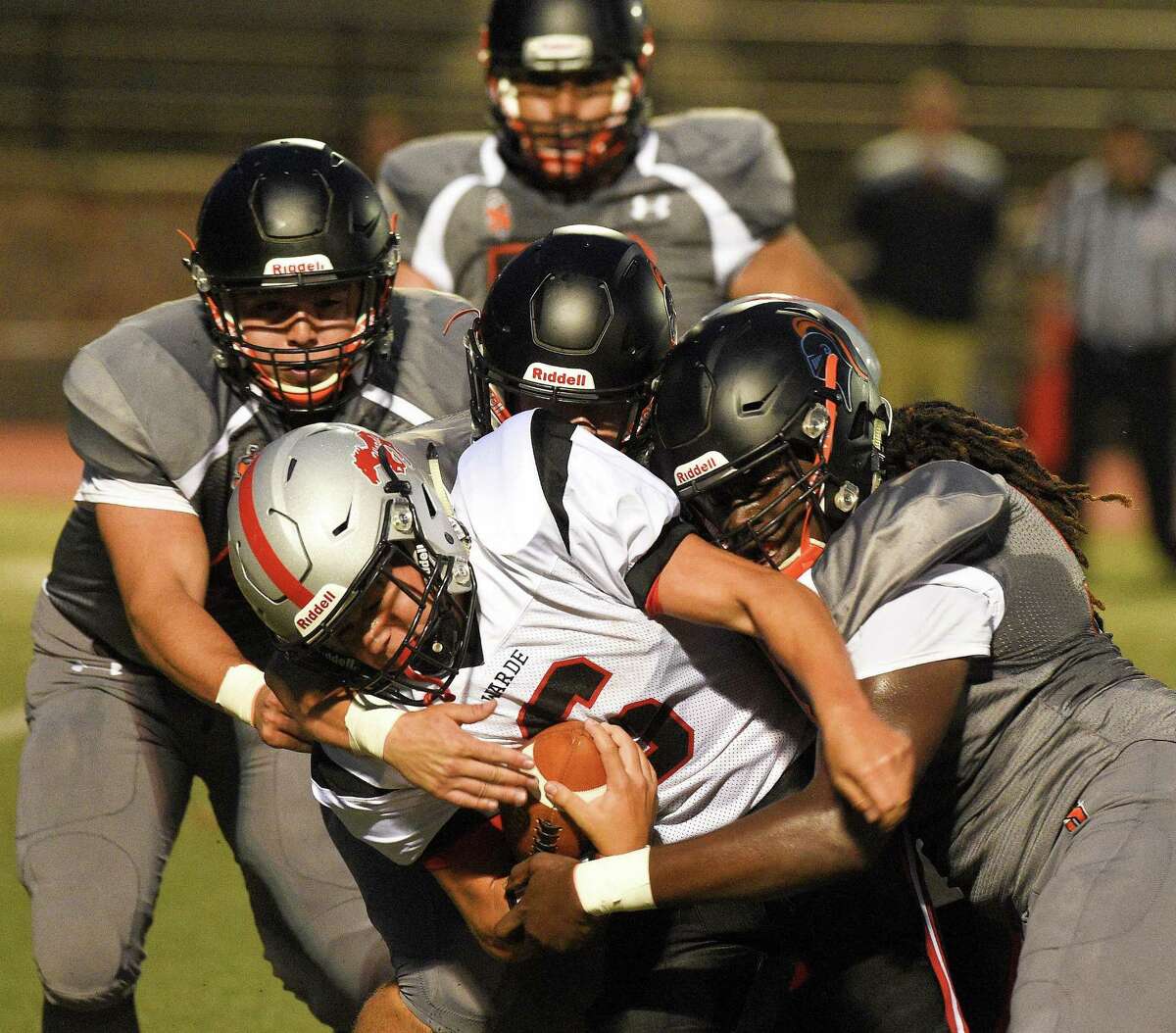 STAMFORD — Fairfield Warde quarterback Joey Gublin threw two fourth-quarter touchdowns as the Mustangs rallied to beat host Stamford, 28-24, Friday in the opener for both teams.
Gublin's 21-yard strike to Jack McKenna with just over a minute to play was the difference in the game.
Warde took over on its 20-yard line with three-and-a-half minutes left and a chance to drive for a wining touchdown. An early pass interference penalty helped kick-start the drive and diving catch from Jeff Seganos Jr. on 4th-and-8 from Warde's 48 kept the drive alive.
Gublin found an open Connor Burt for a 26-yard gain to get the Mustangs into the red zone, and after a sack from dominant lineman David Marciczkiewicz, Gublin connected with McKenna for the go-ahead score. That erased what had been a 10-point Stamford lead.

"Resiliency," Warde coach Duncan DellaVolpe said of what he learned about his team. "The last four days, the wheels have fallen off the bus on our team. Somehow we scraped it together today to at least put out a team to go out there. We have a little bit more heart than maybe I thought our kids had.
"Just some injuries, some things, kids being kids and teaching them life lessons," he added. "There were some that didn't see the field today. Some others stepped up big time and I'm proud of them for that."
Warde's spread attack got the job done on offense, with Gublin completing 18 of 37 passes for 229 yards, three touchdowns and an interception. That spoiled the day for an upstart Stamford squad that was hit hard by graduation, but had the lead into the fourth quarter.
"(We had) a lot of guys for the first time stepping on the field playing varsity football," Stamford coach Jamar Greene said. "We were down, we came back, took a lead, got the crowd into it. Young teams have to learn how to finish, and that's where we are right now. We gotta learn how to close out."
Stamford running back Lenny Garcia was the workhorse on offense, carrying 15 times for 142 yards and touchdown, a tough 93-yard run that leveled the score just after halftime. Quarterback Isaiah Johnson completed 10 of 24 attempts for 114 yards and also gained 67 yards on the ground.
Warde fumbled the snap on the first play after Garcia's long run, and Manny Azolin recovered on the 18. However, a Stamford snap went over Johnson's head on third down and the Black Knights had to punt.
Warde, however, gave the ball and the lead right back, with Marciczkiewicz recovering a fumbled snap on 3rd-and-9 and walking into the end zone for a go-ahead score with 1:17 left in the third quarter. Will Martinez pushed the lead to 24-14 on Stamford's next drive with a 32-yard field goal.
Warde responded with a 66-yard drive that was capped by one of the highlights of the day, a great catch from Will Stearns in the left corner of the end zone to haul in a 33-yard pass from Gublin. Stamford had to punt on its next possession, and Gublin took his team the rest of the way.
PLAYER OF THE GAME
Garcia and Marciczkiewicz were dominant, but to the victor go the spoils. Gublin gets the game ball for leading the team to victory.
QUOTABLE
"We played well as a team in the first half, led 14-7, then second half I lost my composure," Gublin said. "But all my teammates had my back and they riled me up and we got the comeback win. … They didn't let me quit."
LET THERE BE LIGHT
The scoreboard at historic Boyle Stadium could use some new lights. Fans and players were left in the dark on numerous occasions when the score and the time shown couldn't be deciphered.
UP NEXT
Both teams play next Friday at 7 p.m. Warde hosts St. Joseph, which entered the year ranked third in the GameTimeCT preseason poll, while Stamford opens a three-game road swing at Ridgefield.
Fairfield Warde 28, Stamford 24
Warde 0 14 0 14 – 28
Stamford 7 0 14 3 – 24
First quarter
S – Tariq DeVeaux 23 pass from Isaiah Johnson (Will Martinez kick)
Second quarter
W – Jeff Seganos Jr. 21 pass from Joey Gublin (Braulio Palma kick)
W – Michael White 17 run (Palma kick)
Third quarter
S – Lenny Garcia 93 run (Martinez kick)
S – David Marciczkiewicz 1 fumble return (Martinez kick)
Fourth quarter
S – Martinez 32 FG
W – Will Stearns 33 pass from Gublin (kick failed)
W – Jack McKenna 21 pass from Gublin (Seganos Jr. from Gublin)
Records: Warde Mustangs (1-0, 1-0 FCIAC East) at Stamford Black Knights (0-1, 0-1 FCIAC East)