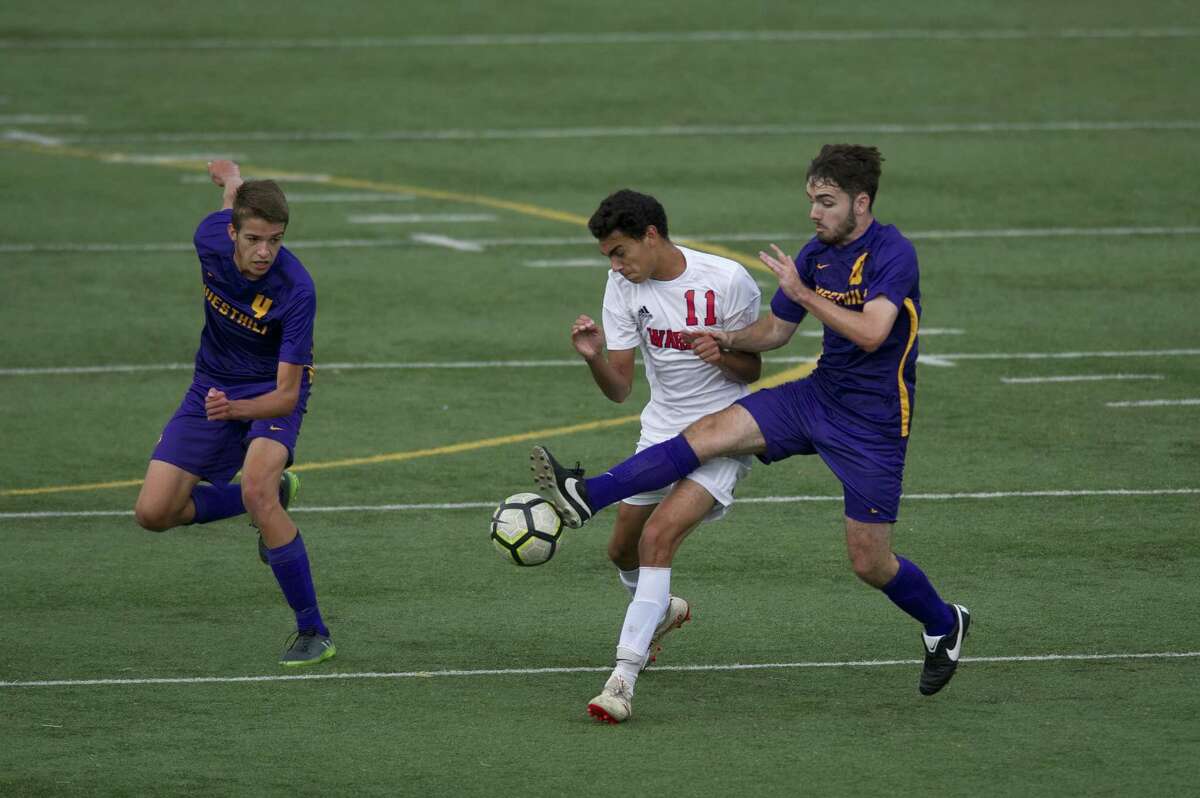 STAMFORD—They were boys soccer teams heading in different directions Monday when Warde High School travelled to Westhill High.
After a spirited 80 minute battle, the Mustangs and the Vikings stayed on their specific paths as Warde defeated Westhill, 3-2.
"It's always been a great battle whenever we face Westhill and their coach Joe Andrews. This is the first time in my memory that we've won here on the turf at Westhill," said Warde coach Justin Ottavio. "Westhill's speed of play is always fast. And we noted they started the season 3-0."
WARDE'S FORWARDS IMPOSED THEIR WILL
The Warde forward line of senior captains Lucas Montero and Mark Morataya along with junior Dan Villalba ruled the cool and overcast afternoon as they scored all three Mustang goals.
Villalba (26:47 left, six goals) and Morataya (20:29 left) gave Warde a 2-1 halftime edge.
A Morataya assist allowed Montero (eight goals) to knock home the game-winning goal at the 51:35 mark.
"It was a great cross by Mark from the left side," Montero said. "I just made sure I finished it. It was a testament to our grit. Mark, Dan and I are good friends. That chemistry and togetherness carries over on the soccer field."
Wind was not a factor as both teams were serving a plethora of long balls over the defenses. Warde goalie Cameron Millington registered 14 saves while Westhill's Nataniel Aybar finished with 13 saves.
WARDE REMAINS ON A ROLL
It was the third consecutive victory for Warde (3-2, 2-2 FCIAC). The Mustangs opened the season with losses to Staples and Norwalk before posting triumphs over St. Joseph, Central and Westhill.
"We needed to be assertive and aggressive. Winning the 50-50 balls was key," Warde coach Ottavio said. "Give Westhill credit for scoring twice to tie things at 2-2. But we tell the kids the measure of a man is how he deals with adversity. Our kids were persistent and handled the situation with maturity and responsibility."
Warde, which plays nine of its 11 home contests on grass, was playing its first game on artificial turf this season.
The Mustangs will be tested going forward as they will meet Wilton, New Canaan, Danbury and Darien in their next stretch of games.
WESTHILL LOOKS TO REGROUP
The Vikings (3-2, 3-2) have lost to Danbury and Warde after starting the season by conquering Central, Wilton and Norwalk.
Emir Hrustemovic scored off a Dylan Sparks feed with 7:54 left before halftime. Lucas Goldfluss tallied on a header just 3:28 into the second half to forge the 2-2 tie.
"We started well out of the gate. But we're struggling now," Westhill's veteran coach Joe Andrews said. "I'm disappointed because I know we are better than this. I'm not sure how we get back to where we were early in the year. I'm discouraged. We need to figure things out."
The Vikings will oppose Trinity Catholic, St. Joseph, Trumbull, Staples and Greenwich in their next stretch of contests.
WARDE 3, WESTHILL 2
WARDE 2 1—3
WESTHILL 1 1—2
Records: Warde 3-2, 2-2 FCIAC. Westhill 3-2, 3-2 FCIAC. Goals: Warde—Dan Villalba, Mark Morataya, Lucas Montero. Westhill—Emir Hrustemovic, Lucas Goldfluss. Assists: Warde—Montero, Morataya. Westhill—Dylan Sparks. Goalies: Warde—Cameron Millington (14 saves). Westhill—Nataniel Aybar (13 saves).