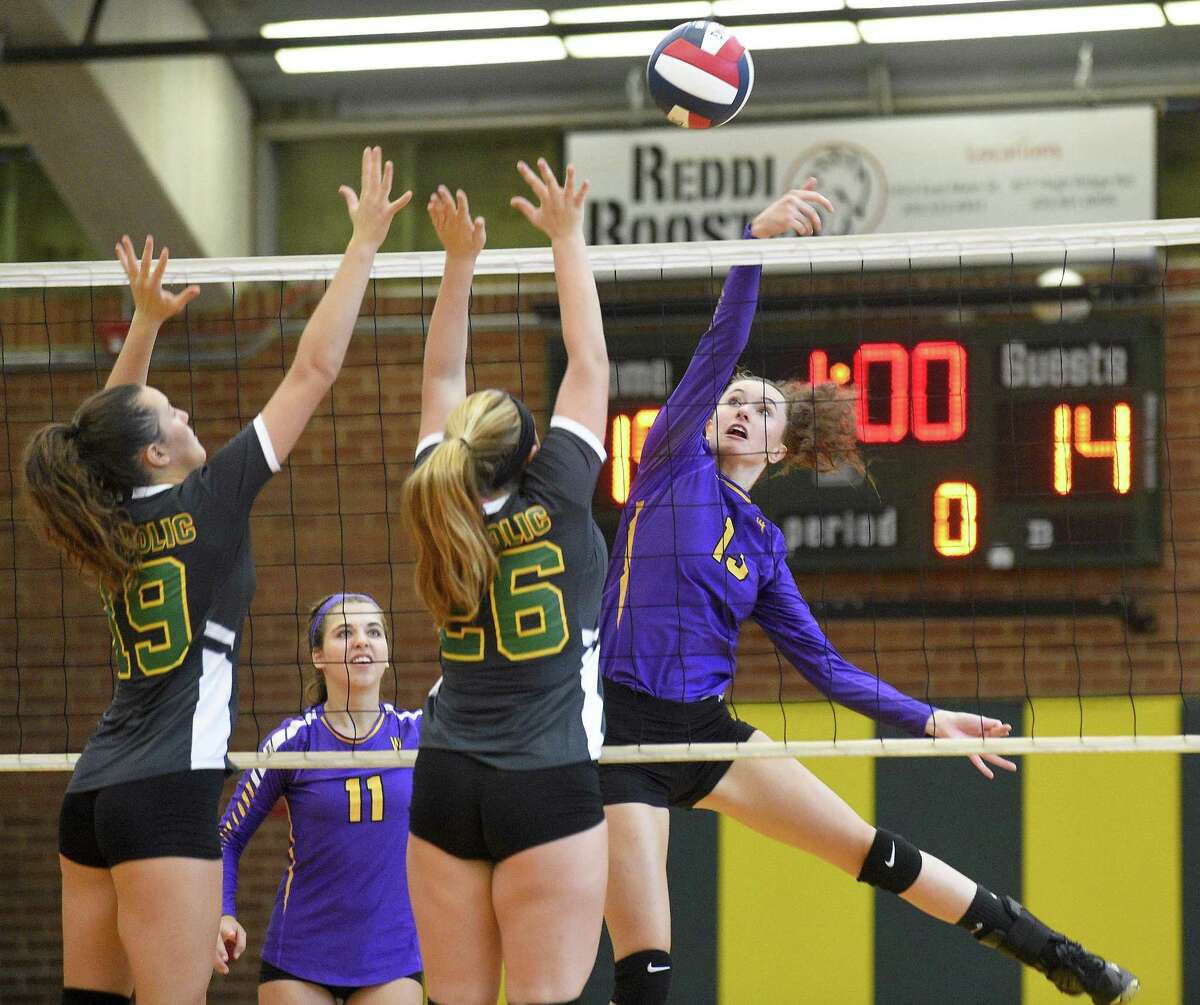 STAMFORD — The focus of the Westhill girls volleyball team is clear.
Stay focused.
Early in the season, the team has made a point of taking nothing for granted and playing hard whether the score is close or they have a comfortable lead.
The Vikings (2-0) were certainly locked in Wednesday, defeating rival Trinity Catholic 3-0 (25-8, 25-20, 25-15).
"We have been talking about mentality. Since the preseason, we have talked about being in the right mindset every single game we go in to. We can't get cocky if we win five points in a row because the game is not over," Westhill senior Nikki Newcomer said. "We have been working to push for every single point and we came out in the beginning today and we played as hard as we can. We need to make sure we get the lead from the beginning and we play the game we know how to play."
Aside from a brief Trinity run in the second game, Westhill did just that, dominating the flow of the game from the opening serve.
Newcomer finished the game with 10 kills; Sophia Thagouras had 8 kills, 8 digs and 11 assists; Betsy Sachs ended with 6 kills and 7 service points; Caroline Boyd had 10 digs and 5 aces and Vana Servos finished with 10 digs and 18 assists for the Vikings.
Trinity made a contest out of it in the second game, leading 16-15 before Westhill closed out the game on a 10-5 run.
Trinity coach Mike Martino was pleased with the effort in the second game but said the effort was not there to open the match.
"We definitely made a little run and we hung in there in the second and gave it our all and played positive," Martino said. "Kudos to Westhill, they showed up to play and put on a good show. I think we just came out flat. We didn't jump on them right away. With a team like Westhill, you can't give them breathing room and we gave them too much breathing room and they capitalized."
QUOTABLE
"We played well, we played together and we concentrated on one thing at a time," Westhill coach Marianna Capomolla said. "This team played together last year and they know each other and they get along. Last year they saw what they could accomplish and they are trying to accomplish even more this year."
WESTHILL 3, TRINITY CATHOLIC 0
WESTHILL 25 25 25
TRINITY 8 20 15