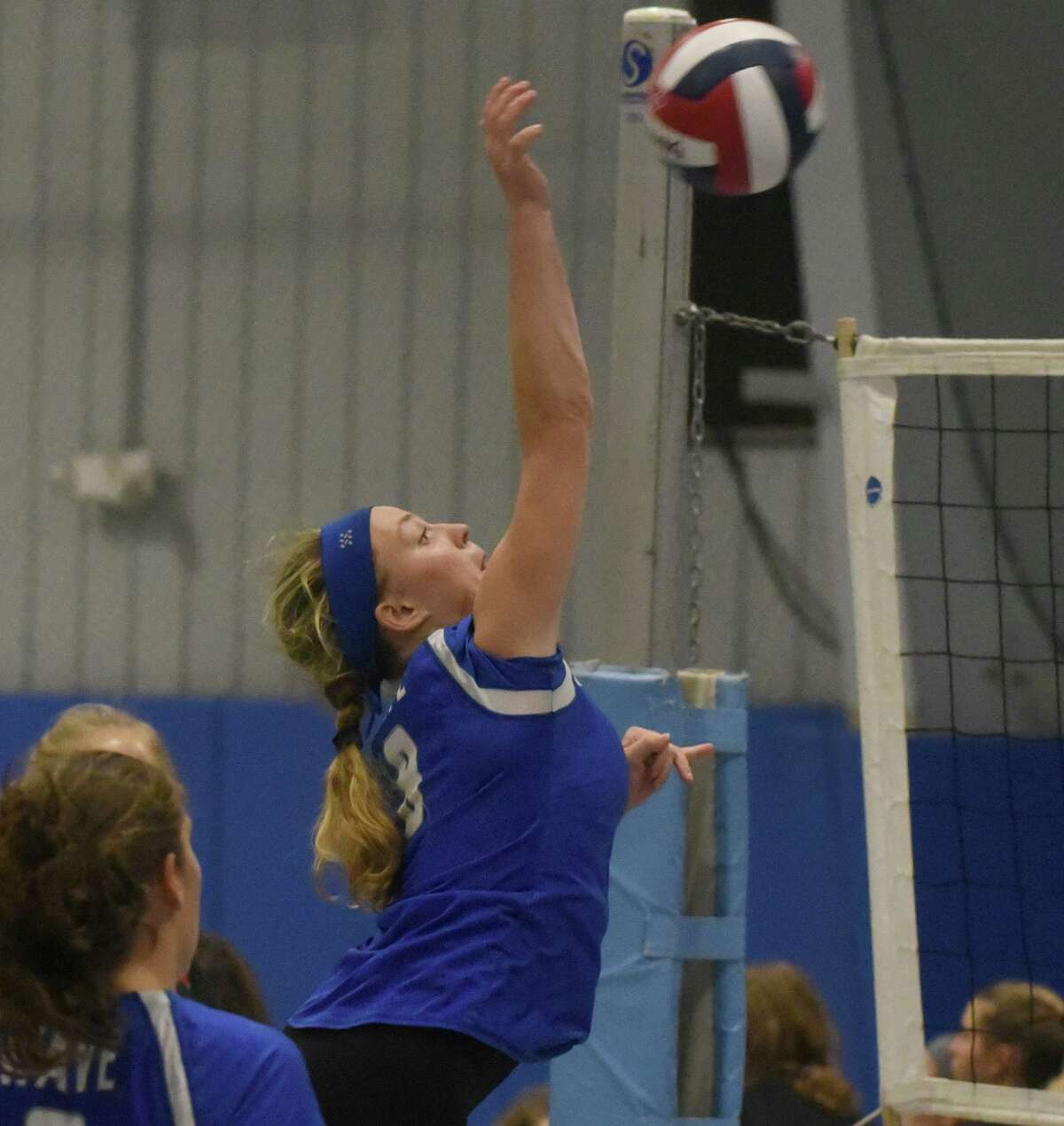 FINE PERFORMANCES
Emma Appleman, Guilford: The team captain had 49 kills and 24 digs over three matches, as the Indians defeated Shelton, defending Class LL champion Amity, and East Haven, all 3-0, during the past week.
Ashly Avila-Soler, Prince Tech: The senior collected 23 kills, 18 digs, and 4 aces combined in wins over University 3-1, and Norwich Tech 3-0. Prince Tech is unbeaten this season.
Jo Blanco, Ludlowe: The Falcon captain led the offense with 15 kills and 4 aces to go along with 5 digs in a 3-2 win over New Canaan on Saturday. She then added 7 kills, 2 aces, and 11 digs in a 3-0 shutout of Staples on Monday.
Bailey Cenatiempo, Trumbull: The junior outside hitter amassed 21 kills, 15 digs and a pair of aces as the Eagles defeated Westhill, 3-1, in a rematch of last year's FCIAC final.
Elaina Cummiskey, Darien: The senior racked up 17 aces, 18 kills and 19 digs in the Blue Wave's back-to-back victories over Stamford and Ridgefield. That total includes 11 aces against Stamford and a team-best 14 kills against Ridgefield.
Brianna Dellolanco, Hale Ray: Dellolanco had 13 kills and 17 digs during a five-set victory over Valley Regional on Friday.
Alex Gillespie, New Canaan: Gillespie collected a team-high 12 kills and had 7 digs in the Rams' 3-0 shutout of defending FCIAC champion Trumbull on Thursday.
Paula Hernandez, Woodstock Academy: The senior racked up 14 kills and 22 digs in the Centaurs' shutout of Griswold on Monday.
Jill Manning, Sacred Heart Academy: Manning had a game-high 17 kills as SHA defeated Foran 3-1 on Friday.
Kalissa Jameson, SMSA: The senior collected 20 kills, 15 digs, and 5 aces, in consecutive shutout victories over Haddam-Killingworth and Rockville. SMSA has yet to drop a set this season.
Mary Pelkey, Woodland: Pelkey had a combined 43 assists and 34 digs in back-to-back matches against St. Paul and Naugatuck. Woodland defeated St. Paul in five sets, but fell to Naugatuck 3-1.
Sydney Ritchie, Stratford: Ritchie led the Red Devils with 9 kills, 13 assists, 12 digs in a 3-1 win over Brookfield on Saturday.
Sophie Thompson, Trinity Catholic: The Crusaders' setter collected 23 assists during a 3-1 victory over Wilton on Friday.
MATCHES TO WATCH
Granby Memorial at SMSA, 5:30 p.m., Thursday: A 7-3 Granby Memorial squad heads to Hartford to take on a SMSA, which is 9-0 and has not dropped a set this fall.
Cheshire at Shelton, 6 p.m., Thursday: A clash of two SCC powers who should be in contention for league and state titles later this fall.
Darien at Westhill, 5:30 p.m., Friday: Two of the FCIAC's top contenders clash in Stamford. All three of Darien's losses this season have been in five sets.
New Canaan at St. Joseph, 5:30 p.m., Friday: Another key FCIAC battle has the Rams visiting the Cadets in Trumbull. New Canaan has looked strong and has just two losses, while St. Joe's will look to rebound from a loss to Brien McMahon on Monday.
Seymour at St. Paul Catholic, 6:15 p.m., Friday: The Rousseau sisters have helped Seymour roll to a 11-0 record, and they'll get a challenge in this one. St. Paul is 4-6, but would be 8-2 had it not forfeited its first four wins.
Ludlowe at Warde, 6:30 p.m., Friday: The Falcons and Mustangs clash in a Fairfield town battle. Ludlowe, which is unbeaten, is a definite contender for the FCIAC and Class LL titles.
Ludlowe at Newtown, noon., Saturday: A quick turnaround for the Falcons, who take on a Newtown squad which split its first two meetings with FCIAC schools. The Nighthawks lost to St. Joseph while beating Darien, both in five sets.
Pomperaug at Joel Barlow, 5:30, Monday: Two of the SWC's playoff contenders meet in Redding.
Trumbull at St. Joseph, Tuesday, 5:30 p.m.: The town rivals are both in the mix for FCIAC playoff berths and will go head-to-head on the Cadets' home court.
Ludlowe at Darien, Tuesday, 5:30 p.m.: The Blue Wave, last year's Class LL runner-up, hosts the unbeaten Falcons, who are in a tough stretch of matches.
— Dave Stewart