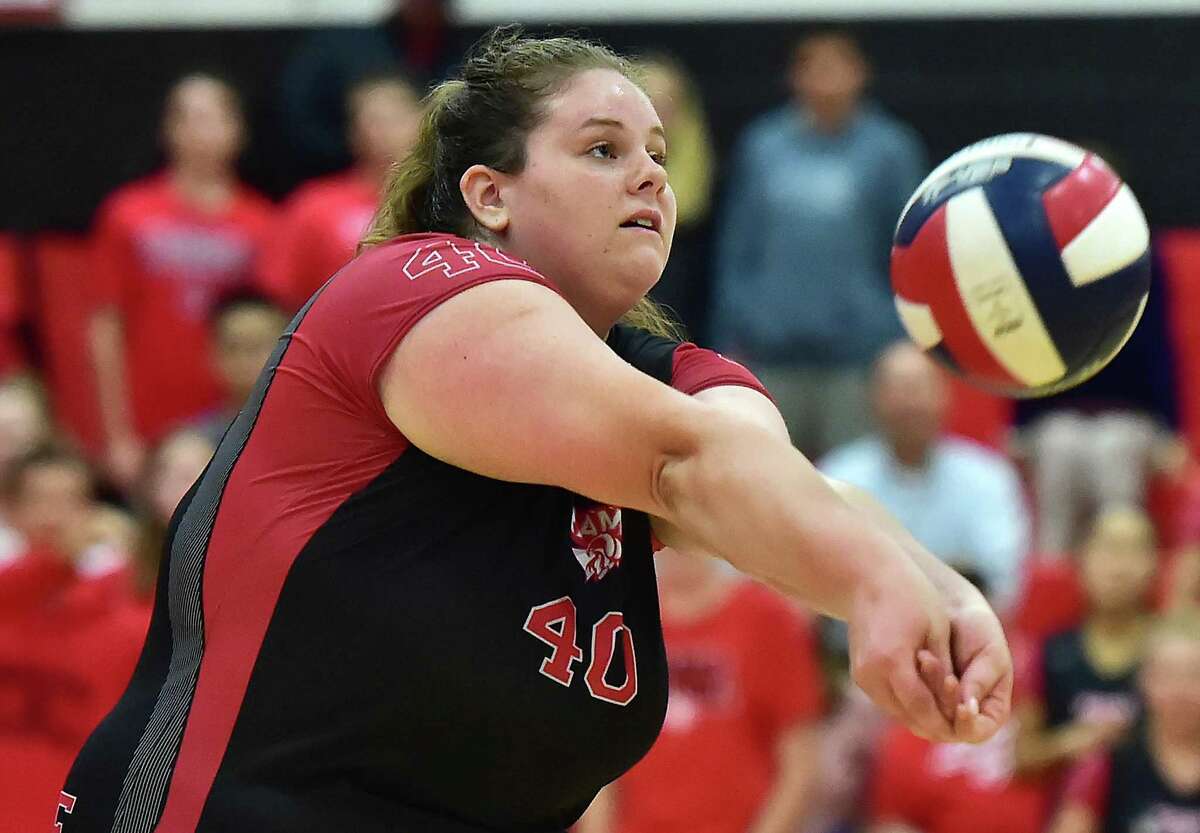 CHESHIRE — While the Cheshire and Amity girls volleyball teams have forged a number of exciting and challenging rivalries within the Southern Connecticut Conference over the years, the Rams and Spartans rivalry takes on special meaning thanks to some exciting postseason matchups in the 21st century.
Since 2005, the teams have met seven times in the SCC tournament, including five times in the final. Amity and Cheshire each recorded two victories in that span. In 2012, they were co-champs when the final was canceled due to severe weather.
In the CIAC state tournament since 2003, they have met six times in the semifinals or quarterfinals (five times in Class LL and once in Class L). On Tuesday, the Rams had revenge on their mind after the Spartans defeated Cheshire in three straight games in the 2017 Class LL semifinals that ended the Rams' season.
Lindsey Abramson had 10 kills, four digs and two aces and Ariana Perlini added nine digs to lead Cheshire to a 3-0 win over Amity at Cheshire High. Solid defense and consistent line-drive serves led the Rams to a 25-20, 25-18, 25-10sweep.
"This rivalry takes on special meaning because we're in the same conference and same (state tournament) division," Cheshire coach Sue Bavone said. "Because of that sometimes we face each other three or four times in a season. Last year, we were doing our best to try and get to the Class LL final even though two of our best players were missing (Abramson, ACL injury, Meagan Clyne, back injury).
"Now they're back from their injuries. It's too early in the season to get excited about a win. But this win kind of gives us closure on what happened last year. I firmly believe that defense wins championships, wins games, and it was a big reason why we won tonight. Every ball you keep up is another opportunity to score a point."
In the first game, with the score tied at 9, the Rams went on a 9-2 run to take control. Abramson capped the run with an ace to give the Rams an 18-11 lead.
"What happened last year, losing in the semifinal to Amity, fueled our fire tonight," Abramson said. "I'm not surprised by the one-sided win, I expected to win 3-0. They have some tough hitters but our defense is a big part of our game and our defense was inspired tonight. I'm proud of how everyone played and how energized everyone was on our team."
In the second game, the Rams took a 7-1 lead. The Spartans responded with an 11-4 run to take their first lead of the game at 12-11. But with the score tied at 15, the Rams' defense kicked into high gear again en route to a 10-3 run to close the game for a 25-18 win.
In the third game, with the Rams leading 7-5, Cheshire's Julia Bartiet took over. She won eight straight serves, including four aces to give the Rams a 15-5 lead as they cruised to 25-10 to seal the three-game victory.
"Cheshire is a strong team and we knew we would be in for a tough match," Amity coach Seth Davis said. "Our games with Cheshire are always big games for us, games we always circle on the calendar. I think the turning point in the match was in the second game. We were down 7-1 and battled back to take a lead but we couldn't extend that lead. In that third game we just lost our focus and didn't play well."
Abby Harbinson, the 2017 Register All-Area girls volleyball MVP, led the Spartans with seven kills and six digs. Maddy Adzigian added seven kills and Caroline Fertman had seven blocks.
CHESHIRE 3, AMITY 0
(at Cheshire)
Game scores: Cheshire won 25-20, 25-18, 25-10.
Notes: A—Abby Harbinson had seven kills, six digs, Maddy Adzigian had seven kills, caroline Fertman had seven blocks ; C—Lindsey Abramson had 10 kills, four digs, two aces, Ariana Perlini had nine digs.
Records: Cheshire 2-0, Amity 1-1.