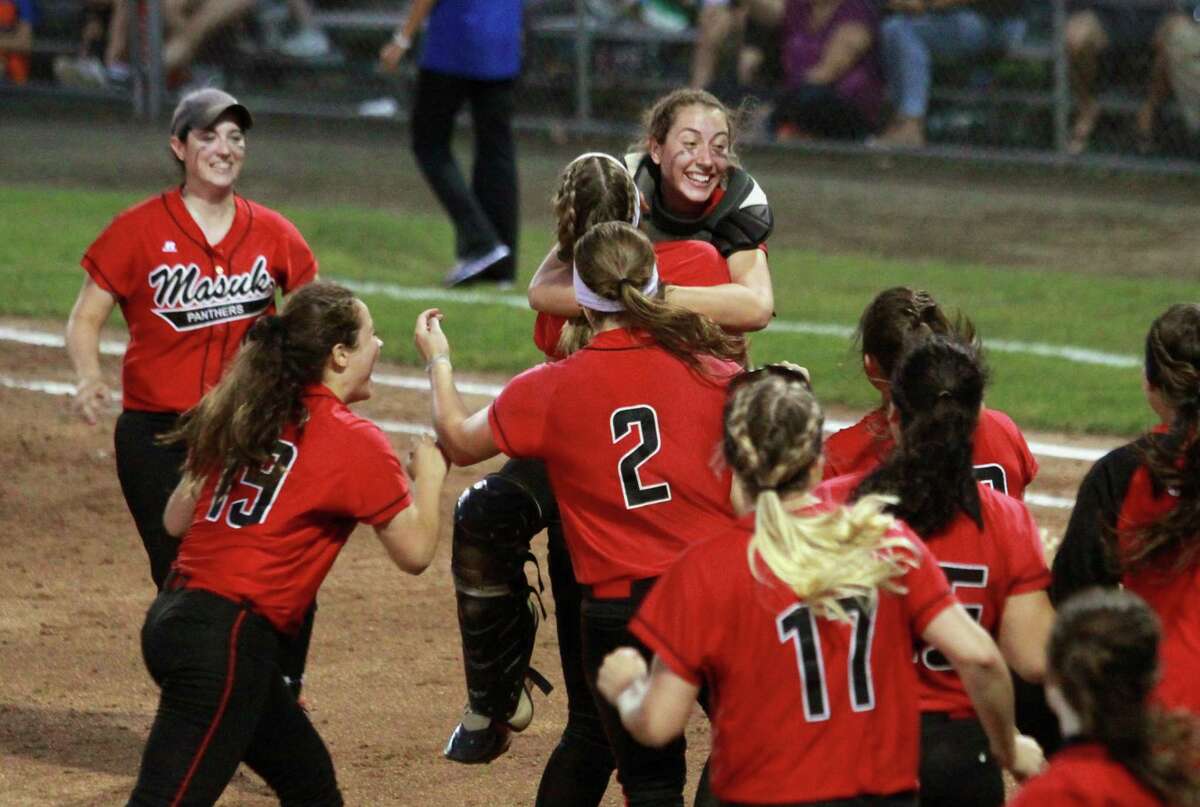 WEST HAVEN — The perfect team received a (near) perfect performance at the perfect time. It came courtesy of pitcher Samantha Schiebe, who allowed only two hits and struck out 14 over seven mesmerizing innings against SWC counterpart Brookfield on Friday.
Schiebe's brilliant performance in the circle helped the top-seeded Panthers complete an undefeated season with a 10-0 victory in the Class L championship at Biondi Field.
"They came in ready," Masuk coach Leigh Barone said. "She was one that was definitely ready."
CIAC SPRING CHAMPIONSHIP SCOREBOARD
So, too, was center fielder Megan McFarland, who tripled twice, doubled once and drove in a pair of runs to lead the Panthers' 10-hit night. The breakout performance earned McFarland Co-MVP honors with fellow junior Schiebe.
"We just came out strong and we came out hard," Schiebe said.
The victory capped a 27-0 season for the Panthers and gave the perennial contender its first state title since 2013 and fifth overall. Third-seeded Brookfield, which was appearing in its first final since 2000, concluded its season at 20-5.
The Bobcats simply had no answer for Schiebe. The right-hander struck out the first nine batters she faced and did not allow a runner to advance past second base all night.
"Sam was on," Brookfield coach Nick Castellano said. "She was throwing the high ball and we were swinging at the high pitch. We should've laid off it a bunch of times but we didn't. The girls will be back, they just couldn't adjust. Sam pitched a hell of a game. That's a great team."
It's a team that went into the postseason ranked No. 1 in the GameTimeCT/Register poll. The Panthers will likely end there as well after outscoring the opposition 44-2 across four games in the state tournament.
McFarland got the scoring started against Brookfield with a first-inning triple off Alyssa Lionetti. Her second triple of the night came just two innings later and put the Panthers ahead 3-0. That lead grew to 8-0 in the fourth on a two-run double by shortstop Alexa Bacoulis. In all, the Panthers scored in four of the six innings in which they batted.
"Going into the season, we knew we were going to go far," McFarland said. "Winning states, that was kind of like an if. But now we won it, so we feel pretty good."
The title was also the first for the Panthers under Barone, who succeeded Jacqui Sheftz as coach in 2015. The Panthers lost the 2016 Class L final to Fitch, a game in which Schiebe started as a freshman.
"Today she came in and she was comfortable," Barone said. "She was ready. This was the second time she's been here."
PLAYER OF THE GAME
Samantha Schiebe, Masuk, P: The junior was close to untouchable in the circle, pitching a two-hit shutout while striking out 14. She walked one and allowed just two balls to be hit past the infield.
QUOTABLE
"It's a privilege to have two SWC teams in the championship game. It took us a long time to get here. We did a great job. I'm very proud of my girls. I'd go to battle with them any day." — Brookfield coach Nick Castellano
MAKE IT TWO-FOR-TWO
In their lone regular-season meeting on May 14, Masuk edged Brookfield 6-4. The fact that the Bobcats were able to push across a couple runs that game against Schiebe left Castellano and Co. feeling confident heading into their state-championship rematch. Schiebe said she didn't change her approach despite that outing. "Nothing different," she said.
MASUK 10, BROOKFIELD 0
BROOKFIELD 000 000 0 — 0 2 3
MASUK 203 320 x — 10 10 1
Records: Brookfield 20-5; Masuk 27-0. Batteries: B — Alyssa Lionetti (L) and Laila Cofone; M — Samantha Schiebe (W) and Erica Pullen. Highlights: B — Emily Parchinski went 2-for-3. M — Megan McFarland went 3-for-3 with a walk and two RBIs. Gretchen Bunovsky had two RBIs and a stolen base. Schiebe threw a two-hit shutout, striking out 14.
The final out of Masuk's 2018 Class L Softball Championship, 10-0 over Brookfield #ctsb pic.twitter.com/nnzJwCHuEz

— GameTimeCT (@GameTimeCT) June 9, 2018