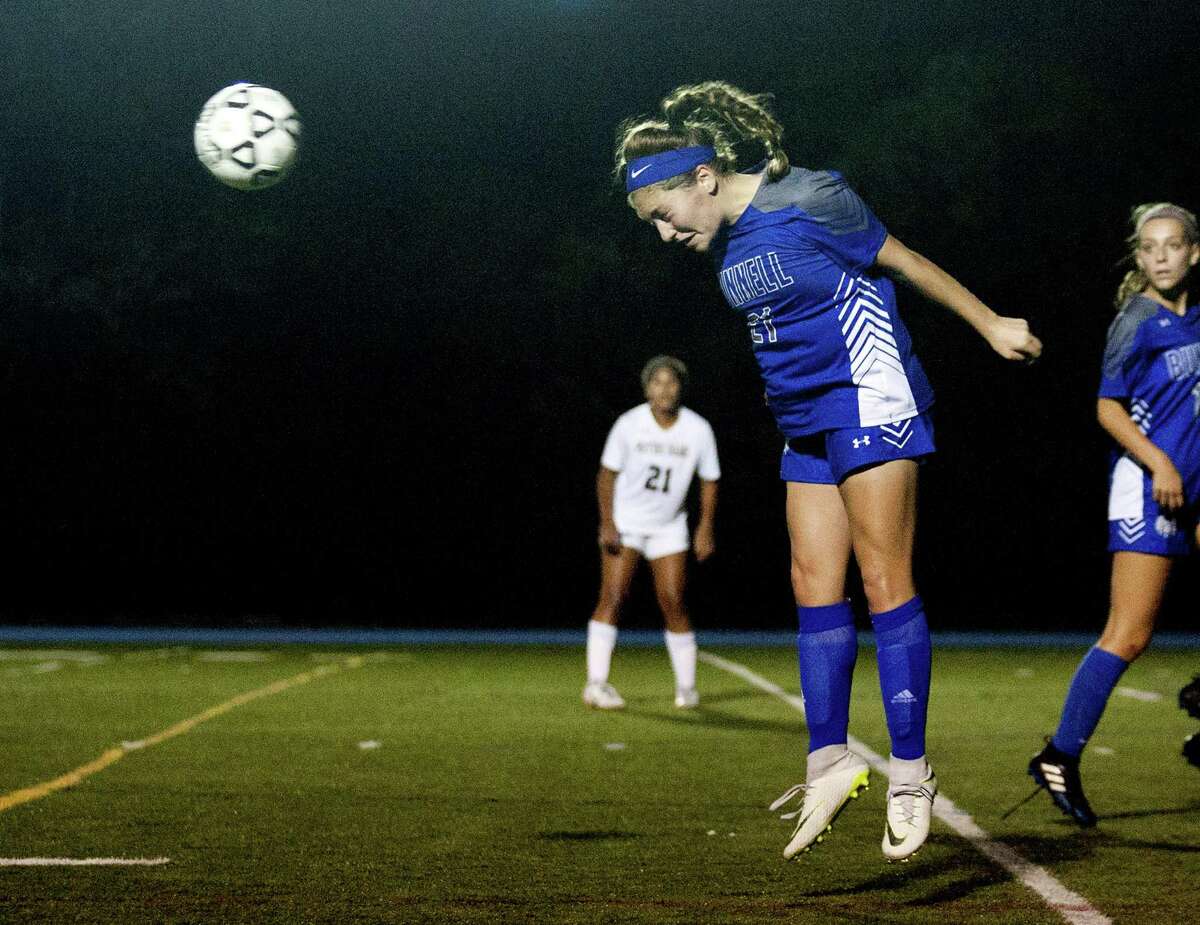 STRATFORD — It first seemed only a matter of time before Notre Dame-Fairfield opened the floodgates at Bunnell on Thursday night, that the Lancers would score in bunches and put away their SWC girls soccer game.
They did, eventually, winning 3-0, but not before the Bulldogs nearly grabbed a surprise lead and put pressure on the unbeaten Lancers.
Notre Dame goalie Tia Pascarelli tipped wide an Olivia Kells shot, ticketed for the open left side of the net, as Bunnell started taking over possession midway through the second half. That kept the Lancers' sheet clean through five games.
"When you play a good team, you know you're going to get some chances, but you're not going to get too many of them," Bunnell coach Sebastian Wojdaszka said.
"Who knows? It could've been a game-changing thing, could've been something that, score one, fired them up a little. At the end of the day, you have to take advantage. If you do get one, score one and defend well, you never know, things can turn out OK at the end."
It was Notre Dame (5-0, 5-0 SWC, 20-0 in goals) that finally scored one, Carly Zajac at the front of the net 1:43 into the second half. The Lancers added two more late.
"We really worked hard in the second half to beat them to balls and get a goal," Zajac said.
"I think we underestimated them a lot" in the first half. "We talked it over: In the second half, we needed to push more."
Notre Dame carried the first 15 minutes of the game or so, dominating possession time and field position. It wasn't generating tons of chances off that possession, though.
Bunnell's Fabiola Millien-Faustin ran down a ball just before the midpoint of the period, earning a corner kick and turning momentum toward the Bulldogs (1-4, 1-3).
"If we didn't turn it around, second half, eventually they're going to score," Lancers coach Wayne Mones said.
"We played a little more composed and created chances for the forwards (in the second), and when you've got forwards like our forwards, it's going to be good."
Toni Domingos scored the second goal, running down Taylor Gibbs' lead, with 11:30 to go. Tassia Ferreira put it away with a left-foot goal in front three minutes later. Domingos and Ferreira each added an assist.
"When you have someone like No. 11 (Domingos), you know (the defense) is going to be busy," Wojdaszka said. "You know it's going to be under pressure. You've got to try to make good decisions, and sometimes we didn't do that."
The Lancers might've taken a lead late in the first half when the ball bounced through to Domingos in the box. Bunnell goalkeeper Sarah Tartaglio came out to make a sliding save.
"Sarah, I really can't complain, someone who kind of stepped in and helped us out a little bit," Wojdaszka said. "What can I ask for? She's done a great job. She helped us get into the state tournament last year, and hopefully she'll do the same this year."
PLAYER OF THE GAME
Domingos drew attention but had a goal and an assist.
UNSUNG HERO
"Kasia Zawadzki in the back, anytime they beat us, she was always there to stop the play," Mones said of his all-state defender.
QUOTABLE
"Once you get a goal, you're not as panicky. We've got to learn to keep our poise and composure. We were just kicking balls in the first half. Once we got that goal, two more came, and that was it." —Lancers coach Wayne Mones
mfornabaio@ctpost.com; http://twitter.com/fornabaioctp; http://blog.ctnews.com/fornabaio
NOTRE DAME-FAIRFIELD 3, BUNNELL 0
NOTRE DAME-FAIRFIELD0 3—3
BUNNELL0 0—0
Records: Notre Dame-Fairfield 5-0, 5-0 SWC; Bunnell 1-4, 1-3. Goals: NDF—Carly Zajac, Toni Domingos, Tassia Ferreira. Assists: NDF—Ferreira, Taylor Gibbs, Domingos. Goalies: NDF—Tia Pascarelli (5 saves); B—Sarah Tartaglio (5). Shots: NDF—8; B—5.