Week 4: Wilcox Tech (2-1) at O'Brien Tech (2-0)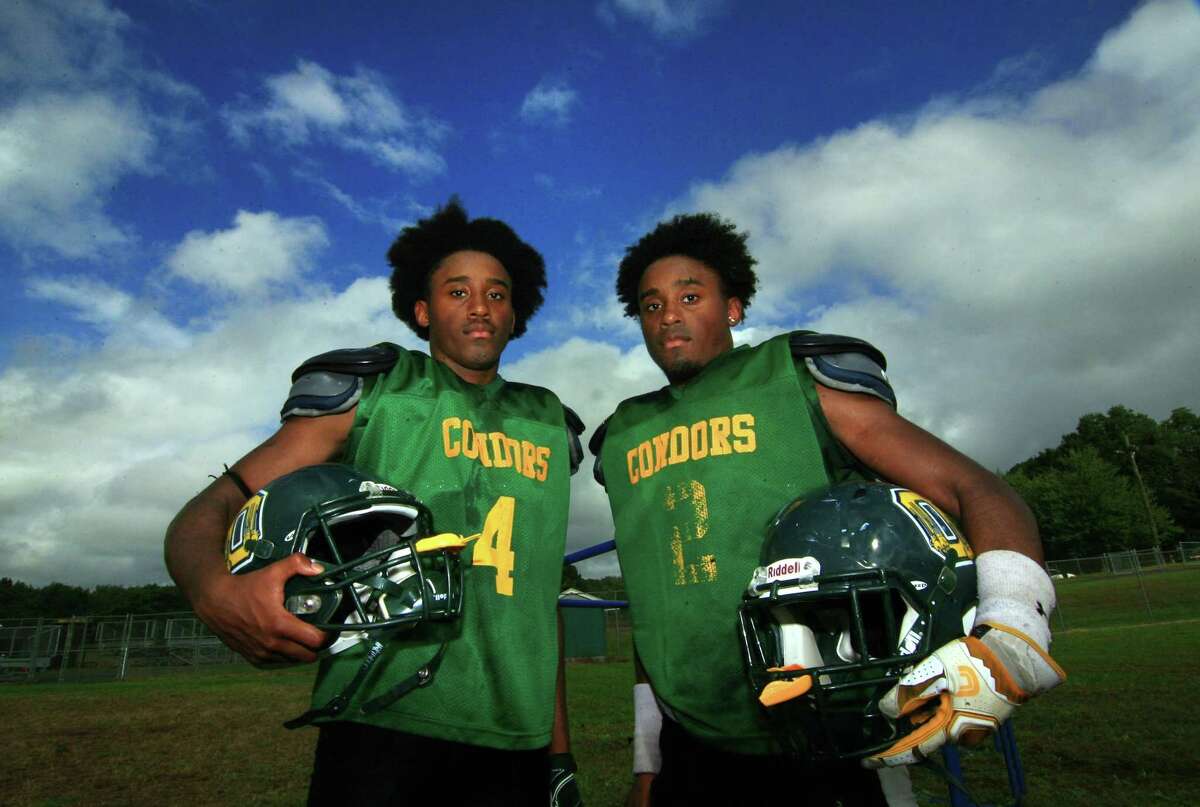 ANSONIA — Nick Aprea admits he is lucky, not just because Jommar and Jonte Roc chose to attend O'Brien Tech, but because of how long they've stayed.
"I'm fortunate that they actually stayed," Aprea, the school's football coach, said Wednesday. "I always say that to people because a lot of times we have kids that sometimes think if they're good here, they can go someplace else, maybe back to their home school and play. But those two, Jommar and Jonte, decided to stay with us. You know, we're grateful for that."
You see, O'Brien Tech is by no means a destination school for football prodigies. The Condors are in their eighth year of existence. Only once have they ended a season with a winning record.
Jonte had wanted to attend the hometown school — that being Ansonia, one of Connecticut's most legendary football programs. But he didn't have much say in the decision. Apparently neither did his identical twin brother Jommar.
"Eighth grade, I really didn't want to come here at first," Jonte said Wednesday during a break in practice. "My mom, she really forced me to come. I did it to get out of science class. I wanted to play for Ansonia at the time, but she told me to come here. It was OK. I wasn't used to losing."
Jonte Roc on the competitive rivalry he shares with his twin, Jomarr @CondorFootball #cthsfb pic.twitter.com/xBEYskzv81

— Doug Bonjour (@DougBonjour) September 26, 2018
What happened next? Well, Jommar and Jonte did a whole lot of losing. They won only two games their freshman year and four their sophomore season. Meanwhile, mighty Ansonia just kept winning and winning and winning. The Chargers won 25 games those two seasons, including a record 20th CIAC title in 2016.
Through it all, Jommar and Jonte stayed put, believing that better days were ahead for the Condors.
"Instead of going to Ansonia or anything," Jommar, 17, said, "I just decided to stick it out with (Coach Aprea) and just grind through this together. Coach Aprea's a great guy. I look to him as more than a coach. I look to him almost like a father figure. I'm really enjoying this right now."
Fast-forward to today: Jommar, a two-way starter at quarterback and linebacker, is an indispensable piece of the Condors' program. So, too, is Jonte, who starts at running back and safety and returns kicks. Together, they've helped reinvigorate the Condors, even transforming them into a playoff team.
The Condors opened eyes last season. They went 8-3 and made the Class S quarterfinals, watching their dream season end 62-0 at the hands of powerhouse St. Joseph. The Roc brothers finished the season with a combined 1,481 yards rushing.
"They knew they were the big fish in a small pond," Aprea said. "They knew that they were the guys. They've done a nice job. … I think football's made them better kids. They're two kids that — they're relishing this opportunity. They've maintained the same heads. They're pretty much the same kids as when they walked in as freshmen, at least it's that way around me. Maybe they walk around like big shots around other people.
"It's a nice problem to have when you have those two kids. Who knows if this program will ever see that again. You know?"
On the field, Jommar and Jonte couldn't be more similar. They are both physical, elusive runners with a knack for making plays on both sides of the ball. Through two games this season — wins over Prince Tech and Quinebaug Valley — they've combined to score nine touchdowns.
"Those two kids are threats every time," Aprea said. "First of all, they're strong. They're strong kids. Either one of them could run the ball into the end zone on any single play."
It's off the field — when they don't have the ball in their hands — where their differences, albeit slight, begin to show.
"They're definitely different," senior defensive end/tight end Bobby Hudak said. "Jommar is more of a serious, focused kind of guy. He likes to crack jokes sometimes. Jonte loves to talk. He loves to talk. Jonte is always trying to tease and be funny. Jommar is usually the one to snap back if another player talks back to him."
Stopping by O'Brien Tech today. The topic? The Roc brothers #cthsfb pic.twitter.com/YBxAiLCMl0

— Doug Bonjour (@DougBonjour) September 26, 2018
Their success on game days is rooted in their knowledge of an old-school offense. The Condors are one of only a handful of teams in Connecticut who still run the single-wing. Aprea adopted the run-first system in 2016, and they have stuck with it. And they've done so quite well this season, averaging 31 points heading into Saturday's home game against Wilcox Tech (noon kickoff).
Keep in mind, this is not an offense that initially had the team's biggest playmakers jumping for joy.
"At first when we started doing this, I was like, 'What is Coach doing? I've never seen anything like this,' " Jonte remembers thinking to himself. "He said North Haven's been doing it, so I looked at some of their clips. Our first day of doing this, we weren't really that good with it because guys just wanted 15 yards a carry. But you really need just 3-and-a-half yards a carry."
Added Aprea: "It takes a lot of concentration. It doesn't match their styles. Those two kids (Jommar and Jonte), they run around, they're Hollywood. … It wasn't easy to have them buy into it. The fact that they've bought into it is just as much of a feel-good story as us winning."
Jonte said he remembers stepping onto the field for the first time as a freshman and wanting to be the star. That meant having to outshine his brother. Of course, Jommar had plans of his own.
Three years later, both seem to have softened from that stance. They still share a sibling rivalry, only it's more playful than anything else.
"We're very competitive, even at home," Jommar said. "I remember being younger … we used to have one (video-game) controller, so we used to fight to see who was getting on the stakes first."
And now?
"We don't want to tell each other who's better," Jonte said. "We just go out here and try to show it."
dbonjour@ctpost.com; @DougBonjour