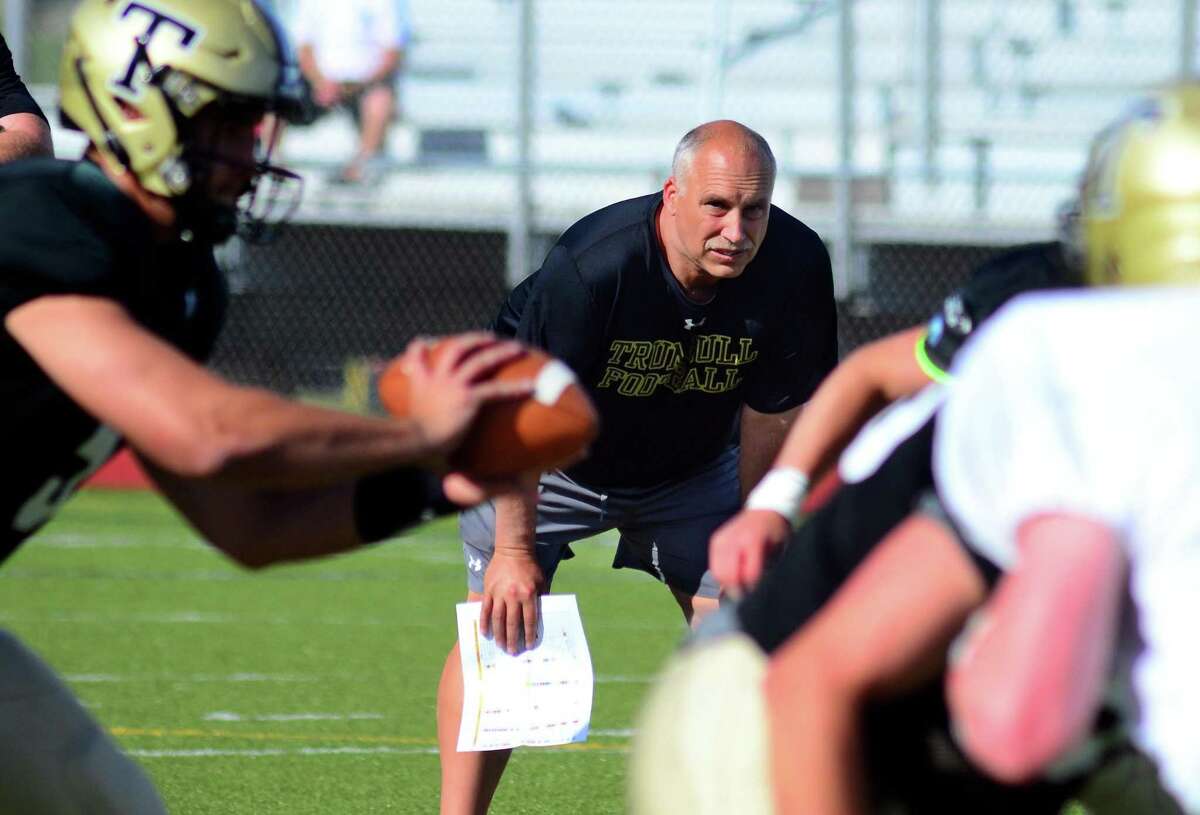 TRUMBULL — For the first time in more than a quarter-century, Marce Petroccio found himself coaching football somewhere other than Staples.
Friday's Black and Gold Spring Game marked Petroccio's unofficial return to Trumbull, where he played and later coached under the legendary Jerry McDougall.
"I feel very comfortable right now, to be quite honest with you," Petroccio said. "We've had a great nine days of practice. These are great kids. It's been a lot of fun. They are like sponges, soaking everything up that we do."
It's a radical change, but not one to which the Hall of Fame coach has had trouble adjusting. Petroccio quipped that outside of his daily commute — which, by the way, is now only eight minutes longer — life has pretty much remained the same.
"I started walking the halls and it just all kind of came back to me. It's like I never left 25 years later," he said. "I go to meet with the human resource person and she's a girl I went to school with since second grade. The head of security here, I went to high school with him. It's just nice to be home."
Over in Trumbull, Marce Petroccio got his first live look at his new team #cthsfb (via @DougBonjour) pic.twitter.com/oCufS8EDH8

— GameTimeCT (@GameTimeCT) June 16, 2018
Since he was hired in late January, Petroccio has talked about changing the culture at his alma mater. His first moves were to bring with him much of his coaching staff from Staples — a "top-notch" group, he calls them — and to forge strong relationships with his players. After that came the X's and O's.
"It's very different from last year," quarterback Colton Nicholas said. "I'm very happy that he's here. Everybody's excited and everybody's getting to work. It's going to be a good year."
That's certainly the goal for Petroccio. He watched from afar last season as Trumbull went 3-7 and missed the playoffs for the seventh straight season. The pain of losing was compounded by a string of off-the-field incidents that led to player suspensions and the eventual departure of coach Bob Maffei after 19 seasons.
"We're trying to create some bonds and some relationships," Petroccio said. "Kids have been accountable and they're working hard, from a kid who's a sophomore to a kid who's a senior. I'm really happy, I think it's coming together."
Nicholas, a rising senior who is in line to start for the second straight season, said Petroccio's overarching message to the team was this: "You better get working."
So far, so good.
Trumbull starting QB Colton Nicholas tosses a TD #cthsfb pic.twitter.com/rMa2EAO5Mp

— Doug Bonjour (@DougBonjour) June 15, 2018
"We were in the weight room the first day," Nicholas added. "We were like, 'This is going to be different.' We're working hard, we're lifting weights."
Not surprisingly, there was palpable excitement throughout the school when news of Petroccio's return broke. Nicholas remembers texting back and forth with teammates about how they landed "Coach P."
"I was excited, too, knowing that he did win a state championship here," wide receiver/safety Daniel Arganese said. "He's a really cool guy. I love talking to him, not even just as a coach but as a friend. He's that type of guy. When you need to get down to business, he'll coach you up. And he'll do it well."
Petroccio was a defensive end on McDougall's first state championship team, the 1977 powerhouse that was ranked No. 1 in New England. He won plenty at Staples, too, amassing 210 wins, three state championships and five FCIAC titles over 25 years. The Wreckers were 6-4 last season.
Trumbull scores a touchdown against Trumbull. #cthsfb pic.twitter.com/lFqIOeLvc1

— Doug Bonjour (@DougBonjour) June 15, 2018
"It makes us fight a lot more for our positions knowing that it's a new coach," said Arganese, a rising senior. "The aggression is really amped up, but he still keeps us under control."
The Spring Game provided Petroccio one of his first looks at those positional battles. Speaking at halftime, he raved about numerous players, including left tackle Michael McHugh, wide receivers Ryan Cranston and Peter Schmitz and linebacker Adam Tolk.
"We're going to have our hiccups and our ups and downs, I understand that. But, these kids are eager to learn," Petroccio said. "We're happy with what we've got so far."