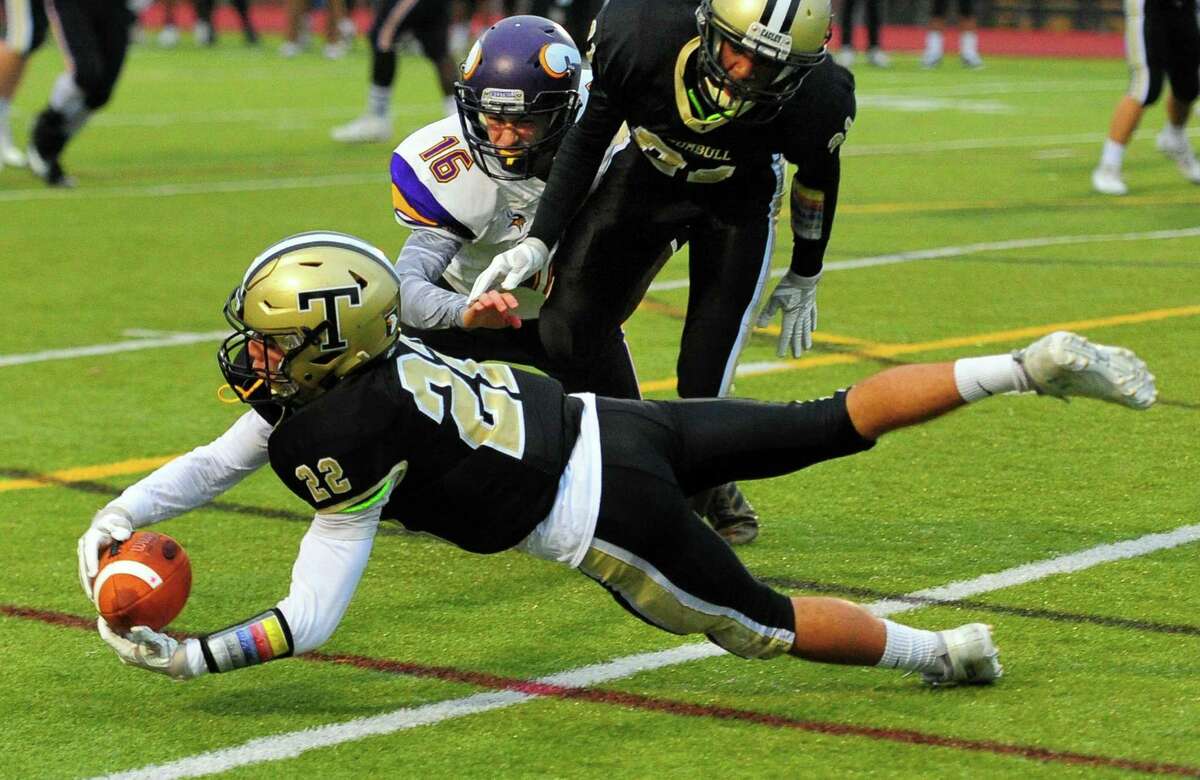 TRUMBULL — Trumbull High football coach Marce Petrocchio said that the first quarter Friday against Westhill "took 10 years off my life." Fortunately for Marce, the rest of the game probably restored those 10 years.
With Adam Tolk having a great all-around game, quarterback Colton Nicholas passing for 264 yards and two touchdowns and running back Corey Osborne rushing for 130 yards and a score, Trumbull reached .500 with a 35-15 victory.
"It was frustrating because we were down 8-0 and the defense hadn't given up a point," Petrocchio said.
The Vikings had two scores — a touchdown and a safety — despite having -3 yards of offense with two minutes remaining in the first quarter. Westhill's Ja'Kai Young returned a fumble 99 yards for a touchdown and then a bad Eagles snap from center rolled 35 yards out of the end zone for a safety and suddenly the Vikings were up eight on Senior Night at Trumbull.
"We started out exactly how you dream about it," Westhill's first-year coach Joe Devellis said. "We came up with the big play. After that, Trumbull (4-4) had to work for everything they got."
It was a solid effort by the Vikings (1-7). Quarterback AJ Laconna threw for 189 yards and one touchdown — an eight-yard toss to Angelo Nicholas (seven receptions for 121 yards) with three seconds left in the game.
Young's fumble return was really a potential 14-point play as the Eagles were ready to go in on a first-and-goal from the Westhill 1-yard line.
Two THS possessions later came the bad snap on a first down from the 25. At this point Petroccio had to be sounding like the late, great Vince Lombardi on the Trumbull sideline ("What the hell is going on here?")
"It was more of the same nonsense that has happened to us this season," Petroccio said. "But tonight the good thing was that we faced adversity and got better."
Westhill actually drove down to the Trumbull five on its next possession but instead of taking a double-digit lead, the Vikings missed a 25-yard field goal. Soon after that, Petroccio would have those 10 years back.
"After that, we played great," Petroccio said. "It was Senior Night and our seniors have been through a lot the last few years so I was glad to send them off with a win."
One of those seniors was Tolk, who ran for a score, caught a pass for another, blocked a punt, was in on three sacks, and was probably the Eagles' best defensive player along with fellow senior Chris Briganti.
"I had a good game, but I'd like to think it was just another day at the office," Tolk said. "The key was that we stayed even-keeled and composed. This was a glimpse of what we can do."
Tolk's three-yard run put the Eagles on the board before Osborne raced in from 16 yards out for a 14-8 lead.
In the third quarter it was Colton Nicholas to Kyle Atherton from 67 yards and then Nicholas to Tolk from two yards out. Sophomore Mileeq Green's 65-yard run out of the wildcat formation gave Trumbull a 35-8 lead before Laconna and Angelo Nicholas hooked up on the final play from scrimmage.
TRUMBULL 35, WESTHILL 15
WESTHILL 8 0 0 7 — 15
TRUMBULL 0 14 14 7 — 35
W — Ja'Kai Young, 99 fumble return (pass failed)
W — Safety, ball snapped out of end zone
T — Adam Tolk, 3 run (Ryan Cranston kick)
T — Corey Osborne, 16 run (Cranston kick)
T — Kyle Atherton, 67 pass from Colton Nicholas (Cranston kick)
T — Tolk, 2 pass from Nicholas (Cranston kick)
T — Mileeq Green, 65 run (Cranston kick)
W — Angelo Nicholas, 8 pass from AJ Laconna (Tyrrese Bazile kick)
Records: W 1-7, T 4-4