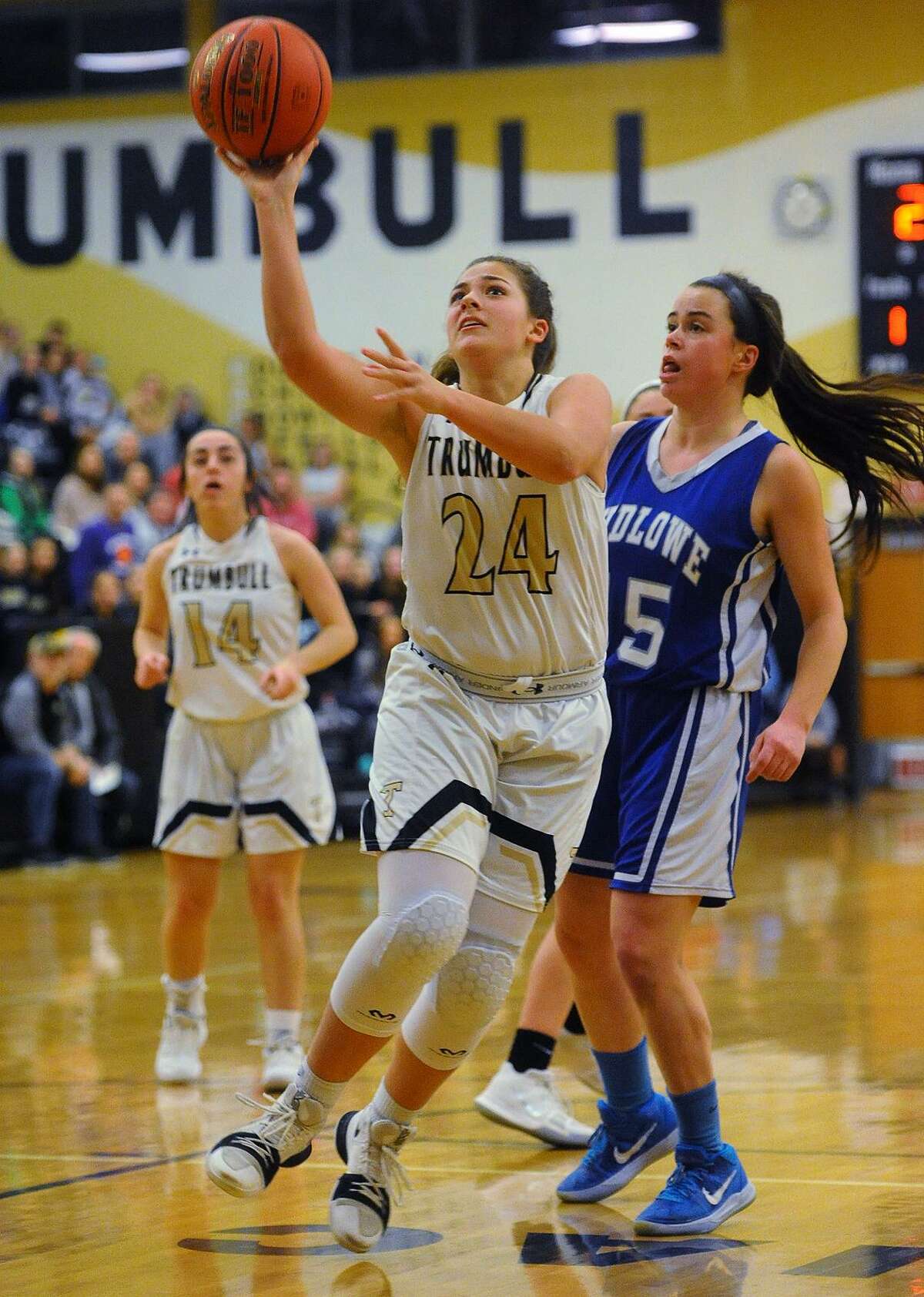 TRUMBULL — After Trumbull's 51-33 girls basketball victory Monday over Ludlowe, we know this much about the undefeated Eagles: They can shoot, defend, rebound and score in the paint.
If, however, there is one aspect of the game that might still be a gray area for the 11-0 Eagles, perhaps it is this: Can they respond to a challenge? Before Monday's victory, nine of their previous 10 wins have been by 14 points or more, and they don't play the other undefeated FCIAC team (Norwalk) until the penultimate game of the regular season on Feb. 11.
But the Eagles might have shown a glimpse of that characteristic Monday.
"We showed lots of resiliency tonight," Trumbull coach Steve Tobitsch said. "We knew this would be a real test."
When Ludlowe (7-3) made a run, the Eagles responded in a big way. A 21-7 Trumbull lead midway through the second quarter was suddenly four (25-21) early in the third quarter. But led by Cassi Barbato, who had 25 points, the Eagles shook their collective index finger and said, "No, I don't think so," and boosted the lead back to 11.
Later, in the opening minute of the fourth quarter, the pesky Falcons got within five. And once again the Eagles reacted well with a 9-2 run that put the game away.
"We fought to the end but Trumbull is a disciplined team that knows how to handle the ups and downs of a game," Ludlowe coach Sara Kinsley said. "They're a great team and went on a run when they had to."
Barbato was the biggest reason the Falcons couldn't get over the hump. The sophomore had one of her better games, adding six rebounds and displayed an effective inside game to go with her usual strong perimeter strengths (three 3-pointers).
"It was a team effort," Barbato said. "We made good passes and set screens that left me wide open for layups. But I knew Ludlowe would keep coming back and challenge us. But we played together and stayed in control."
The two-time defending FCIAC champion Eagles and Class LL state semifinalist last season, do indeed look like a title contender again, despite the infusion of so many young players.
"We're young in spots with two sophomores starting and three freshmen coming off the bench," Tobitsch said. "We're not near our potential yet but at some point we're going to need to turn it up."
The Eagles might have given their coach a sneak peek of that Monday.
Krystina Schueler scored 12 points and had eight rebounds, Allie Palmieri added seven rebounds and Barbato had six for the Eagles.
Anna Paulmann led Ludlowe with nine points.
PLAYER OF THE GAME
Sophomore Cassi Barbato scored from inside and out to lead all scorers with 25 points, and had 17 of her team's 25 in the first half.
BOARDING SCHOOL
The Eagles can score and play defense but can also mix it up underneath the basket. They outrebounded Ludlowe 30-11 margin.
QUOTABLE
"Cassi is a very skilled player and had a great game. We weren't able to hold her within 10 points, which is what we wanted to do" — Ludlowe coach Sara Kinsley
TRUMBULL 51, LUDLOWE 33
FAIRFIELD LUDLOWE (33)
Juliet Bucher 2 0-0 6; Emma Torello 3 0-0 8; Anna Paulmann 2 5-8 9; Bridget Paulmann 3 1-4 8; Paige O'Connell 1 0-0 2; Laura Herron 0 0-0 0; Ira Boci 0 0-0 0; Trish Carey 0 0-0 0. Totals: 11-31 6-12 33
TRUMBULL (51)
Meghan Lesko 0 0-0 0; Kelly O'Leary 0 2-2 2; Krystina Schueler 5 2-2 12; Cassi Barbato 11 0-0 25; Allie Palmieri 3 0-0 7; Emi Roberto 1 0-0 2; Sarah Stolze 0 0-0 0; Emma Gentry 1 0-0 2; Isabellaq McCain 0 0-0 0; Jenna Desabella 0 1-2 1; Maeve Hampford 0 0-1 0; Gianna Ghitsa 0 0-0 0. Totals: 21-41 5-7 51
LUDLOWE 4 14 8 7 33
TRUMBULL 11 14 10 16 51
Haltime: T 25-18. 3-pointers: FL — Bucher 2, Torello 2, B. Paulmann. T — Barbato 3, Palmieri. Records: L 7-3, T 11-0