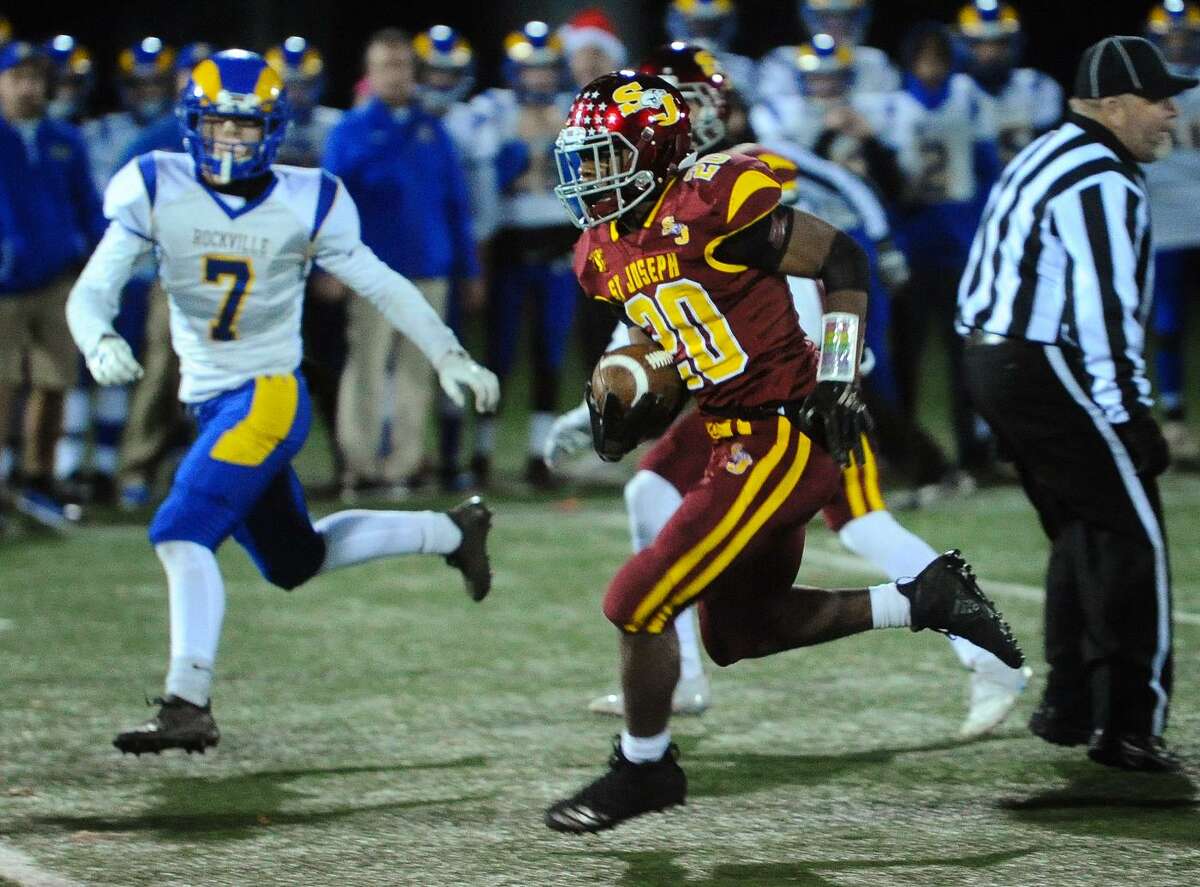 STRATFORD — It was easy to see that St. Joseph and Rockville are at two different levels.
The former is the defending Class S state champion with a tradition of winning championships while the latter is a state tournament novice having last appeared in the playoffs in 1995.
The top-seeded Hogs overwhelmed the eighth-seeded Rams, offensively and defensively, and left little doubt in a 49-7 victory in the CIAC Class M state quarterfinals on Tuesday night at Penders Field.
"Today was one of the better games we've played all year," said senior QB and future Maryland signal caller David Summers, who threw four touchdown passes in less than a half of work. "We came in right off the jump and scored first drive, which is always big. We scored almost every drive (in the first half) which helps and the defense came up big, they (Rockville) had a hard time getting first downs so I think overall we all played great."
2018 CIAC FOOTBALL PLAYOFF SCOREBOARD
St. Joe's (10-1), the defending Class S champion, advances to the Class M state semifinals where the Hogs will play No. 4 seed and defending Class M champion Killingly (10-1), which beat No. 5 Cheney Tech 62-0 in the quarters, on Sunday at 12:30 p.m. at Penders Field.
@StJHogs off to a quick start in Class M with a decisive 49-7 victory over Rockville! @SJCadets @fciac #cthsfb

Be sure to check out our whole show at 10:30 pm on @FrontierVSN and 11:30 pm on @TheCW channel 20! pic.twitter.com/zSJ1SO21GW

— CT Sports Now (@CT_Sports_Now) November 28, 2018
Jaden Shirden also had a solid day on the ground for the Hogs with the junior running back scoring three touchdowns while rushing for 120 yards on 13 carries.
There's not much more St. Joseph head coach Joe DellaVecchia could ask for from his players.
"We came out ready," he said. "Our kids are pretty focused and all year we've had a target on our backs. We've got a lot of kids who can play with four good receivers, a great back and a great quarterback. It's all about who's going to be the next guy to make a play."
DellaVecchia saw a number of his players making plays and the Hogs took the opening kickoff and marched right down the field. An eight play, 53-yard drive culminated with Summers finding Jesse Bike (2 TDs) from 4 yards out for the touchdown.
Rockville couldn't generate any offense on its first possession, or any other possession for the most part in the first half, and was forced to punt, but the punter couldn't get a hold of the snap and had to fall on the ball at the Rams' 9 for a turnover on downs.
It was that kind of night for Rockville head coach Erick Knickerbocker and his charges, but he couldn't have been any prouder of how his players performed for him this season.
"We're on totally different planets," said Knickerbocker of the difference between the two teams. "They're a team that's here every year and we really respect what they do, but we were 1-9 last year and we're trying to change a lot of things. For us to get here this year was a great accomplishment and to see what the best is, I think they're the best team in the state, so you're going to learn a lot more that way."
Summers (9-of-12, 130 yards) went to work thereafter and fired a strike to Brady Hutchison from 9 yards out for a 14-0 lead.
Another three-and-out by Rockville led to a subsequent scoring drive by the Hogs. Summers connected with Owen DaSilva to cap a four play, 39-yard drive for a 21-0 edge.
The Rams finally moved the chains on their next possession and went for it on fourth down from their own 37 but threw an incomplete pass for a turnover on downs. Four plays later, the Hogs were celebrating another touchdown when Shirden scored his first TD of the night from 10 yards out to make the score 28-0 as the first quarter came to a close.
The key play on the drive was when Summers found Hutchison for a 21-yard gain on third-and-4.
"The line got a good push and I just was able to keep running hard as the game progresses," Shirden said. "We were clicking all day offensively. We're looking forward to our next game."
PLAYER OF THE GAME
Jaden Shirden, St. Joseph. The junior tailback had a hat trick of TDs in the Hogs' 49-7 Class M quarterfinal victory.
UNSUNG HERO
David Summers, St. Joseph. The senior QB threw four touchdown passes to three different receivers in leading St. Joe's to a convincing 49-7 win over Rockville in the Class M state quarterfinals.
QUOTABLE
"We feel great and I think we're playing our best football right now," Summers said.
"Their speed is next level," Knickerbocker said of the Hogs.
"They (the defense) have been super all year," DellaVecchia said. "They fly under the radar and they are the big key to our team."
"We expected them (to make the semifinals)," DellaVecchia said of Killingly. "They have a great program. Coach (Chad) Neal does a great job with them. They're defending champs, as are we, so it should be quite a day."
ST. JOSEPH 49, ROCKVILLE 7
ROCKVILLE 0 0 7 0 —7
ST. JOSEPH 28 21 0 0—49
SJ—Jesse Bike 4 pass from David Summers (Luke Kirby kick)
SJ—Brady Hutchison 9 pass from Summers (Kirby kick)
SJ—Owen DaSilva 10 pass from Summers (Kirby kick)
SJ—Jaden Shirden 10 run (Kirby kick)
SJ—Shirden 12 run (Kirby kick)
SJ—Bike 11 pass from Summers (Kirby kick)
SJ—Shirden 25 run (Kirby kick)
R—Nicholas Foley 1 pass from Benjamin Ambro (Jake Poutre kick)
Records: St. Joseph 10-1, Rockville 7-4.