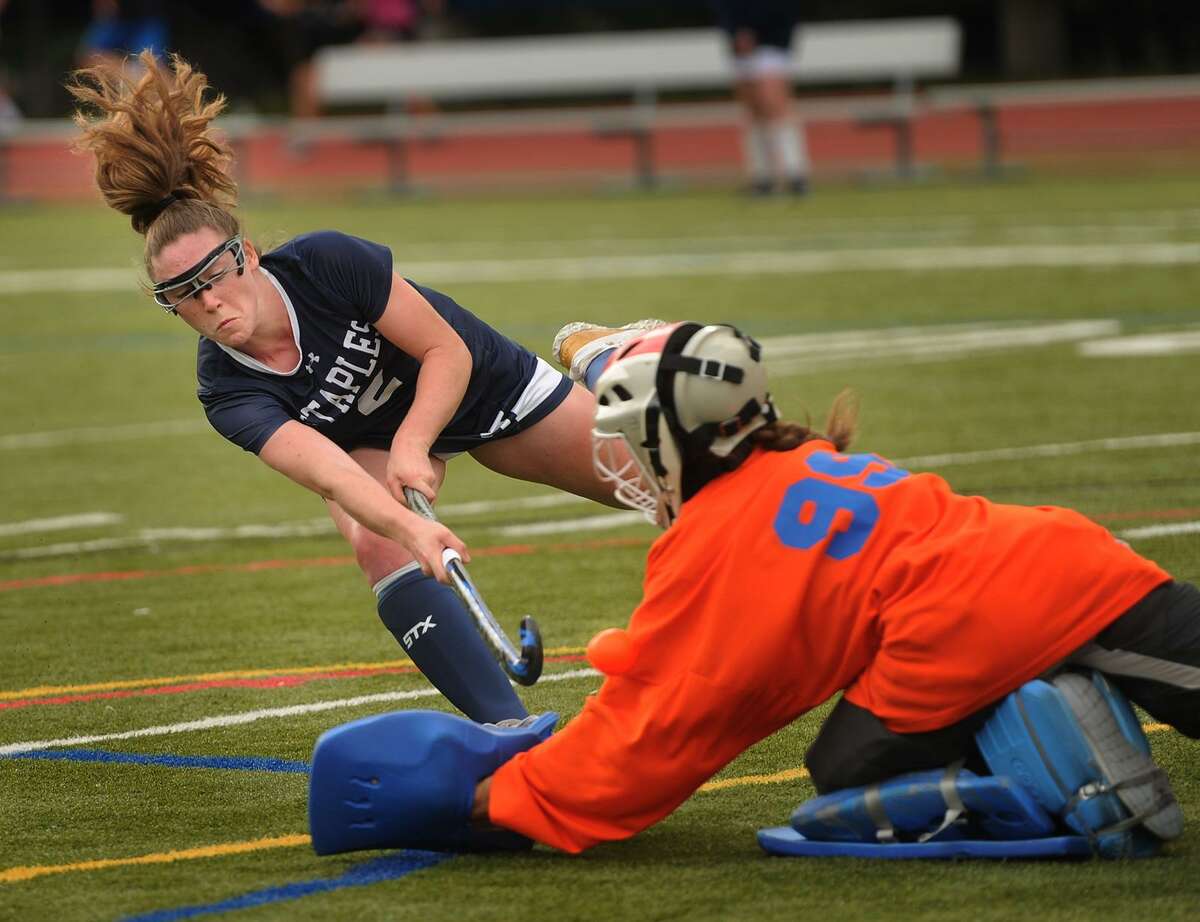 FAIRFIELD — Joe Skarupa was curious.
His young Ludlowe field hockey team had gotten off to a fast start in its opening five games, winning three and tying one and with Staples, the class of the FCIAC, standing on the opposite side of the field Monday, Skarupa felt the game would give him a good sign of where the Falcons stood.
"We have a lot of work to do," Skarupa said afterward.
Indeed. Ludlowe ran into a Staples squad that is clicking on all cylinders both offensively and defensively through six games. The Wreckers put together 13 penalty corners, outshot the Falcons 26-0 and rolled to a 9-0 victory Monday afternoon at Taft Field.
"We've got a lot of work to do," Skarupa said, repeating the obvious. "They've beaten up on everyone that they've played. After the game, we spoke about what we have to do and we're going to get at it tomorrow."
Staples dominated the game in all aspects. Ludlowe had just one penalty corner and that came in the final three minutes of play. The Wreckers did not allow the Falcons a shot on goal and pummeled Ludlowe keeper Grace Ghee with 15 shots in the first half, Ghee eventually making 19 saves before being relieved early in the second half.
"Up to today, Grace had only given up four goals in four games," Skurpa said. "She just hit a buzzsaw today."
The Wreckers, currently ranked No. 1 in the GameTimeCT field hockey poll, improved to 6-0 on the season, outscoring their opponents 37-3.
"We're really good playing around the baseline … take it around the back and pass it to the top of the circle, which is where we get a lot of our goals from," Staples junior forward Kyle Kirby said. "We get a lot of rebounds because we're all crashing into the circle."
Crashing into the circle allowed Kirby to score three times (she also added an assist) while Julia DiConza scored twice and Emma Strauss, Isabella Deveney, Roxy Augeri and Madelaine Ambrose netted single tallies. Ambrose added three assists.
"When you get the ball in a good position and with the forwards coming in, it's very hard for the goalkeeper to be able to stop the ball," Staples coach Ian Tapsall said. "I'm trying to get these guys to play possession, move the ball around the back and transfer from side to side quickly enough to find a seam. Once we find a seam, we can exploit it and go forward."
It took the Wreckers barely five minutes to take the lead and from then on, it was off to the races, grabbing a 4-0 halftime lead and adding five more goals in the second half.
"We're playing well right now," Kirby said. "Hopefully we'll keep this winning streak going."
"I rotate six forwards, two forwards at a time and I've got some really quick people up front," Tapsall said. "I rotate them every 10 minutes. Kirby, who plays at the top of the diamond, is really quick."
Ludlowe dropped to 3-2-1 with the loss and Skurpa understands that it's time to get back to the drawing board
"Our defense … our stickwork needs work," Skurpa said. "Like I said before, we have a young team, we only have like, five returning players from last year's varsity, so a lot of these kids haven't played at this level before. We're working on it and we'll continue to work on it."
As for the No. 1-ranked Wreckers, they enjoy having that target on their backs.
"It's nice to have that status," Tapsall said. "It certainly makes them play harder, they don't want to rest on their laurels because everyone wants to beat them."
STAPLES 9, LUDLOWE 0
STAPLES 4 5—9
LUDLOWE 0 0—0
Records: Staples 6-0; Ludlowe 3-2-1. Goals: S—Kyle Kirby (3), Julia DiConza (2), Emma Strauss, Isabella Deveney, Roxy Augeri, Madelaine Ambrose. Assists: S—Ambrose (3), Kirby, Maya Reiner, Abigail Ragland, Ella Bloomingdale. Shots: S—, L – 0. Goalies: S—Bridget Mulloy (0 saves), Grace Cooper (0 saves); L—Grace Ghee (19 saves), Ally Schwartz (1 save), Kaili Jacobsen (0 saves).