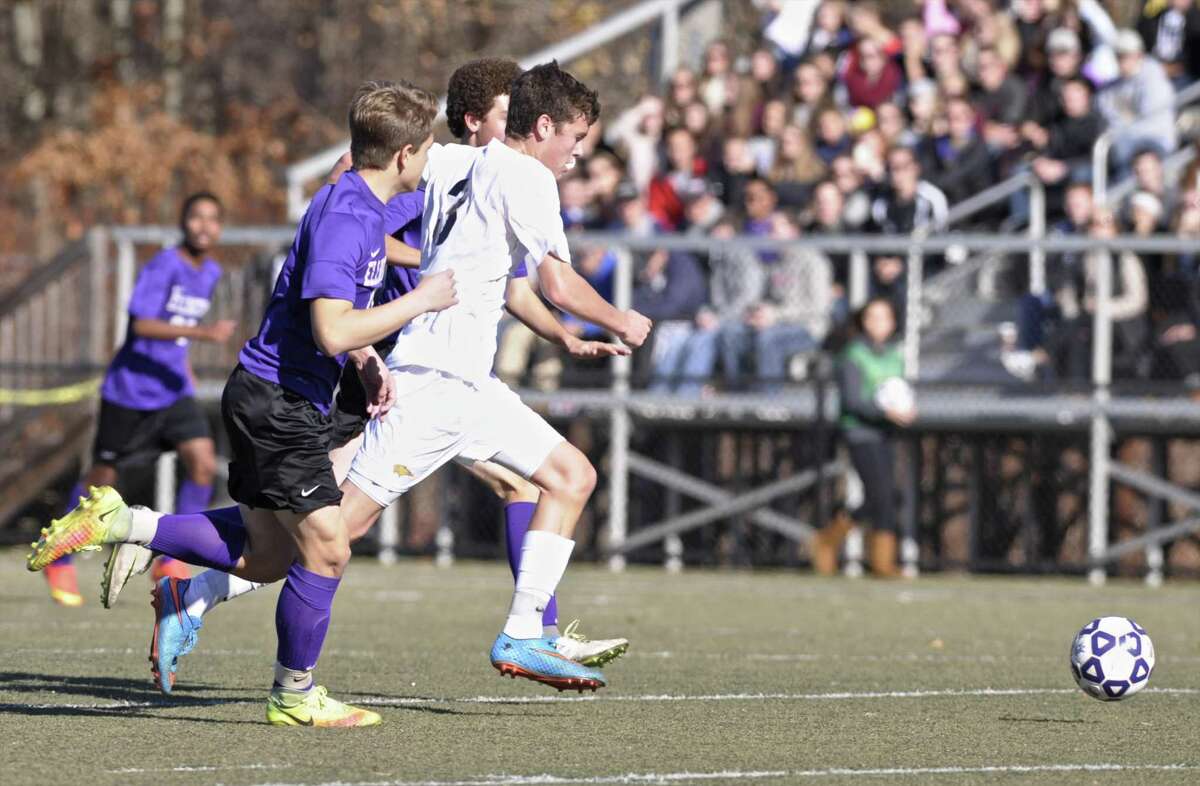 Chris Aceves
Wilcox Tech, Sr. Forward: The All-State Class L pick did not light up the score sheet like Cortez but was integral as the Indians went unbeaten before being knocked out of Class L tournament by Wilton in the opening round.
Kelvin Cortez
Wilcox Tech, Sr. Midfield: Cortez scored 34 goals and had 20 assists, breaking all Wilcox Tech scoring records and establishing himself as the top tech-school soccer players in the state. Cortez was an All-State Class L selection.
Sam Darko
Public Safety, Sr. Forward: All-State Class S pick. Few players in Class S can light it up offensively like Darko.
Roman Dutkewych
Ellington, D: All-State Class M player was part of a stout defense which allowed two state-tournament goals as Ellington reached the Class M semifinals.
Toby Goldstein
Cheshire M: An All-State LL and All-SCC Defensive center-midfielder had seven assists last season and returns for his fourth season starting on varsity.
Brennan Hughes
Farmington, Sr. Fullback: All-CCC and All-State LL first team pick is a stout defender but also possess one of the hardest shots in the state when he ventures forward.
Jimmy Johnson
Greenwich, GK: All-FCIAC and All-State LL first team selection, Johnson established himself has one of the best keepers in the state a season ago.
Alec Kosinski
East Lyme, Sr. Forward: All-State Class L attacking midfielder/forward has speed to get behind defenses combined with quality finishing ability.
Mergim Kutllovci
Thomaston, M: The attacking midfielder is a two-time All-State Class S first team selection, returning for one more season in the Berkshire League.
Francisco Ligouri
Greenwich Jr. Midfield: All-FCIAC first teamer is a box to box center midfielder, a physical presence in the middle, he is strong on the tackle but also has the ability to score in the clutch.
Mitchell Lyons
South Windsor
Sr. Midfield: An All-CCC and All-State LL selection returns with hopes of leading South Windsor to the LL crown.
Anthony Orellana
Crosby, Sr. Midfielder: All-State Class L and All-NVL first team pick. The speedy midfielder can create scoring chances for himself and others.
Eli Pardo, McMahon
Sr. Forward: Pardo returned to McMahon from academy soccer, scoring eight goals and being named First Team All FCIAC in 2017. His combination of speed and strength are hard to match up with.
Charlie Sears
Darien, Sr. Defense: An All-FCIAC first teamer, Sears plays smart, strong and understands the game very well, always getting himself into the best defensive positions possible.
Charlie Shanks
Litchfield, Sr. Midfielder: All-State Class S selection can control the tempo of the game creating chances for both himself and his teammates out of the midfield.
Austin Sholes
Staples, Sr. Midfielder: A three-year development academy player is playing for Staples in his senior season. The Washington & Lee commit is a versatile defensive midfielder.
Ian Slattery
Guilford, GK: All-State LL first team and All-SCC second team registered 10 shutouts and had a 0.6 goals against average to help lead the Indians to Class L state semifinals for the second straight season.
Matthew Tanzer
Staples, Sr. Midfielder: Another development academy player joining the Wreckers for his senior season. He joins Sholes in the midfield on what was already a talented Staples squad.
JJ Tracy, Cromwell
Sr. Forward: All-State Class S, helped guide Cromwell to state quarterfinals playing as a forward or attacking midfielder with dangerous scoring potential.
Adam Van Linter
St. Paul, Sr. Forward: Big-time scoring threat up top in the NVL, was All-State S.
Alfonso Vazquez
Windham, Jr. Forward: The All-State Class M pick proved himself to be one of the top strikers in the ECC last season.
Jack Warren
Barlow: All-State Class L and All-SWC first teamer is a defensive midfielder with an ability to create offensive opportunities with his pinpoint passing, helped guide Falcons to SWC title.
Jason Weinstein
Trumbull, F: All-FCIAC and All-State LL first team selection, has tallied 29 goals over the last two seasons and returns as one of the most dangerous scoring threats in the state.
Lee Wilderman
Hand, F: Finished with 14 goals and seven assists to help Hand win both the SCC tournament title and its second straight Class L state championship. All-SCC Second Team selection and the Most Outstanding Player of the SCC final.
Ryan Winkler
Masuk, Sr. Forward: All-State Class L and All-SWC first team pick helped lead Panthers to appearances in the SWC and Class L state championship games.