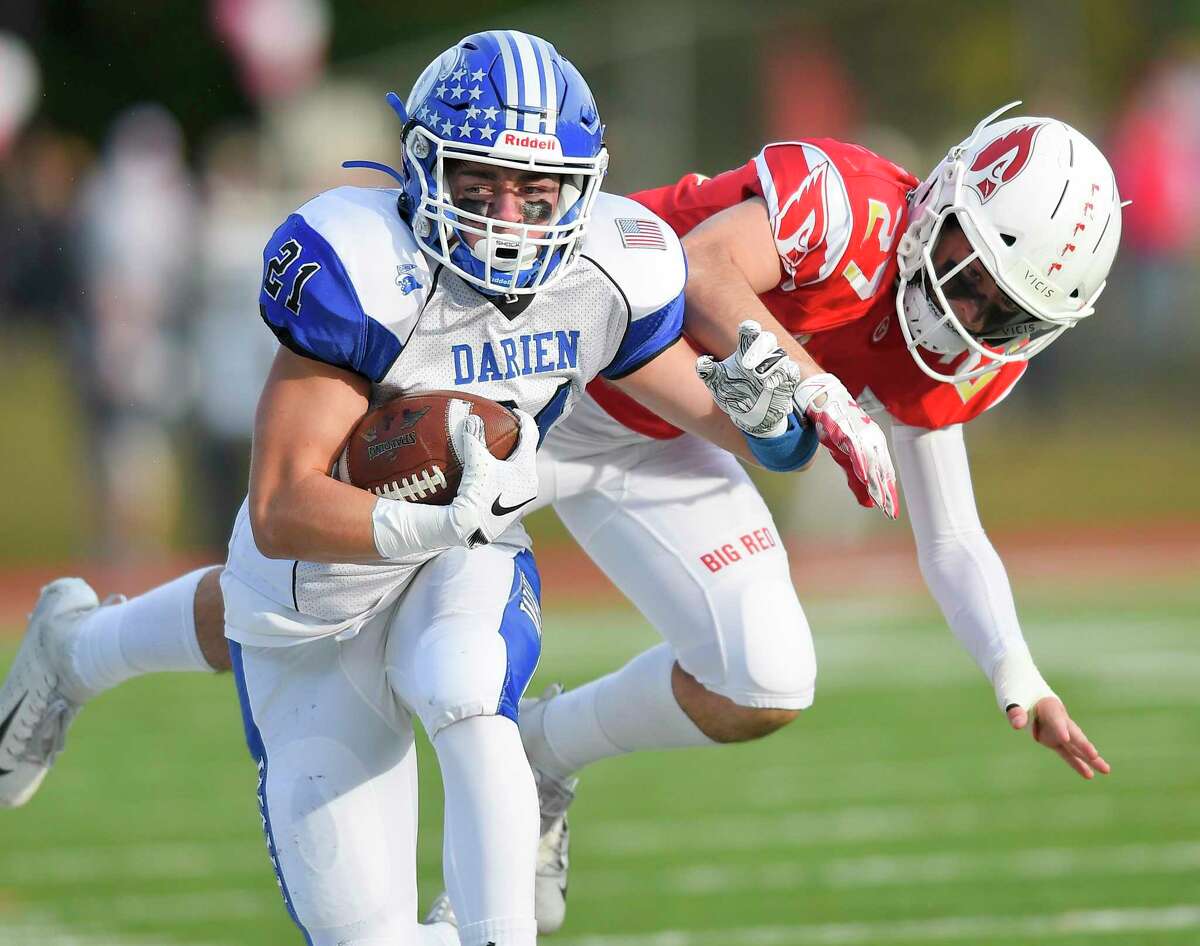 The big FCIAC games didn't disappoint on Saturday, at least in the "how will they reshape the poll" sense (and on the field as well, in different ways).
Darien's 27-21 win Saturday at Greenwich flipped the Blue Wave over the Cardinals for third place in this week's GameTimeCT Top 10. Coming down to the last few plays, it was about as much of a toss-up as the poll had it last week, when 25 voters gave Greenwich a 26-point lead over Darien.
The other top-10 matchup went to No. 2 St. Joseph, 41-0 over Ridgefield. It was a 14-0 game at halftime, but the Hogs ran away (no pun intended about Jaden Shirden's three second-half touchdowns) after that.
The loss dropped Ridgefield from seventh to No. 9 behind No. 7 Ansonia and No. 8 Southington, which both moved up a spot.
Newtown and Bloomfield held on at fifth and sixth with wins over Danbury and Tolland. No. 1 Hand continued to roll with a 47-7 win over East Lyme.
But Maloney's 42-35 loss to Newington dropped the former No. 10 Spartans out of the top 10 and got Newington votes for the first time in a month. That allowed Cheshire, on a four-game winning streak after its Week 2 loss to Hall, to slide in at No. 10.
But it was a fairly split vote. Sheehan, which had the week off, is right behind. Simsbury, with a CCC Division I West showdown against Southington looming on Friday, is close, too. And Killingly, still doing Killingly things, continues to draw broad support.
The GameTimeCT Top 10 Football Poll: Week 8
TEAM (1st place votes)

REC

PTS

LAST

CLASS

1. HAND (22)

6-0

742

1

L

Last Week: def. East Lyme 47-7.
This Week: Friday at West Haven, 7 p.m.
The Bottom Line: The Tigers have been playing for their coach, Dave Mastroianni, who missed his second-consecutive game following cancer surgery and is hoping to be back on the sidelines, possibly for this game at West Haven on Friday.
2. ST. JOSEPH (3)

6-0

706

2

L

Last Week: def. Ridgefield 41-0.
This Week: Saturday vs. Fairfield Warde, 1:30 p.m.
The Bottom Line: A 41-0 win over Ridgefield. A 58-14 win over New Canaan to start October. It feels early to say "the next test is the Class L final," but it doesn't feel crazy.
3. DARIEN

6-0

648

4

LL

Last Week: def. Greenwich 27-21.
This Week: Friday at Danbury, 7 p.m.
The Bottom Line: Took a big lead, let it get away, took a late lead, barely held on. As our columnist Jeff Jacobs wrote after Saturday's game, it might be interesting to put together a final poll ballot if this happens again in mid-December.
4. GREENWICH

5-1

558

3

LL

Last Week: lost to Darien 27-21.
This Week: Saturday at Trinity Catholic/Wright Tech, 1:30 p.m.
The Bottom Line: Fell behind early, came all the way back, fell behind, got to the Darien 13 in the final seconds. The game looked like a coin flip (even though, yes, Jeff, most of us picked the home team) and more or less was.
5. NEWTOWN

6-0

542

5

LL

Last Week: def. Danbury 35-14.
This Week: Friday vs. Stratford, 7 p.m.
The Bottom Line: Might've been a bigger early lead if not for some turnovers, but the Nighthawks took care of business Friday as they did throughout their tough Alliance schedule. Now back to the SWC.
6. BLOOMFIELD

6-0

494

6

S

Last Week: def. Tolland 42-0.
This Week: Friday vs. Northwest Catholic, 6:30 p.m.
The Bottom Line: Points for: 306. Points against: 6. Four straight shutouts. Berlin in two weeks.
7. ANSONIA

6-0

400

8

S

Last Week: def. Derby 42-6.
This Week: Friday vs. Kennedy, 6 p.m.
The Bottom Line: Unbeaten Woodland is coming in a week for the Chargers, who are averaging 46.5 points.
8. SOUTHINGTON

5-1

383

9

LL

Last Week: def. East Hartford 41-7.
This Week: Friday vs. Simsbury, 7 p.m.
The Bottom Line: Running back Dillon Kohl sat out against East Hartford with a hand injury, the Record-Journal reported, but the Blue Knights expect him back for Simsbury. He's gone over 200 yards in each of his past two games.
9. RIDGEFIELD

5-1

298

7

LL

Last Week: lost to St. Joseph 41-0.
This Week: Friday vs. Stamford, 7 p.m.
The Bottom Line: Some voters held the Tigers relatively in place after Saturday's loss to the No. 2 team. Others dropped them entirely. That kind of score against St. Joseph puts the Tigers in good company, at least.
10. CHESHIRE

5-1

271

NR

LL

Last Week: def. Wilbur Cross 37-0.
This Week: Friday at East Haven, 7 p.m.
The Bottom Line: The Rams held serve against the Governors on Thursday night and moved into the top 10 for the first time this season. East Haven, also 5-1, comes next.
Dropped out: Maloney (10).
First-place votes in parentheses and points tabulated on a 30-28-26-24-22-20-18-16-14-12-11-10-9-8-7 basis.
Others receiving votes: Sheehan (5-0) 240; Simsbury (6-0) 234; Killingly (6-0) 216; Maloney (5-1) 142; Naugatuck (5-0) 107; New Canaan (4-2) 76; Shelton (4-2) 70; Wethersfield (5-1) 62; Weston (6-0) 33; Notre Dame-West Haven (4-2) 32; Rockville (6-0) 30; Hall (4-2) 28; Woodland (6-0) 28; Fairfield Prep (3-3) 19; Newington (4-2) 16.
The following voted: Bill Bloxsom, Hearst Connecticut Media; Sean Patrick Bowley, GameTimeCT; Bryant Carpenter, Record-Journal of Meriden; Ryan Chichester, Bristol Press/New Britain Herald; Gerry deSimas Jr., Collinsville Press; Mike DiMauro, The Day of New London; Erik Dobratz, WTNH-8; Scott Ericson, Stamford Advocate; Michael Fornabaio, Connecticut Post; Ned Griffen, The Day of New London; Mark Jaffee, Republican-American of Waterbury; Ryan Lacey, Danbury News-Times; Gabby Lucivero, NBC CT; Mike Madera, Walter Camp Football Foundation; Kyle Maher, Journal-Inquirer of Manchester; Shawn McFarland, Hartford Courant; Joe Morelli, New Haven Register; Keith O'Brien, GameDay CT Sports; Pete Paguaga, GameTimeCT; Dave Phillips, Shoreline Newspapers; John Pierson, WTNH-8; Dave Ruden, The Ruden Report; Rich Zalusky, The Chronicle of Willimantic; Jimmy Zanor, Norwich Bulletin; Joe Zone, WFSB-3.
Compiled by Michael Fornabaio.