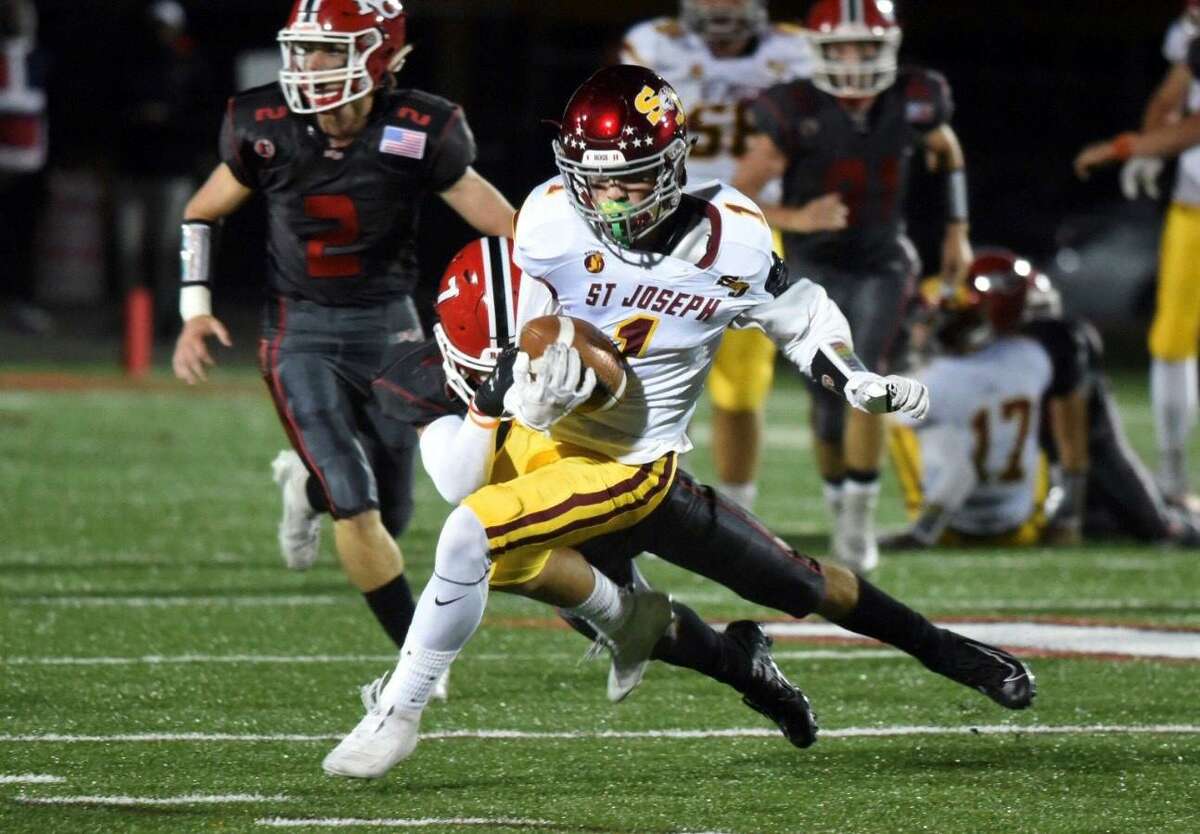 Last week's top-10 matchup was one of two games that changed a few things in this week's GameTimeCT Top 10 football poll.
The other game that changed a few things, well, it nearly deprived us of a top-10 matchup this weekend.
Shelton's loss to Cheshire dropped the Gaels from fifth to, barely, 10th, just a couple of points ahead of Maloney. Shelton hosts No. 5 Newtown on Friday.
The other big one was No. 2 St. Joseph's 58-14 dismantling of then-No. 9 New Canaan. Though St. Joseph stays at No. 2 this week, it received three more first-place votes than last week. The Rams fell out of the Top 10.
Hand remains a solid No. 1 going into its bye week. The top four remains identical to last week, Hand, St. Joseph, Greenwich and Darien.
The top seven, rounded out by Newtown, Bloomfield and Ridgefield, was nearly unanimous in some order or another.
Ansonia, rolling along as usual through the NVL, moves up to No. 8, and Southington returns to No. 9 a couple of weeks after its loss to Darien.
Cheshire, which didn't receive a vote two weeks ago, moved up to 12th. Hall, which beat Cheshire two weeks ago, and Simsbury, which beat Hall the week before, also received votes.
GameTimeCT Top 10 Football Poll: Week 5
TEAM (1st place votes)

REC

PTS

LAST

CLASS

1. HAND (20)

4-0

718

1

L

Last Week: def. Wilbur Cross 44-0.
This Week: Idle.
The Bottom Line: You run out of cautious superlatives for the Tigers, who have four relatively easy wins, two of them against teams that might be getting votes as much for their showing in those losses as for their wins. A trip to Norwalk is next on Oct. 18.
2. ST. JOSEPH (4)

4-0

680

2

L

Last Week: def. New Canaan 58-14.
This Week: Idle.
The Bottom Line: The Hogs have been a little banged up, and the bye week arrives at a good time. (This is not a joke "Bottom Line.") Oct. 18 at Fairfield Prep will be another test, in theory. We debated a Jack Wallace feature or a defensive-line feature last week; glad to go with Wallace, but sounds like it would've worked both ways.
3. GREENWICH

4-0

612

3

LL

Last Week: def. Bridgeport Central 33-0.
This Week: Saturday vs. Westhill, 3 p.m.
The Bottom Line: Westhill-Greenwich is one of only two FCIAC games this week (plus Ridgefield's), and then the Cardinals get a week off before what sure looks like their first big test, Darien. Like Hand, they just picked up their first shutout of the year; Greenwich had allowed only 23 points in three games.
4. DARIEN

4-0

590

4

LL

Last Week: def. Trumbull 41-13.
This Week: Idle.
The Bottom Line: Six different players have at least two touchdowns for the Blue Wave, led by Will Kirby's seven. Kicker Hayden Hall has 21 points, too, including a couple of field goals. Next up is Trinity Catholic/Wright Tech on Oct. 19.
5. NEWTOWN

4-0

510

6

LL

Last Week: def. Pomperaug 35-0.
This Week: Friday at Shelton, 7 p.m.
The Bottom Line: The big middle-of-the-poll showdown... got deflated a bit. It's still an interesting game, some top players, two top-10 teams, and it does cap the SCC portion of the Nighthawks' scheduling-alliance slate.
6. BLOOMFIELD

4-0

446

7

S

Last Week: def. Plainville 47-0.
This Week: Off
The Bottom Line: Three shutouts and a 47-6 win: The Warhawks will rest up for Rocky Hill on Oct. 18, carrying the state's best point differential, plus-190. (Next is Sheehan, plus-172, scoring at least 50 points in four games.)
7. RIDGEFIELD

3-0

433

8

LL

Last Week: Idle.
This Week: Saturday at Chatham (N.J.), 2 p.m.
The Bottom Line: If we read the CalPreps national computer ratings right, Chatham (1-4, coming off its first win) ranks on par with, roughly, Stratford and Old Saybrook/Westbrook up here. Let's see how the computer fares. Oh, and the Tigers, too, sure.
8. ANSONIA

4-0

317

10

S

Last Week: def. St. Paul 39-0.
This Week: Friday at Watertown, 7 p.m.
The Bottom Line: Watertown comes in 3-0 off a big win over Seymour (momentum?) followed by an accidental week off when a visit to Naugatuck got postponed over EEE concerns and scheduling conflicts (no momentum?). Opponents' momentum has rarely mattered to Ansonia, though.
9. SOUTHINGTON

3-1

368

NR

LL

Last Week: def. Hall 28-21.
This Week: Friday vs. Manchester, 7 p.m.
The Bottom Line: The Blue Knights draw back into the top 10 after New Canaan's second loss. Since we saw them last at their Darien loss in Week 2, they've rolled past Enfield, then held on behind Dillon Kohl's 221 rushing yards against a game Hall comeback on Saturday.
10. SHELTON

3-1

243

5

LL

Last Week: lost to Cheshire 24-12.
This Week: Friday vs. Newtown, 7 p.m.
The Bottom Line: Looks like somebody was looking ahead to Newtown. And that somebody was "the dude who compiles the poll." (This is a joke "Bottom Line.") We knew the Gaels' schedule was a tough one; that probably wasn't the trip-up spot most were pointing to. See how they respond.
Dropped out: New Canaan (9).
First-place votes in parentheses and points tabulated on a 30-28-26-24-22-20-18-16-14-12-11-10-9-8-7 basis.
Others receiving votes: Maloney (4-0) 241; Cheshire (3-1) 189; Sheehan (4-0) 165; Killingly (4-0) 161; Fairfield Prep (2-1) 146; New Canaan (2-2) 88; Norwich Free Academy (3-1) 71; Naugatuck (3-0) 69; Simsbury (4-0) 36; Rockville (4-0) 30; Weston (4-0) 25; Woodland (4-0) 21; Notre Dame-West Haven (2-2) 15; Wethersfield (3-1) 15; Hall (2-2) 14; Berlin (3-1) 10; Wilton (3-1) 8.
The following voted: Bill Bloxsom, Hearst Connecticut Media; Sean Patrick Bowley, GameTimeCT; Bryant Carpenter, Record-Journal of Meriden; Ryan Chichester, Bristol Press/New Britain Herald; Gerry deSimas Jr., Collinsville Press; Mike DiMauro, The Day of New London; Erik Dobratz, WTNH-8; Scott Ericson, Stamford Advocate; Michael Fornabaio, Connecticut Post; Ned Griffen, The Day of New London; Mark Jaffee, Republican-American of Waterbury; Gabby Lucivero, NBC CT; Mike Madera, Walter Camp Football Foundation; Kyle Maher, Journal-Inquirer of Manchester; Shawn McFarland, Hartford Courant; Joe Morelli, New Haven Register; Keith O'Brien, GameDay CT Sports; Pete Paguaga, GameTimeCT; Dave Phillips, Shoreline Newspapers; John Pierson, WTNH-8; Dave Ruden, The Ruden Report; Rich Zalusky, The Chronicle of Willimantic; Jimmy Zanor, Norwich Bulletin; Joe Zone, WFSB-3.

Note: The poll is seven points short because of an incomplete ballot on a 15th-place vote.
Compiled by Michael Fornabaio.