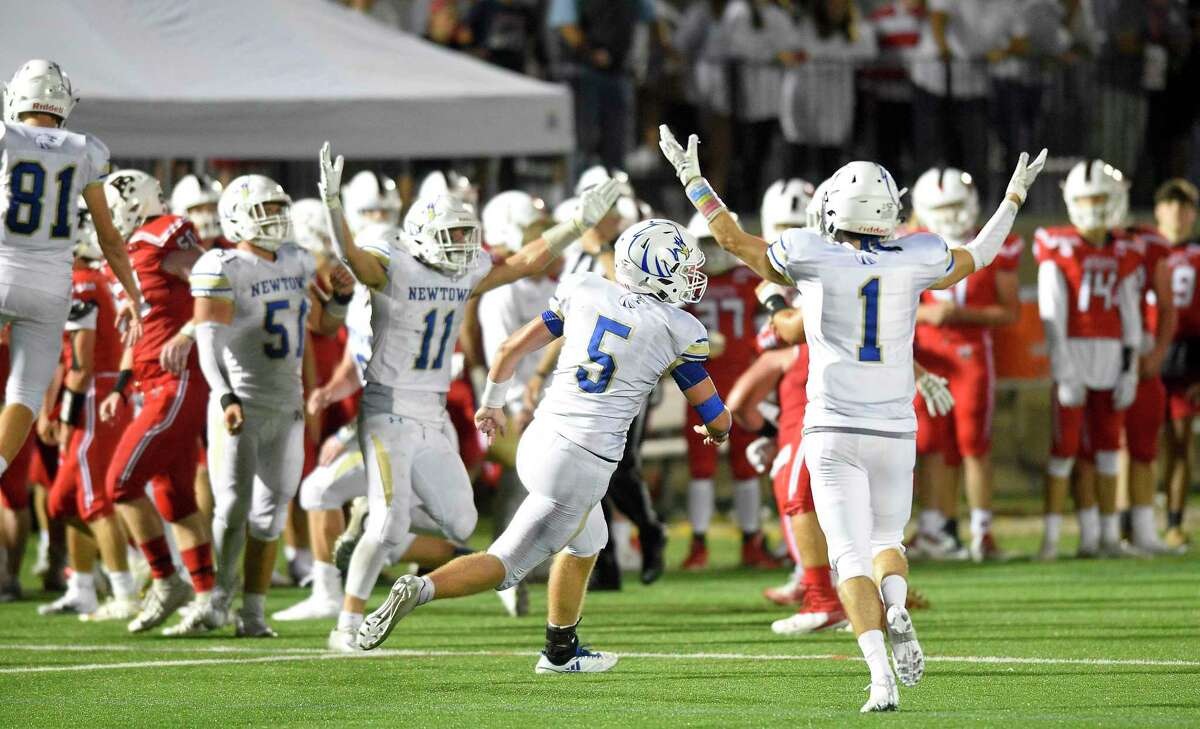 Three games had a seismic effect on the GameTimeCT football poll.
There were the two matchups of top 10 teams, for sure. But there was also the first big FCIAC game of the season, which shook up the heart of the top 10 for the first time this year.
Adam Biernat's field goal at the buzzer gave Ridgefield a 17-14 win over then-No. 3 New Canaan, boosting the Tigers into the top 10 at No. 8 and knocking the Rams down to ninth.
The rest of what had been the top eight stayed in order. Hand remained an easy No. 1, with St. Joseph right behind the Tigers after both teams had easy times of it over the weekend. Greenwich, Darien and Shelton remained in order for the third week in a row, moving up a spot. Newtown and Bloomfield, who'd swapped placed after Week 1, stayed in last week's sequence.
Southington, which lost to Darien, and Fairfield Prep, which fell to Newtown, fell out of the top 10 in favor of Ridgefield and Ansonia.
Norwich Free Academy and Newington broke into the top 15, drawing some broad support, like Sheehan, which has been 13th or 14th three weeks in a row.
GameTimeCT Top 10 Football Poll: Week 3
TEAM (1st place votes)

REC

PTS

LAST

CLASS

1. HAND (23)

2-0

714

1

L

Last Week: def. Middletown 55-6.
This Week: Friday at Wethersfield, 7 p.m.
The Bottom Line: The Tigers won over one St. Joseph voter. Two handy wins, one handier than the last, have Hand right about where most everyone expected them to be two weeks in. Next up is Wethersfield, with its talented senior class.
2. ST. JOSEPH (1)

2-0

668

2

L

Last Week: def. Notre Dame-West Haven 42-7.
This Week: Friday at Wilton, 7 p.m.
The Bottom Line: We're pretty sure that's not a bad Notre Dame team that St. Joseph toyed with in the Saturday sun. Aside from a handful of plays, the Cadets dominated the first half before the teams played with a running clock by rule in the second.
3. GREENWICH

2-0

612

4

LL

Last Week: def. Trumbull 42-7.
This Week: Friday vs. Norwalk, 7 p.m.
The Bottom Line: The defending champs begin the run of teams moving up a spot off New Canaan's loss. Greenwich has two easy wins over Danbury and Trumbull behind them. Norwalk is 2-0, though this'll be a step up for the Bears.
4. DARIEN

2-0

582

5

LL

Last Week: def. No. 9 Southington 24-8.
This Week: Saturday at Westhill, 1 p.m.
The Bottom Line: Those last couple of scores ruined the "Darien 18, Southington 2? Did a lacrosse game break out?" joke. The Blue Wave took care of business against a top-10 foe, possibly one they'll see again in the Class LL playoffs, so they surely don't care.
5. SHELTON

2-0

518

6

LL

Last Week: def. East Hartford 29-7.
This Week: Friday vs. Norwich Free Academy, 7 p.m.
The Bottom Line: After their long ride last week, the Gaels come home for the next three weeks, all against teams that have received votes: NFA, Cheshire and Newtown. Hey, speaking of whom:
6. NEWTOWN

2-0

460

7

LL

Last Week: def. No. 10 Fairfield Prep 21-14.
This Week: Friday vs. West Haven, 7 p.m.
The Bottom Line: The first Newtown-Fairfield Prep game lived up to its hype, going to the wire. Another SCC team comes next, 0-2 West Haven, which played Shelton tough in Week 1.
7. BLOOMFIELD

2-0

388

8

S

Last Week: def. East Catholic 47-6.
This Week: Friday vs. Hillhouse, 7 p.m.
The Bottom Line: The Warhawks have outscored Avon and East Catholic 101-6. Interesting test coming this week in Hillhouse, which, though 0-2, has some experienced players.
8. RIDGEFIELD

2-0

360

NR

LL

Last Week: def. No. 3 New Canaan 17-14.
This Week: Saturday at Staples (at Norwalk), 6 p.m..
The Bottom Line: The voters loved the upset. The Tigers were on five ballots last week, 17th. They're on almost everyone's this week. They'll visit Staples, or at least see them at Testa Field while the Wreckers' own is under construction, this weekend.
9. NEW CANAAN

1-1

357

3

L

Last Week: lost to Ridgefield 17-14.
This Week: Saturday at Stamford, 1 p.m.
The Bottom Line: The big voting question this week was how far (if at all) to drop New Canaan off their loss to Ridgefield and how much to boost the Tigers. Wherever they put the Rams, around half the voters put them one spot behind Ridgefield. And there they are.
10. ANSONIA

2-0

264

NR

S

Last Week: def. Holy Cross 46-6.
This Week: Friday vs. Oxford, 7 p.m.
The Bottom Line: Southington's and Fairfield Prep's losses to top-10 teams and the surge for Ridgefield get the Chargers into the top 10. Ansonia has two easy wins over teams from Waterbury. The Wolverines, inexperienced away from quarterback, are next.
Dropped out: Southington (9), Fairfield Prep (10).
First-place votes in parentheses and points tabulated on a 30-28-26-24-22-20-18-16-14-12-11-10-9-8-7 basis.
Others receiving votes Southington (1-1) 233; Fairfield Prep (1-1) 181; Norwich Free Academy (2-0) 180; Sheehan (2-0) 153; Newington (2-0) 118; Killingly (2-0) 70; Berlin (2-0) 49; Maloney (2-0) 49; Naugatuck (2-0) 38; Platt (1-1) 27; Weston (2-0) 22; Wethersfield (2-0) 19; North Haven (1-1) 16; Woodland (2-0) 11; Notre Dame-West Haven (0-2) 9; Rockville (2-0) 8; Valley Regional/Old Lyme (2-0) 7; Windsor (1-1) 7.
The following voted: Bill Bloxsom, Hearst Connecticut Media; Sean Patrick Bowley, GameTimeCT; Bryant Carpenter, Record-Journal of Meriden; Ryan Chichester, Bristol Press/New Britain Herald; Gerry deSimas Jr., Collinsville Press; Mike DiMauro, The Day of New London; Erik Dobratz, WTNH-8; Scott Ericson, Stamford Advocate; Michael Fornabaio, Connecticut Post; Ned Griffen, The Day of New London; Mark Jaffee, Republican-American of Waterbury; Ryan Lacey, Danbury News-Times; Mike Madera, Walter Camp Football Foundation; Kyle Maher, Journal-Inquirer of Manchester; Shawn McFarland, Hartford Courant; Joe Morelli, New Haven Register; Keith O'Brien, GameDay CT Sports; Pete Paguaga, GameTimeCT; Dave Phillips, Shoreline Newspapers; John Pierson, WTNH-8; Dave Ruden, The Ruden Report; Rich Zalusky, The Chronicle of Willimantic; Jimmy Zanor, Norwich Bulletin; Joe Zone, WFSB-3.
Poll Compliled by Michael Fornabaio