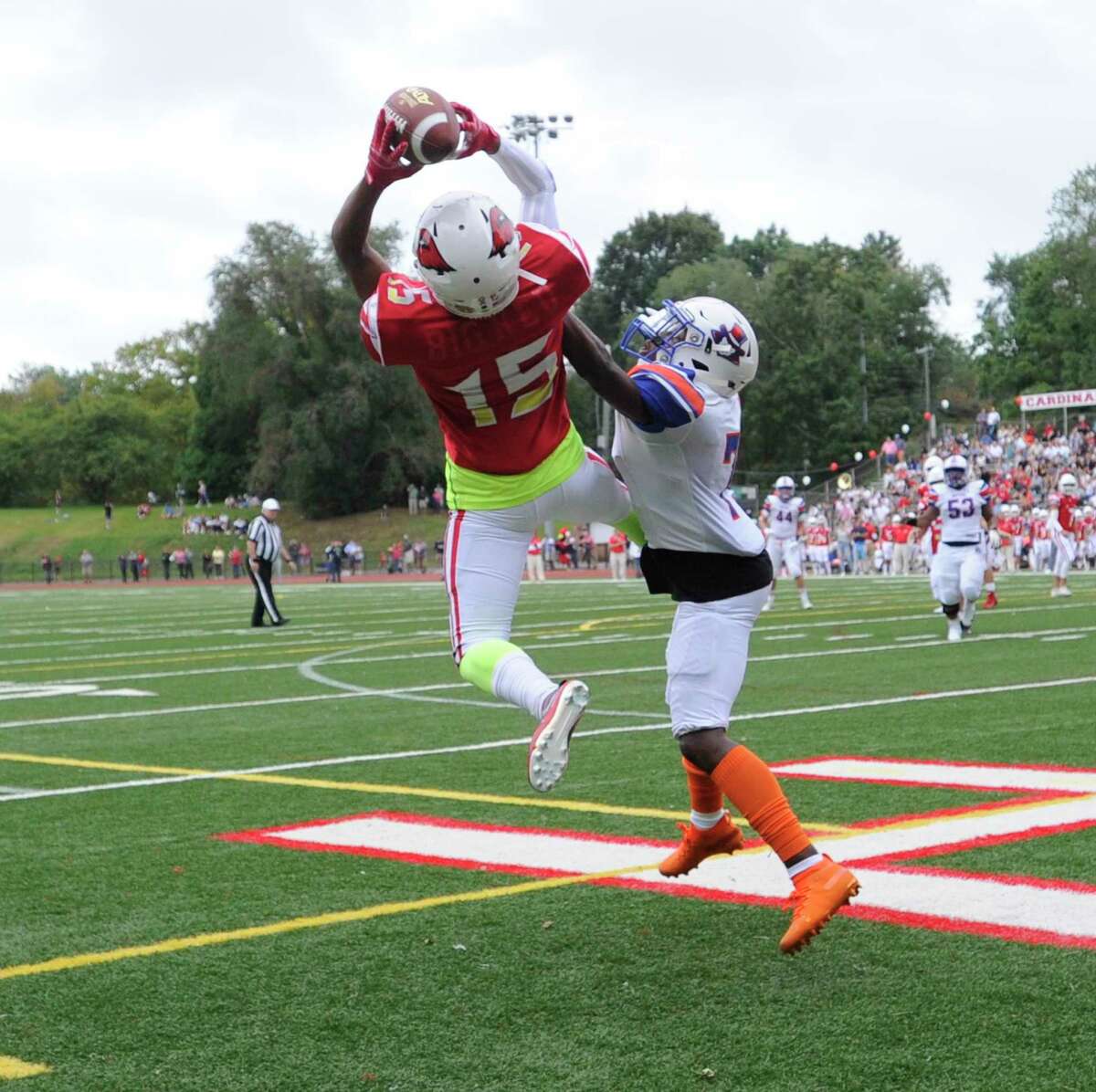 The top nine teams in the preseason GameTimeCT football poll all won, so the poll after Week 1 looks relatively familiar. The top six spots remained identical, led by Hand, which received 22 first-place votes for the second week in a row.
Both Bloomfield and Newtown earned big shutout wins to start the season, but the Nighthawks jumped over Bloomfield into seventh. The Warhawks were eighth, with Southington still ninth.
Fairfield Prep, after a 14-7 win over North Haven, moved into 10th place, replacing Windsor, which lost to Newington.
St. Joseph remains No. 2, getting the few first-place votes that Hand did not. New Canaan, Greenwich, Darien and Shelton round out the top six.
Masuk, which opened with a win over New Fairfield, and Norwich Free Academy, which beat Xavier, were among teams moving up among those also receiving votes outside the top 10. Newington didn't receive a preseason vote but garnered a handful after upsetting Windsor.
Week 2 GameTimeCT Top 10 Football Poll
TEAM (1st place votes)

REC

PTS

LAST

CLASS

1. HAND (22)

1-0

712

1

L

Last Week: def. Notre Dame-West Haven 49-14.
This Week: Friday vs. Middletown (Surf Club), 7 p.m.
The Bottom Line: Some gaudy numbers in the opener for the Tigers, like Colin McCabe's 328 yards on the ground, 28 first-quarter points, and an easy win against a good program. Hand could put up plenty more of those.
2. ST. JOSEPH (2)

1-0

660

2

L

Last Week: def. McMahon 45-0.
This Week: Saturday vs. Notre Dame-West Haven, 1:30 p.m.
The Bottom Line: For at least one Friday night, Jack Wallace answered the whole "how do you replace David Summers" thing. The Cadets move on to face that same good program that Hand beat.

3. NEW CANAAN

1-0

608

3

L

Last Week: def. New London 32-6.
This Week: Friday at Ridgefield, 7 p.m.
The Bottom Line: Playing New London instead of St. Joseph on opening day proved a better recipe for a 1-0 start. Or maybe not being No. 1 was the bigger reason. Or maybe, just maybe, Drew Pyne to Zach LaPolice three times in the second half. Nah, totally the poll.

4. GREENWICH

1-0

570

4

LL

Last Week: def. Danbury 49-3.
This Week: Friday at Trumbull, 7 p.m.
The Bottom Line: Scoreless first quarter on Saturday, a couple of miscues keeping points off the board for the Cardinals. The mistakes ended. The points came. On to Trumbull.
5. DARIEN

1-0

532

5

LL

Last Week: def. Fairfield Ludlowe 42-0.
This Week: Friday vs. No. 9 Southington, 7 p.m.
The Bottom Line: The Blue Wave dominated in pretty much all facets against a young Fairfield Ludlowe team. Next up is a fun one against another strong Class LL team.
6. SHELTON

1-0

491

6

LL

Last Week: def. West Haven 21-13.
This Week: Friday at East Hartford, 6:30 p.m.
The Bottom Line: The Gaels had to come back against the Westies, but it helped to sack West Haven quarterbacks 12 times. Mike Lockavitch and Pat Sissick each had four of those. A little different foe this coming Friday, heading up to the CCC; East Hartford lost 42-41 to Enfield.
7. NEWTOWN

1-0

396

8

LL

Last Week: def. New Milford 42-0.
This Week: Friday at No. 10 Fairfield Prep, 6 p.m.
The Bottom Line: The Nighthawks put up four touchdowns in the first quarter against the Green Wave to take care of their opener quickly. The schedule picks up in intensity this week at Rafferty Stadium.

8. BLOOMFIELD

1-0

380

7

S

Last Week: def. Avon 54-0.
This Week: Saturday at East Catholic, noon
The Bottom Line: Not often you win 54-0 and fall a spot in the poll. Much of it seems to be a re-reckoning of Newtown by some voters who had them low on (or off of) their ballots, but some had Bloomfield much higher than 7 or 8 last week, too, and backed off the Warhawks this week. (Of those, though, most dropped Newtown a spot or two, also.)
9. SOUTHINGTON

1-0

358

9

LL

Last Week: def. Conard 54-21.
This Week: Friday at No. 5 Darien, 7 p.m.
The Bottom Line: Solid start for the Blue Knights in a game they led 54-7 in the fourth quarter; Dillon Kohl ran for 172 yards and three touchdowns on 11 carries, and Angelo Plantamuro returned an interception 79 yards to score. A big road trip comes up next.
10. FAIRFIELD PREP

1-0

247

NR

LL

Last Week: def. North Haven 14-7.
This Week: Friday vs. No. 7 Newtown, 6 p.m.
The Bottom Line: The Jesuits picked it up in the second half Friday night to win at Vanacore, cleaning up some aspects of their game and wearing down North Haven with its depth. Another good tilt follows for the home opener.
Dropped out: Windsor (10).
First-place votes in parentheses and points tabulated on a 30-28-26-24-22-20-18-16-14-12-11-10-9-8-7 basis.
Others receiving votes Ansonia (1-0) 242; Platt (1-0) 191; Sheehan (1-0) 160; Cheshire (1-0) 116; Masuk (1-0) 63; Norwich Free Academy (1-0) 56; Ridgefield (1-0) 43; Killingly (1-0) 42; Newington (1-0) 39; Berlin (1-0) 35; Naugatuck (1-0) 35; Windsor (0-1) 30; Middletown (1-0) 21; West Haven (0-1) 19; Glastonbury (1-0) 12; Maloney (1-0) 12; Notre Dame-West Haven (0-1) 10; Woodland (1-0) 9; North Haven (0-1) 9; Rockville (1-0) 8; Granby/Canton (1-0) 7; Weston (1-0) 7.
The following voted: Bill Bloxsom, Hearst Connecticut Media; Sean Patrick Bowley, GameTimeCT; Bryant Carpenter, Record-Journal of Meriden; Ryan Chichester, Bristol Press/New Britain Herald; Gerry deSimas Jr., Collinsville Press; Mike DiMauro, The Day of New London; Erik Dobratz, WTNH-8; Scott Ericson, Stamford Advocate; Michael Fornabaio, Connecticut Post; Ned Griffen, The Day of New London; Mark Jaffee, Republican-American of Waterbury; Ryan Lacey, Danbury News-Times; Mike Madera, Walter Camp Football Foundation; Kyle Maher, Journal-Inquirer of Manchester; Shawn McFarland, Hartford Courant; Joe Morelli, New Haven Register; Keith O'Brien, GameDay CT Sports; Pete Paguaga, GameTimeCT; Dave Phillips, Shoreline Newspapers; John Pierson, WTNH-8; Dave Ruden, The Ruden Report; Rich Zalusky, The Chronicle of Willimantic; Jimmy Zanor, Norwich Bulletin; Joe Zone, WFSB-3.
Poll Compliled by Michael Fornabaio