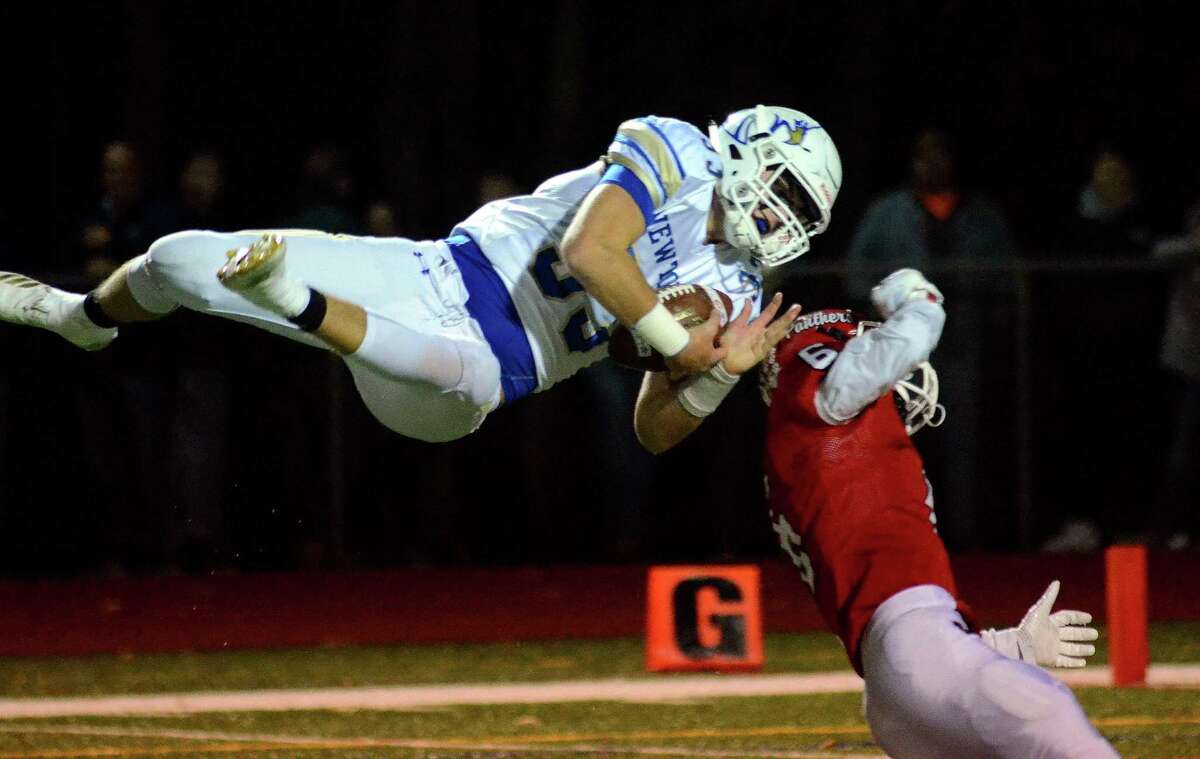 The rumbles came early on Thanksgiving, maybe mistaken at first for the wind blowing down trees in the distance on that otherwise-gorgeous fall morning, but unmistakable soon enough.
Those scores they were announcing over the PA systems? They were seismic.
New Canaan's 20-0 win over Darien in the Turkey Bowl shook the GameTimeCT football top 10 poll at the end of the regular season, pitched the Blue Wave in one direction, dragged the Rams up and gave us our fourth No. 3 team of the season behind the Big 2 of No. 1 Hand and No. 2 St. Joseph.
Newtown, Class LL's only unbeaten team, moves up to take No. 3 away from Darien, which dropped to No. 6, behind Greenwich (which Darien defeated in the regular season and will face in Wednesday's quarterfinal) and Bloomfield.
New Canaan jumped back into the Top 10 for the first time in almost two months, at No. 9, taking the spot away from Cheshire, Rams supplanting Rams. Do the former-No. 9 Cheshire Rams deserve it after that double-overtime battle against No. 7 Southington on Thanksgiving? Maybe not (#pollmath), but enough rearrangement happened to drop them two points behind No. 10 Maloney and bring the once-No. 3 New Canaan Rams back in.
No. 8 Ansonia, one of three unbeaten teams in Class S, also held steady this week heading into the CIAC playoffs, which, because of this weekend's weather, now run Wednesday-Monday, Dec. 9-Saturday, Dec. 14.
The GameTimeCT Top 10 Football Poll: Postseason
TEAM (1st place votes)

REC

PTS

LAST

CLASS

1. HAND (19)

10-0

738

1

L

Last Week: def. Guilford 61-6.
This Week: Class L quarterfinals vs. Newington.
The Bottom Line: The Tigers followed up their closest game of the year, that 21-14, come-from-behind win over Shelton on Nov. 15, with their biggest win of the season. And now it's playoff time, at last.
2. ST. JOSEPH (6)

10-0

712

2

L

Last Week: def. Trumbull 52-7.
This Week: Class L quarterfinals vs. Wilton (at Trumbull).
The Bottom Line: The other six Class L teams surely would like a word, but from conversations during the season, there are a whole lot of people across the state delighted that nothing happened to mess up a potential Hand-St. Joseph final; they're on opposite sides of the bracket.
3. NEWTOWN

10-0

610

5

LL

Last Week: def. Masuk 17-2.
This Week: Class LL quarterfinals vs. Norwich Free Academy.
The Bottom Line: In fact, the top two Class LL teams in the poll are on opposite sides, too, Greenwich and unbeaten Newtown, which is at its season-high in the poll. So are Ansonia and unbeaten Bloomfield on opposite sides in Class S, and Killingly and unbeaten Rockville in M, too.
4. GREENWICH

9-1

600

4

LL

Last Week: def. Staples 38-14.
This Week: Class LL quarterfinals at Darien.
The Bottom Line: This is where we chuckle and say yep, Greenwich, right where it was last week, land of steady habits and such. Their neighbors moved around a little, and they picked up a few points. Say, how about a rematch, Darien?
5. BLOOMFIELD

10-0

494

6

S

Last Week: def. Glastonbury 40-7.
This Week: Class S quarterfinals vs. Stafford co-op.
The Bottom Line: The final tally: 504 points for, 22 points against. Only St. Joseph scored more, 507; Rockville allowed the next-fewest, 53. Things'll ramp up from here.
6. DARIEN

9-1

485

3

LL

Last Week: lost to New Canaan 20-0.
This Week: Class LL quarterfinals vs. Greenwich.
The Bottom Line: A near-unanimous No. 3 last week, the Blue Wave broke and trickled into shore on a whole bunch of ballots this time around. They get a chance to restate their case on the field the next little while.
7. SOUTHINGTON

9-1

458

7

LL

Last Week: def. Cheshire 21-20 (2OT).
This Week: Class LL quarterfinals vs. Ridgefield.
The Bottom Line: If the Blue Knights get through what could be a heck of a defensive game in the quarters, waiting for them could be Darien, the only team to beat them. (Or we get a Ridgefield-Greenwich rematch. Who knows? Fun time of year.)
8. ANSONIA

10-0

362

8

S

Last Week: def. Naugatuck 52-8.
This Week: Class S quarterfinals vs. Plainfield.
The Bottom Line: Amid the chaos, exactly the same number of points as last week. Fun fact, for fans of consolidation in Derby and Ansonia, or if it should come up Wednesday night: The new Ansonia High School is actually closer to Ryan Field than it is to Nolan Field.
9. NEW CANAAN

8-2

346

NR

L

Last Week: def. Darien 20-0.
This Week: Class L quarterfinals vs. Wethersfield.
The Bottom Line: And so, is this ultimately the team that was voted No. 3 to start the season and lasted just a week there before Ridgefield knocked it off? We shall see. St. Joseph, which manhandled the Rams in Game 4, is likely to be next for the New Canaan-Wethersfield winner.
10. MALONEY

9-1

282

10

L

Last Week: def. Platt 42-6.
This Week: Class L quarterfinals vs. Berlin.
The Bottom Line: After their loss, the Spartans' four wins included one playoff team (Wethersfield) and one almost-playoff team (Windsor). The Redcoats, who have kept winning despite decimating injuries, are next up.
Dropped out: Cheshire (9).
First-place votes in parentheses and points tabulated on a 30-28-26-24-22-20-18-16-14-12-11-10-9-8-7 basis.
Others receiving votes: Cheshire (8-2) 280; Ridgefield (8-2) 266; Simsbury (9-1) 180; Rockville (10-0) 144; Shelton (7-3) 129; Killingly (9-1) 117; Wethersfield (8-2) 34; Woodland (9-1) 34; Sheehan (8-2) 32; Norwich Free Academy (8-3) 27; Fairfield Prep (6-4) 24; Berlin (8-2) 7; Waterford (9-1) 7; Weston (9-1) 7.
The following voted: Bill Bloxsom, Hearst Connecticut Media; Sean Patrick Bowley, GameTimeCT; Bryant Carpenter, Record-Journal of Meriden; Ryan Chichester, Bristol Press/New Britain Herald; Gerry deSimas Jr., Collinsville Press; Mike DiMauro, The Day of New London; Erik Dobratz, WTNH-8; Scott Ericson, Stamford Advocate; Michael Fornabaio, Connecticut Post; Ned Griffen, The Day of New London; Mark Jaffee, Republican-American of Waterbury; Ryan Lacey, Danbury News-Times; Gabby Lucivero, NBC CT; Mike Madera, Walter Camp Football Foundation; Kyle Maher, Journal-Inquirer of Manchester; Shawn McFarland, Hartford Courant; Joe Morelli, New Haven Register; Keith O'Brien, GameDay CT Sports; Pete Paguaga, GameTimeCT; Dave Phillips, Shoreline Newspapers; John Pierson, WTNH-8; Dave Ruden, The Ruden Report; Rich Zalusky, The Chronicle of Willimantic; Jimmy Zanor, Norwich Bulletin; Joe Zone, WFSB-3.
Compiled by Michael Fornabaio.