There is no debate: Staples is No. 1.
The Wreckers left no doubt with a 3-0 win over Southington in the Class LL championship game Saturday afternoon at Palmer Field.
In this postseason, the Wreckers defeated four of the top seven teams in the final GameTimeCT Poll. They beat No. 6 St. Joseph and No. 7 Ludlowe in the FCIAC tournament before defeating No. 3 Cheshire and No. 2 Southington in the state tournament.
The FCIAC and newly crowned Class LL state champions close the season as the No. 1-ranked team in the GameTimeCT poll, receiving 14 of 14 first-place votes.
"There's no question. We are 25-3. We won the regular season in the FCIAC, we won the FCIAC tournament and we won (the Class LL) tournament. We won eight straight elimination games," Staples coach Jack McFarland said.
"The pressure on these kids was immense. The FCIAC tournament, one game and you're out, and they won three straight. Then five straight on the biggest mountain you have to climb, LL in baseball. They were able to do it. It's a tough tournament and my hat's off to Southington for a great game."
Chad Knight pitched a complete game, giving up three hits with 10 strikeouts in the championship game.
The eventual winning run was driven in by Kevin Rabacs on a sacrifice fly, scoring pinch runner Ben Lewis in the fourth inning.
En route to the championship game, Staples handed No. 1 Cheshire its second loss of the season, 3-0 in the semifinals.
Knight also threw a complete game with 10 strikeouts in that contest.
In fact, Knight was on the mound for the final 16 innings Staples played, also coming on in relief in the quarterfinals against Trumbull with his team trailing in the sixth inning and picking up the win after the Wreckers rallied.
The Staples seniors leave with two state and one FCIAC championship on their résumés.
"My kids, my program and the community of Westport gave us unbelievable support," McFarland said. "We're a baseball town and that's the way they want it and that's the way it's going to stay."
Final 2019 GameTimeCT Top 10 Baseball Poll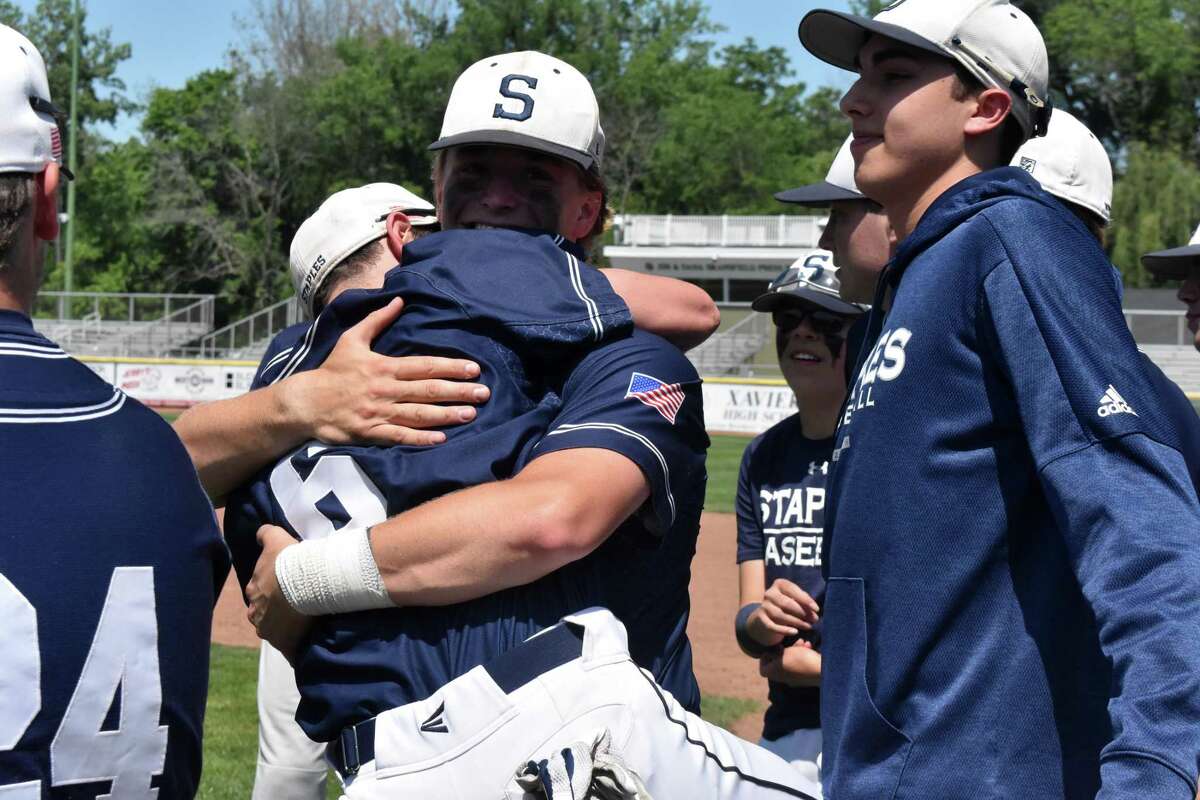 TEAM (First place votes)

REC

PTS

LAST

CLASS

1. STAPLES (14)

25-3

420

2

LL

Tournament Results: def. Norwalk 9-5, def. Wilbur Cross 7-0, def. Trumbull 12-6, def. Cheshire 3-0, def. Southington 3-0 in LL final.
Bottom Line: Player of the Year Chad Knight dominated on the mound and the Wreckers, champions of the FCIAC and Class LL, are the undisputed No. 1 team for the second time in three seasons.

2. SOUTHINGTON

21-4

378

4

LL

Tournament Results: def. New Britain 4-3, def. Darien 1-0, def. Ludlowe 3-1, def. Amity 3-2, lost Staples 3-0 in LL final.
Bottom Line: The defensive Blue Knights put together an impressive and thrilling run in the state tournament, winning four games all by one run before falling in the LL final.

3. CHESHIRE

25-2

372

1

LL

Tournament Results:def. Farmington 6-5, def. Shelton 4-3, def. Enfield 6-3, lost to Staples 3-0 in LL semis.
Bottom Line: The Rams opened and closed the season with losses, but won 25-straight in between in a spirited defense of their Class LL title. Fell just one game short.

4. AMITY

19-8

304

5

LL

Tournament Results: def. Manchester 12-0, def. Glastonbury 10-1, def. Newtown 4-3, lost to Southington 3-2 in LL semis.
Bottom Line: Despite an uneven season, the Spartans did what they do best: make strong postseason runs. Seven-straight trips to the Class LL semifinals is truly remarkable.

5. WATERFORD

20-9

295

NR

L

Tournament Results: def. Windsor 7-4, def. Wethersfield 5-4 (8), def. Law 5-1, def. Masuk 16-5, def. Berlin 1-0 in L final.
Bottom Line: The young Lancers arrived a year early to win record 11th state title behind pitchers Ryan O'Connell and Jared Burrows (10 Ks in the final).

6. ST. JOSEPH

19-8

264

NR

M

Tournament Results: def. Grasso Tech 25-0, def. Granby 11-0, def. Northwestern 14-1, def. Rockville 3-0, def. Wolcott 6-3 in M final.
Bottom Line: One the state's best lineups out-scored opponents 61-4 in Class M tournament to give the Cadets their first state title since 2013 and fifth overall.

7. LUDLOWE

20-6

257

3

LL

Tournament Results: def. Warde 7-1, def. Simsbury 8-2, lost to Southington 3-2 in LL quarterfinals.
Bottom Line: The Falcons' magical season, which included an FCIAC finals run, ended against a Southington team with just a little more magic.

8. BERLIN

22-3

228

7

L

Tournament Results:def. Weston 8-6, def. Stratford 11-3, def. Foran 7-1, def. Notre Dame-West Haven 8-3, lost to Waterford 1-0 in L final.
Bottom Line: Adam Bilinsky was stellar but came out as the hard-luck loser in a tight Class M championship game.

9. NEWTOWN

20-4

198

6

LL

Tournament Results: def. Middletown 9-1, def. Naugatuck 2-1 (8), lost to Amity 4-3 in LL quarterfinals.
Bottom Line: The Nighthawks put forth a strong season with 20 wins, but in a stacked LL tournament, lost a tight game vs. perennial title contender Amity in the quarterfinals.

10. WOLCOTT

25-3

181

NR

LL

Tournament Results: def. Bacon Academy 9-8 (8), def. Valley Regional 15-1, def. Haddam-Killingworth 8-0, def. Woodland 3-2, lost to St. Joseph, 6-3, in M final.
Bottom Line: The NVL champions made another run at at state championship, but finish as M runners-up for second-consecutive season.
Dropped Out: Hand (8), Ledyard (9), South Windsor (10).

First-place votes in parentheses and points tabulated on a 30-28-26-24-22-20-18-16-14-12-11-10-9-8-7 basis.
Others Receiving Votes: Coventry (23-2), 167; Hand (18-7), 116; Shepaug Valley (20-5), 91; South Windsor (18-4), 87; Ledyard (19-5), 72; Holy Cross (21-3), 55; Trumbull (15-8), 26; Enfield (18-6), 23; Masuk (18-8), 10; Wethersfield (17-5), 10; Notre Dame-West Haven (15-10), 9; Glastonbury (17-5), 7.
The following voted: Mike DiMauro, The Day of New London; Dave Ruden, The Ruden Report; Shawn McFarland, The Hartford Courant; Pete Paguaga, GametimeCT; Mike Madera, Walter Camp Foundation/New Haven Register; Dave Phillips, Shoreline Newspapers; Noah Finz, Frontier Cable/Vantage Sports Network; Bill Bloxsom, Trumbull Times; Ryan Lacey, Danbury News-Times, Scott Ericson, Stamford Advocate; Tim Jensen, Patch Media Corp.; Kyle Maher, Journal Inquirer; Dave Heuschkel, The Valley Press; Kevin Roberts, Southington Observer.
— Poll compiled by Scott Ericson