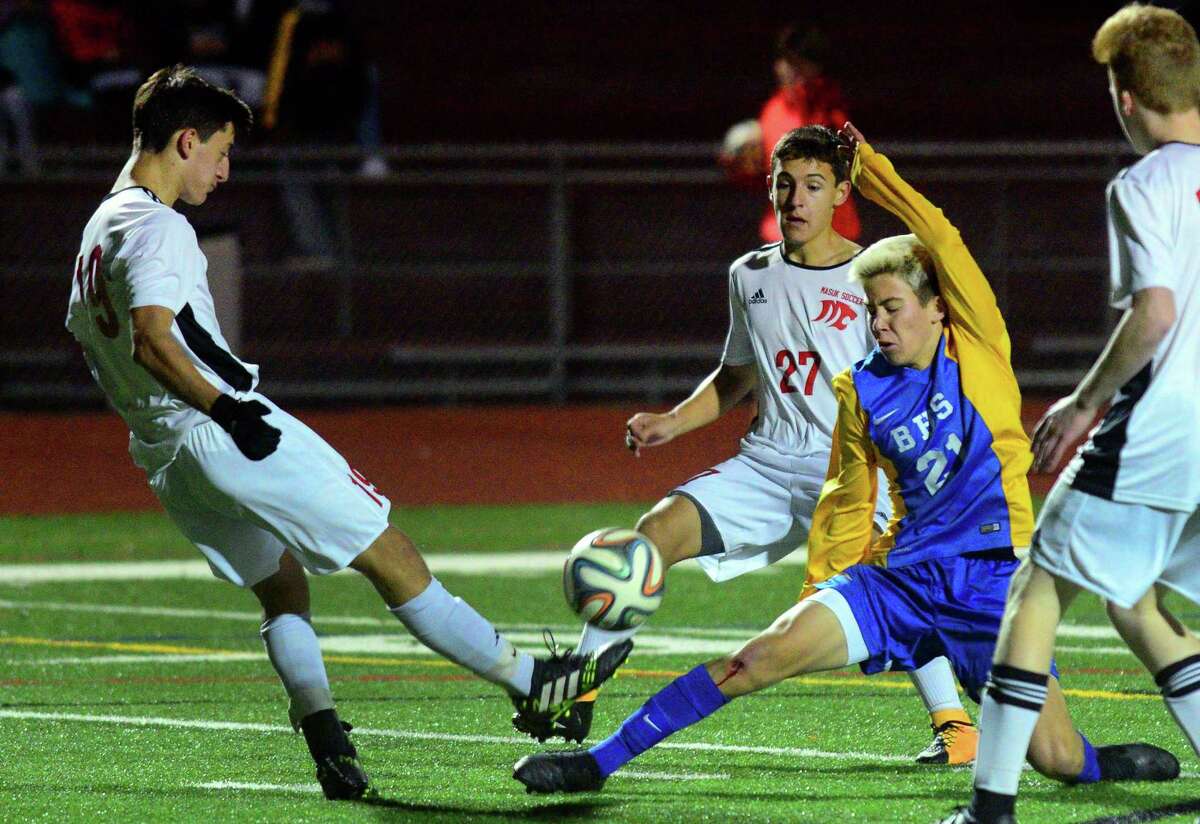 There will be plenty of new faces in new places on the boys soccer teams in the South-West Conference this season, with several teams graduating very large, very talented senior classes last year.
Newtown graduated 14 seniors. Bethel and Bunnell each graduated 10. Conference runner-up Masuk brought back only two starters. Even conference champ Joel Barlow graduated its entire starting defense. Of the 20 players who earned first-team All-SWC honors last year, only two are back: Kent Eannarino of Brookfield and Jack Warren of Barlow.
So, who will emerge as the next wave of stars?
We'll all find out together over the two-month thrill ride that is about to begin. Be sure to fasten your safety belts.
FIVE PLAYERS TO WATCH
PABLO CORREA-RAMIREZ, Joel Barlow—Senior forward scored 15 goals and assisted on five more last year, and at this pace, he could crack the top 15 on Barlow's career scoring list by the time he's finished.
KENT EANNARINO, Brookfield—Senior attacking midfielder was a first-team All-SWC pick last year and is a key weapon in the Bobcats' offense.
QUINN GUTH, Immaculate—Junior All-Patriot Division selection adds speed and athleticism to the Mustangs' attack.
CAM TRIVERS, Newtown—Senior All-Colonial Division goalkeeper has been a stalwart as the Nighthawks' last line of defense.
JACK WARREN, Joel Barlow—All-State senior midfielder tallied 15 goals and nine assists last season and, like Correa-Ramirez, has a chance to break into the top 15 on Barlow's all-time scoring list.
FIVE TEAMS TO WATCH
JOEL BARLOW—It was another banner season last year for coach Paul Winstanley's Falcons, who claimed their first SWC title since 2014 before being knocked out of the Class L state tournament in the second round to eventual champion Daniel Hand. In the 23-year history of the SWC, Barlow has won 10 championships — by far the most of any team — and played in four other title games. Expect the Falcons to be in the championship mix again this year, as they always are. They return most of their forward line and midfield, although they graduated their entire defense, including All-State goalkeeper Jackson Stalowir. Barlow's success will likely hinge on how quickly and how effectively it can restock the defense. Leading the way this year will be All-State senior midfielder Jack Warren, senior forward Pablo Correa-Ramirez, sophomore midfielder Max Baer and sophomore forward Ben Goodacre. Lost to graduation were Anthony Paolini, who is now playing at Sacred Heart University, along with Stalowir, Grant LaGaipa, Grayson DiMiceli, Anthony Rizzo, Nick O'Connor, Atticus Upson, Aidan Dougal, Nick Wolf and Fenn Gurley.
MASUK—Last year was a breakout season for coach Antonio Viscuso's Panthers, who reached the SWC final for the first time since 2008, then reached the Class L state final for the first time ever. While a pair of runner-up trophies may not seem all that impressive to some, it was a huge step forward for the program. Viscuso called last season "historic," and he was right. This year, the Panthers return only two starters from that historic team. All-New England selection Ryan Winkler, who scored 38 goals last year and would have been a senior captain at Masuk this year, decided to join an academy team. Lost to graduation were All-State pick Ryan Hodska, Maxwell Mastrorocco and Sam Forsythe, among others. That's not to say, however, that Masuk's cupboard is bare. It's just time for the next group of stars to emerge. The Panthers relished their underdog role last year, and it will likely be in a similar role this year with so many as-of-yet unproven players. Look for seniors Aidan McShane and Sean Murray and juniors Matthew Machan, Christian Aja and Kyle Cirillo to lead the way. Masuk won SWC titles in 2003 and 2006 and reached the final last year, in 2008 and in 1998.
NEWTOWN—The Nighthawks welcome new coach Charley Amblo, who brings with him roughly four decades of coaching experience. Newtown graduated 14 seniors from last year's squad, which reached the SWC semifinals before being upset in the first round of the Class LL state tournament by 29th-seeded Warde — a tough first-round draw for the fourth-seeded Nighthawks, as Warde wasn't the typical 29th seed. There will be plenty of new faces in new places for Newtown, that's for sure, with All-SWC selections Tom Skrelja and Jack Oltran among last year's graduates. Leading the way this year will be seniors Owen Baillargeon, Rilind Limani and Cam Trivers. Newtown had played in five straight SWC finals from 2001 through 2005, winning three of them. Since then, the Nighthawks have taken home runner-up honors in 2007 and 2013.
BROOKFIELD—Coach David Lavery's team has several key pieces back from last year's squad, which suffered first-round losses in both the SWC and Class L state tournaments. Watch for seniors Kent Eannarino, Michael Bento, David Walker and Jacob Mamudi to lead the way. Those guys were sophomores when the Bobcats won the SWC crown in 2016, and they would certainly like to put their own championship stamp on the program. Brookfield also won SWC titles in 2009 and 2013, and took home runner-up honors four times, including three straight from 2000 to 2002.
IMMACULATE—The Mustangs feature a complementary blend of year-round soccer stars and multi-sport standouts as coach Steven Carneiro continues to build the program back to prominence. Leading the way this year will be seniors Mike Basile, David Talerico and Ryan Fanella and juniors Quinn Guth and Hunter Kirkman. Immaculate missed the SWC tournament last year but cracked the Class S state tournament as the 20th seed. Graduation losses include Matt Gerbo, a first-team All-SWC selection. Immaculate played in its only SWC title game in 1997.
FIVE GAMES TO WATCH
JOEL BARLOW AT MASUK, Sept. 11, 7 p.m.—Rematch of last year's SWC final, although there will be plenty of new faces on both sides.
IMMACULATE AT BETHEL, Sept. 11, 4 p.m. (Rourke Field)—These two rivals could get together for a friendly game of Scrabble and it would be spirited and intense.
NEWTOWN AT BROOKFIELD, Oct. 16, 6 p.m.—Ditto.
POMPERAUG AT NEW MILFORD, Oct. 16, 6 p.m.—Late-season clash likely to be brimming with playoff implications.
BUNNELL AT STRATFORD, Oct. 24, 5 p.m. (Penders Field)—Crosstown rivalry renewed with two new coaches guiding the way.
AROUND THE SWC
There will be plenty of new faces at BETHEL this season, as coach Tony Fernandes' Wildcats graduated 10 seniors from last year's team, which reached the SWC semifinals, then made it to the Class L state quarterfinals as the eighth seed. Graduates include Liam Ford, Gabe Carrijo, Anthony Falstoe and Jake Bohrman, among others. Also not returning are two players who started as juniors last year, as Chris Towey chose to concentrate on basketball in his senior year, and Hideki Morales opted to sign on with Beachside Academy. Leading the Wildcats this year will be seniors Brad Bornn, Adam Aponte, Stephen Alfaro and Simon Russo and juniors Bryan Osebio and Maykel Mariano…
At BUNNELL, new coach Joe Baccielo takes the helm of a team that scored a thrilling, double-overtime win over Torrington in the qualifying round of the Class L state tournament last year, only to meet its match in the first round against Masuk. Leading the way will be senior Malcolm Brown and juniors Jojo Lumasag and Nick Petrino…
Out at POMPERAUG, meanwhile, Joe Mancini's squad scored a nice upset in the first round of the Class LL tournament last year, knocking off ninth-seeded Fairfield Prep as the 24th seed after falling to Newtown in the SWC quarterfinals. The Panthers are determined to go deeper into both tournaments this year. Leading the way will be seniors Nathan Barstrom, Zach Hoedl and Cole Phaneuf. Pomperaug lost Peter Duda to graduation last year, among others, and he's now playing at Endicott College…
First-year coach Ryan Jockers takes over a STRATFORD team that is determined to improve from its one-win campaign a year ago. Watch for Adolfo Pacheco, Zachary Fedak, Preston Williams and Chris Anstis to lead the way…
Coach Kevin Fitzsimmons' WESTON team won a qualifying game in the Class L state tournament last year but advanced to further. With several key players back from that team, including a few four-year starters, the Trojans are hoping to make some more noise in the postseason. Leading the way this year will be seniors Matt Scott, Dave Tamburri and Matt Egan. Lost to graduation were Jack Weiss, who is now playing at Fairfield University, along with Mitchell Levi, Griffin Levi, Santiago Forero and Nick Miner.