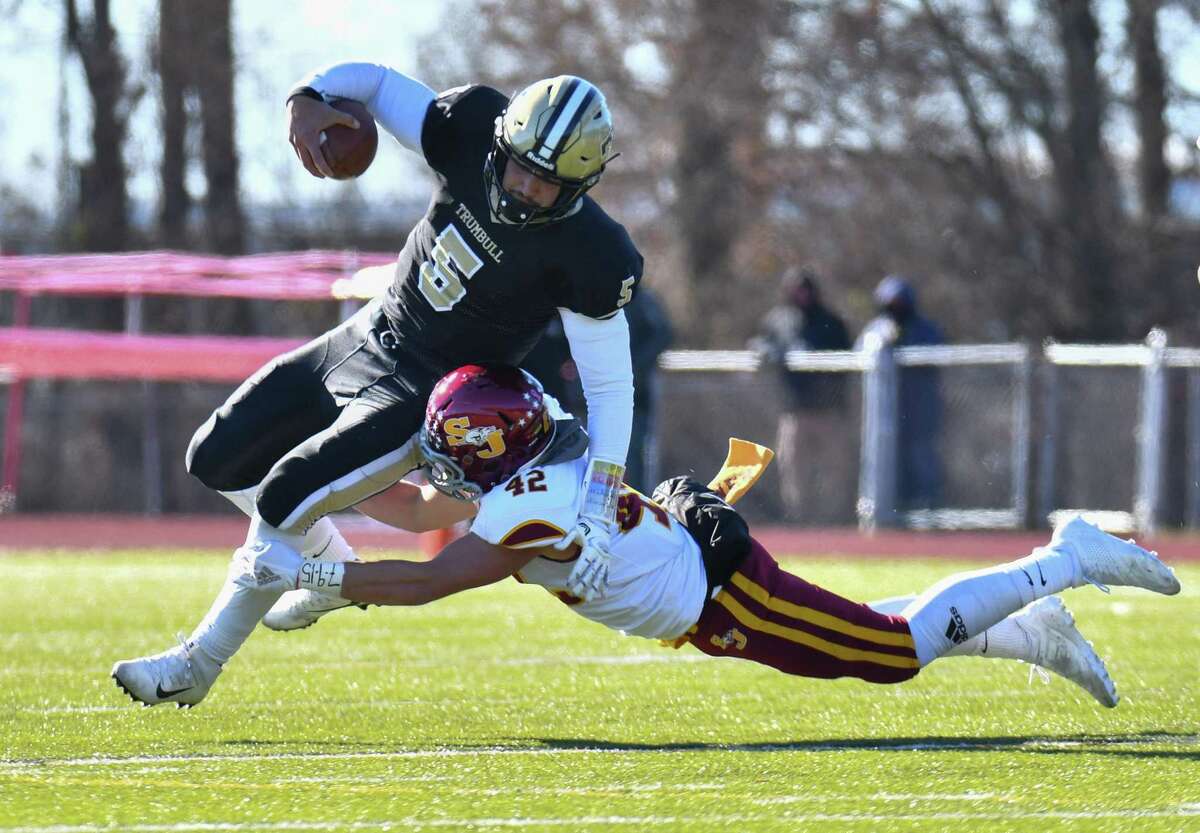 TRUMBULL — The way the first half transpired, the St. Joseph High School football team knew this year's Thanksgiving Day rivalry game against Trumbull would not be quite as easy a task as last year's 58-point blowout.
Actually, the Hogs knew that before the game had even started.
"Trumbull has improved every week so we knew this was going to be a tough, physical game," St. Joseph coach Joe DellaVecchia said after his team scored four second-half touchdowns on its way to a 42-6 victory.
The Hogs were only up two scores at halftime, however, before quarterback David Summers and rest of the offense found its rhythm. The Hogs (9-1) now head into the Class M state playoffs on a high. They clinched the No. 1 seed and will host the No. 8 seed Tuesday. St. Joseph, the defending Class S champion, moved up to M this year.
"Trumbull is much improved from last year," said Summers, who ran for one score Thursday and threw for three more, giving him 100 touchdown passes in his career. "Now, we go into Tuesday right where we want to be."
Ahead by two scores might not have been where the Hogs wanted to be at halftime, however, not after last year's 65-7 rout over Trumbull. And it could've even been closer.
"In the first half we had our opportunities but we shot ourselves in the foot," Trumbull coach Marce Petrocchio said. The Eagles (5-5) committed eight penalties and quarterback Colton Nicholas completed just 4 of 13 pass attempts. "You can't make mistakes against a team like St. Joe's."
Nevertheless, St. Joseph led just 14-0.
In the first half, the Eagles got into St. Joseph territory three times, but could not make the big play when they needed it. St. Joseph, meanwhile, did what it has been doing for years: making the big play.
First, Summers and Diamantis connected for a 77-yard pass play that set up Summers' 3-yard run early in the second quarter. Then, after a 39-yard Summers-to-Diamantis play, the Hogs took a 14-0 lead when the two hooked up for a four-yard score with 1:13 remaining in the half. Aside from those two long plays, though, St. Joe's had just 76 yards of offense in the first half.
But once each team had the ball in the second half, it was apparent the Hogs were on their way to a comfortable victory.
A poor kickoff return coupled with another penalty put the Eagles on their own 5, and after punting it away, St. Joseph took two plays to score on a five-yard run by Jaden Shirden.
Then Trumbull got the ball back and marched from their own 15 to the St. Joe's 3. But that's where it ended after a goal-line stand by the Hogs, led by Cole DaSilva.
"We punched it in and then stopped them with a goal line stand," DellaVecchia said. "That was the game right there."
"The third quarter has been our Achilles heel," Petrocchio added.
Summers threw two more touchdowns, one to Jesse Bike and another to Brady Hutchison and Shirden added a score on the ground to give the Cadets a 42-0 lead.
Trumbull finally got on the board with just over one minute remaining on a 71-yard halfback option pass from Corey Osborne to Mileeq Green.
TOUGHEST SCHEDULE IN THE STATE?
Trumbull lost five games this season, three to teams currently ranked in the top four of the GameTimeCT poll — Darien, Greenwich and St. Joseph — and a fourth against the preseason No. 1, New Canaan.
PLAYERS OF THE GAME
Summers, who was 5 for 6 for 129 yards and two scores in the second half, and lineman Robert Mihaly were named co-MVPs for St. Joseph. Linebacker Adam Tolk was honored for Trumbull.
QUOTABLE
"Down the road, we'll remember a game like this. It's a sad day, but we'll be back." — Trumbull coach Marce Petrocchio
ST. JOSEPH 42, TRUMBULL 7
ST. JOSEPH 0 14 7 21 — 42
TRUMBULL 0 0 0 6 — 6
SJ — David Summers, 3 run (Luke Kirby kick)
SJ — Will Diamantis, 4 pass from Summers (Kirby kick)
SJ — Jaden Shirden, 5 run (Kirby kick)
SJ — Jesse Bike, 33 pass from Summers (Kirby kick)
SJ — Brady Hutchison, 30 pass from Summers (Kirby kick)
SJ — Shirden, 1 run (Kirby kick)
T — Mileeq Green, 71 pass from Corey Osborne (run failed)
Records: SJ 9-1, T 5-5