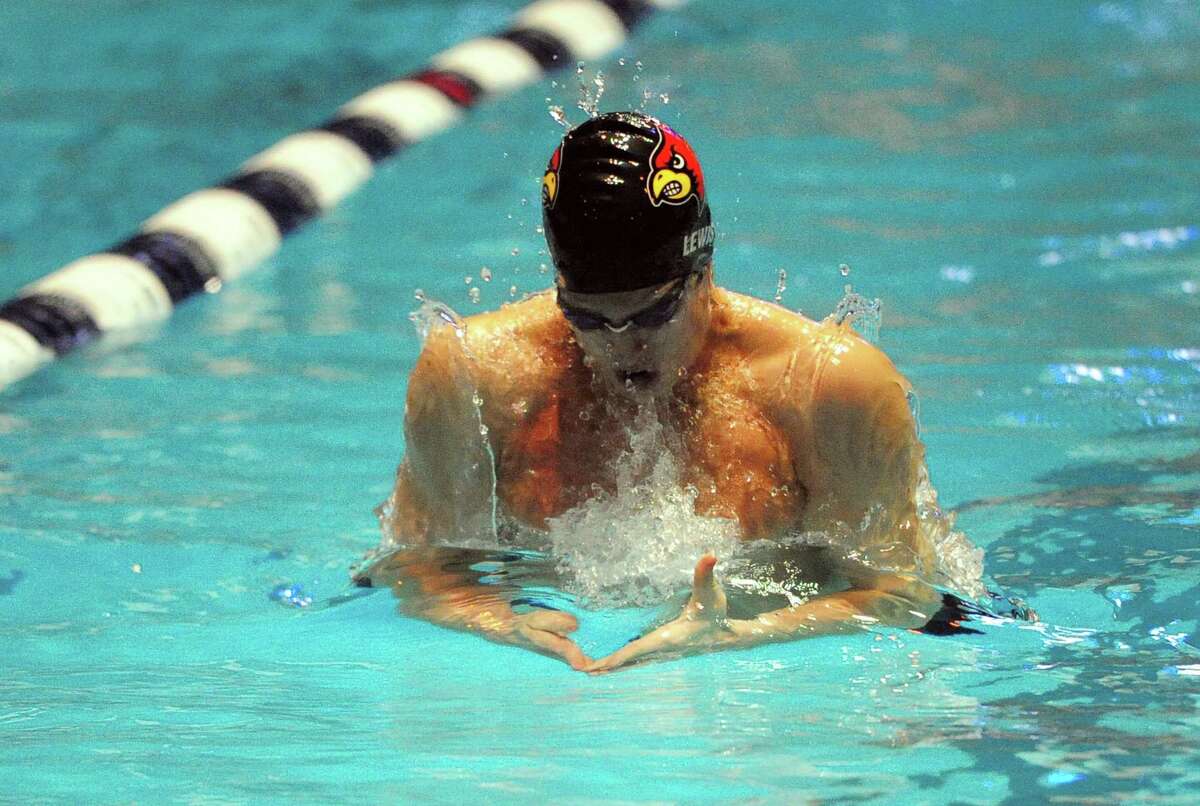 NEW HAVEN — Prior to Thursday's State Open Swimming Championships, Greenwich coach Terry Lowe said his team had to produce a perfect meet in order to win another title.
Well, the Cardinals captured yet another State Open championship and they were just about as perfect as they could be in their coach's eyes.
Seeing a number of its athletes swim faster than their seeded times and showcasing its trademark depth, Greenwich continued its reign of supremacy, winning its seventh straight State Open title and unprecedented 35th overall Thursday night at Yale University's historic Kiphuth Pool.
Behind three-first place finishes and a wealth of top-10 performances, Greenwich amassed 600 team points. Runner-up New Canaan, which entered the meet with 77 diving points, compared to 16 for Greenwich, posted 480.5 points, followed by Ridgefield (378.5) and Pomperaug (297). Fairfield Prep placed fifth in the team standings (293.5).
Greenwich celebrated its team victory at the State Open by jumping into the pool in unison #ctswim pic.twitter.com/lfnEfJwYyG

— David Fierro (@Dave23Sports) March 15, 2019
Greenwich entered the meet knowing it needed a supreme effort to keep its hold on the championship that its owned for years.
"We swam a great meet, the kids really finished it off with class," said Lowe, who has guided GHS to all of its titles. "They just went after it and they got better and better."
The Cardinals, who won the State Open with 487.5 points last season, registered first-place finishes in the 200 and 400-yard freestyle relay events and the 100 freestyle Thursday evening.
"It feels so good to win the title again," GHS senior Stephan Todorovic said. "This is my last year and it feels good to go out like this. All the hard work we put in throughout the season really paid off. New Canaan was a fierce competitor and I think that we really stepped it up and made sure that we finished the season well."
The meet concluded in fitting fashion for the Cards, as their 400-yard freestyle relay team of sophomore Nicholas Malchow, junior Mark Merson, Todorovic and junior Charlie Clark combined for a winning time of 3:08.05 (All-American consideration time). Ridgefield placed second in 3:09.14.
Charlie Clark of Greenwich won the State Open title in the 100 freestyle #ctswim pic.twitter.com/TatYBZFUM0

— David Fierro (@Dave23Sports) March 15, 2019
"It's exhilarating," Clark said. "We came in, we knew what we had to do and we accomplished it very well. Everyone swam fast and it was a fun meet."
Westhill/Stamford junior Ben Feldman and Ridgefield sophomore Connor Hunt each earned first-place medals in two individual events.
Hunt won the 200-yard freestyle title with a time of 1:41.40. Glastonbury senior McAllister Milne placed second (1:41.55), followed by Greenwich's Clark (1:41.92). Senior Jake Ritz of New Canaan was fourth (1:42.80).
"Charlie Clark in the third heat put up a great time and I saw that and the last heat was also really fast," Hunt said. "I put my head down at the finish, gave it all I had and was able to touch first."
In the 500-yard freestyle, Hunt registered a winning time of 4:32.24, while Milne finished second in 4:33.91 and Todorovic took third (4:35.20).
State Open swim: Connor Hunt of Ridgefield wins 200 freestyle title , McAllister Milne of Glastonbury places second #ctswim pic.twitter.com/HwwzT3alQ1

— David Fierro (@Dave23Sports) March 14, 2019
"I was definitely feeling fatigued by the 500, but I was able to swim my race," Hunt said. "I was happy with my time — that was a best time for me. I was happy I was able to contribute to our team."
Like the Class LL Championships, Feldman garnered the gold medal in the 100-yard butterfly and breaststroke. He touched the wall first in the 100 butterfly in an All-American consideration time of 49.72 seconds. Junior Patrick Colwell of New Canaan finished second (50.49) and Darien junior Connor Martin was third (50.89).
The 100 breaststroke saw Feldman take top honors by clocking in at 57.26. Cardinals junior Thomas Lewis finished second in 58.02 and Cheshire senior Joseph Cannata took third (58.39).
"It feels amazing to end the season with a near perfect record," Feldman said. "I want to thank my competition again for pushing me. I am really happy with my times and I'm just happy I beat the people I have gone up against all year at this great meet."
Greenwich held a 244-131 advantage on New Canaan through four events and was ahead 369-278.5 after seven races.
"We knew it was going to be close from the beginning and coach Lowe told us if we want to win this meet we really have to dig deep, give it our all and swim as well as we can," Lewis said. "Everyone had a great meet and swam well."
Clark gave the Cardinals 30 points by winning the 100-yard freestyle with a time of 45.88 seconds.
"We told Charlie, 45, you are going to do a 45, and he did it," Lowe said. "He has improved his stroke and improved his walls and it's fabulous to watch him swim."
Pomperaug senior Billy Regan was second in the 100 freestyle (46.56) and Seymour junior Jack Crocamo took third (47.08), followed by Greenwich's Malchow (47.15).
The winner's medal in the 50 freestyle went to Ridgefield senior Will Bryant (21.25). Six tenths of a second separated the next six competitors, led by Fitch co-op senior John Marcolina (21.34, second place), Crocamo (21.46, third place) and Malchow (21.62).
"I wanted to go a little faster, but I can't really complain about that, a third-place finish at the State Open is great," Crocamo said. "There's not much more that I could ask for. I really enjoy swimming here, it's cool when you are behind the block and look at all the people around."
The meet commenced with Pomperaug's 200-medley relay team of Colin MacKellar, Billy Regan, John Moran and Sai Quesenberry teaming up for a winning time of 1:34.44 (All-American consideration). Greenwich finished second (1:34.88, All-American consideration) and Ridgefield took third (1:36.61).
Pomperaug also received first-place finishes from Regan and MacKellar. Regan captured the 200 individual medley State Open title with a time of 1:50.70, while Todorovic took second in 1:53.10 and Lewis was third (1:53.69).
"I had to take it smoother in the fly which helped me," Regan said. "Going out smoother in the fly helped me in the breaststroke and freestyle. This is one of the best swim scenes in Connecticut, it doesn't get much better than this."
Connor Hunt of Ridgefield won the 500 freestyle at the State Open in 4:32.24 #ctswim pic.twitter.com/kKhHQSTXsa

— David Fierro (@Dave23Sports) March 15, 2019
MacKellar capped his senior season for Pomperaug with a victory in the 100 backstroke (51.10).
"I'm really happy with how I swam and how I felt throughout the race," MacKellar said. "Coming in here as a freshman I was 17th, so I knew when I was a senior I wanted to try to win it. Now I'm really happy and I feel accomplished. I worked a lot in the off-season on my underwaters and it paid off."
Cheshire junior Sam Hanke was the runner-up in the 100 backstroke (51.33), while Ridgefield's Andrew Yu was third (52.59) and New Canaan sophomore Gianfranco Pozzolini placed fourth (52.62).
"I am really proud of him," Cheshire coach Megan McGorry said of Hanke. "A top-three finish was a goal, so to finish second was great for him. Joey Cannata getting third in the breaststroke and our 200 freestyle relay placing third was great as well."
New Canaan coach Kat Munson was highly-impressed with her squad's second-place showing in the team standings.
Ben Feldman of Westhill/Stamford won 2 events at the State Open, including the 100 breaststroke in 57.26 #ctswim pic.twitter.com/QLcRjad1ti

— David Fierro (@Dave23Sports) March 15, 2019
"To be in a position to challenge Greenwich and being-second best in the state, you have to be proud of that," Munson said. "We had four divers finish in the top eight which is awesome, they helped put us in a position to be excited and we did what we could in the water tonight. I can't ask for more as a first-year coach."
Greenwich's other first-place finish came in the 200-freestyle relay, where Lewis, Malchow, Nicholas de la Sierra and Clark combined for a time of 1:24.98. New Canaan was second (1:25.69).
"Once we got to that 200 freestyle relay, we said, we know we need to win this," Lewis said. "We all did so well and I couldn't be prouder of what our team accomplished this season. We showed that championship season is our season."
Following the meet, the Greenwich team, including Lowe, celebrated the victory by jumping into Kiphuth pool in unison — a scenario that never gets old for the squad.
"The fact that we overcame a huge diving deficit and won in this fashion says a lot about our team," Lowe said. "Overall, it was such an impressive night."
PATIENCE PLEASE
There was a 20-minute delay following the second heat of the 200-medley relay. One of the touch pads was not functioning correctly and had to be replaced.
QUOTABLE
"New Canaan had a pretty big lead with their diving points, so it was key every event to either hold our place or move up and we were able to pretty much do that," Todorovic said. "By doing that all those points that we were getting added up and by the end of the meet, we had a big lead."
CIAC Boys Swimming State Open at Yale
Team scores
1. Greenwich 600, 2. New Canaan 480.5, 3. Ridgefield 378.5, 4. Pomperaug 297, 5. Fairfield Prep 293.5, 6. Glastonbury 246, 7. Holy Cross 233, 8. Darien 219.5, 9. Cheshire 207, 10. Seymour 161, 11. Staples 158, 12. Haddam-Killingworth 154, 13. Norwalk/McMahon 149.5, 14. Xavier 148, 15. Westhill/Stamford 132, 16. Northwest Catholic 113, 17. Newtown 107, 18. Ludlowe/Warde 95.5, 19. Fitch 93, 20. Amity 73, 21. Hall 70, 22. Sheehan 68, 23. Avon 66, 24. Conard 57, 25. (tie) Hand and Farmington 55, 27. Northwestern 53, 28. New Fairfield 52, 29. Wethersfield 49, 30. South Windsor 43, 31. Barlow/Bethel 38, 32. Branford/Guilford 37, 33. Masuk 33, 34. (tie) Granby Memorial and Trumbull 31, 36. Foran/Law 27, 37. Berlin 26, 38. Manchester 25, 39. (tie) Southington and Brookfield 20, 41. E.O. Smith/Tolland 18, 42. Middletown 17, 43. New Milford 15, 44. Bristol co-op 14, 45. Weston 8, 46. (tie) Suffield co-op and East Hartford 5, 48. Shepaug Valley 3.
Top six finishers in each event
200 medley relay: 1. Pomperaug (Colin MacKellar, Billy Regan, John Moran, Sai Quesenberry) 1:34.44; 2. Greenwich (Justin Jacob, Thomas Lewis, Stephan Todorovic, Nicolas de la Sierra) 1:34.88; 3. (tie) Ridgefield (Andrew Yu, Luke Hruska, Linney O'Malley, William Bryant) and Fairfield Prep (Ethan Keyes, Alec Keblish, Jack Rogers, Richard Nolan) 1:36.61; 5. Xavier (Mitchell Wollen, Andrew MItchill, Yavier Carbo-Colon, Donald Frost) 1:37.25; 6. Glastonbury (Kevin Tierney, Christopher Davis, Evan Fuller, Brant Barbera-Hwang) 1:37.70; 200 freestyle: 1. Connor Hunt (Ridgefield) 1:41.40; 2. McAllistar Milne (Glastonbury) 1:41.55; 3. Charles Clark (Greenwich) 1:41.92; 4. Jake Ritz (New Canaan) 1:42.80; 5. Zach Houlton (Haddam-Killingworth) 1:43.02; 6. Spencer Erickson (Darien) 1:43.16; 200 IM: 1. Billy Regan (Pomperaug) 1:50.70; 2. Stephan Todorovic (Greenwich) 1:53.10; 3. Thomas Lewis (Greenwich) 1:53.69; 4. Michael Baldini (Northwest Catholic) 1:54.15; 5. Richard Nolan (Fairfield Prep) 1:54.26; 6. Patrick Colwell (New Canaan) 1:54.51; 50 freestyle: 1. William Bryant (Ridgefield) 21.25; 2. John Marcolina (Fitch co-op) 21.34; 3. Jack Crocamo (Seymour) 21.46; 4. Nicholas Malchow (Greenwich) 21.62; 5. Michael Kotlyar (New Canaan) 21.70; 6. Benjamin Arky (Conard) 21.81; 100 butterfly: 1. Ben Feldman (Westhill/Stamford) 49.72; 2. Patrick Colwell (New Canaan) 50.49; 3. Connor Martin (Darien) 50.89; 4. Colin Zorger (Manchester) 51.09; 5. Colin MacKellar (Pomperaug) 51.45; 6. Kevin Tierney (Glastonbury) 52.00; 100 freestyle: 1. Charles Clark (Greenwich) 45.88; 2. Billy Regan (Pomperaug) 46.56; 3. Jack Crocamo (Seymour) 47.08; 4. Nicholas Malchow (Greenwich) 47.15; 5. John McNab (Staples) 47.38; 6. Alex Beauchene (Northwestern) 47.58; 500 freestyle: 1. Connor Hunt (Ridgefield) 4:32.24; 2. McAllistar Milne (Glastonbury) 4:33.91; 3. Stephan Todorovic (Greenwich) 4:35.20; 4. Aidan Henry (Branford/Guilford) 4:38.34; 5. Jake Ritz (New Canaan) 4:38.85; 6. Zach Houlton (Haddam-Killingworth) 4:39.27; 200 freestyle relay: 1. Greenwich (Thomas Lewis, Nicholas Malchow, Nicolas de la Sierra, Charles Clark) 1:24.98; 2. New Canaan (Patrick Colwell, Brian Harrell, Michael Kotlyar, Jake Ritz) 1:25.69; 3. Cheshire (Sam Hanke, Andrew Lou, Shane Wynne, Joseph Cannata) 1:27.52; 4. Newtown (Colby Delia, Mason Suba, Xavier Williams, Rick Irving) 1:28.00; 5. Ridgefield (Connor Hunt, Ethan Murray, Luke Hruska, William Bryant) 1:28.01; 6. Fairfield Prep (Kristoffer Davis, Lucas Hoin, Jan Krepsztul, Alec Keblish) 1:28.08; 100 backstroke: 1. Colin MacKellar (Pomperaug) 51.10; 2. Sam Hanke (Cheshire) 51.33; 3. Andrew Yu (Ridgefield) 52.59; 4. Gianfranco Pozzolini (New Canaan) 52.62; 5. Christopher Weber (Granby Memorial) 52.70; 6. Ethan Keyes (Fairfield Prep) 52.84; 100 breaststroke: 1. Ben Feldman (Westhill/Stamford) 57.26; 2. Thomas Lewis (Greenwich) 58.02; 3. Joseph Cannata (Cheshire) 58.39; 4. Michael Baldini (Northwest Catholic) 58.56; 5. Alec Keblish (Fairfield Prep) 58.91; 6. Michael Kotlyar (New Canaan) 58.97; 400 freestyle relay: 1. Greenwich (Nicholas Malchow, Mark Merson, Stephan Todorovic, Charles Clark) 3:08.05; 2. Pomperaug (John Moran, Sai Quesenberry, Billy Regan, Colin MacKellar) 3:09.14; 3. New Canaan (Patrick Colwell, Richard Ettinger, Michael Kotlyar, Jake Ritz) 3:11.51; 4. Fairfield Prep (Brody Biebel, Jack Rogers, Ethan Keyes, Richard Nolan) 3:13.43; 5. Holy Cross (John Tucker, Derek Fantano, Chris Ford, Sam Mason) 3:14.08; 6. Ridgefield (Ethan Murray, Andrew Yu, Gavin