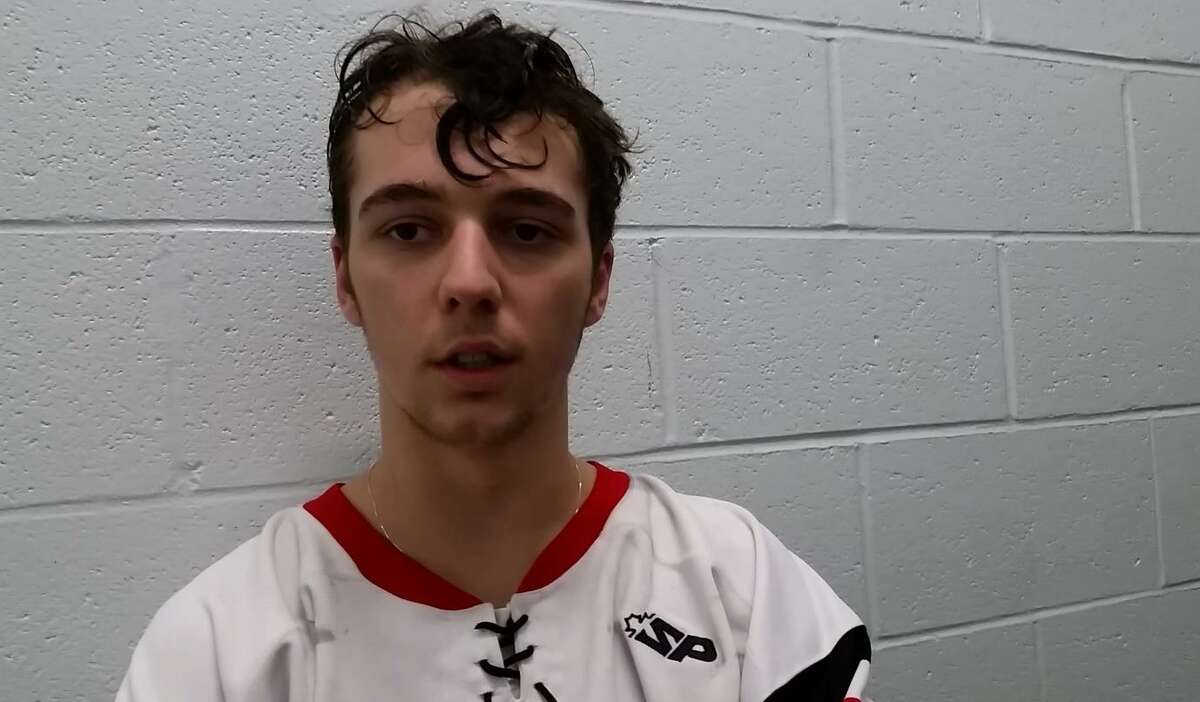 NORTH BRANFORD — At one end was the defending CIAC Division II boys hockey champion goalie, Jared Yakimoff, who led Branford to the title 11 months ago. At the other, Andrew Sacco defended the North Haven net after winning last year's Division III championship with LHK.
The goaltending matchup couldn't get much better Wednesday night at Northford Ice Pavilion, and only a fluke deflection off a defender decided Branford's 2-1 overtime victory.
"Some of (Sacco's) saves in the third period were as high quality as you can get," North Haven coach Chris Avena said. "They had that fluke bounce. Jared made more saves than Andrew, and we came out on the short end of the stick."
Sacco made 29 saves, and indeed, as the Hornets came on, he was there for everything they had. Yakimoff made 35 stops and had a little flurry of key saves of his own in overtime before Billy Lindner's shot from above the left circle caromed in off an Indians defenseman.
"It was like a battle of the giants out there, Sacco and Yakimoff just turning away shots," Branford coach Jim DiNapoli said. "It was good stuff, a lot of speed on both ends and physical play."
Branford goalie Jared Yakimoff on the friendly rivalry between the Hornets and North Haven #cthk pic.twitter.com/Rdw4gTGHXh

— Michael Fornabaio (@fornabaioctp) February 20, 2020
Branford, ranked No. 8 in the GameTimeCT top 10 poll, stayed unbeaten in SCC/SWC Division II play at 7-0 and is 15-2-1 overall. North Haven is 10-5-3, 4-1-2.
They could meet twice more, in the conference tournament and the Division II tournament. They'd tied here on Jan. 15.
"We've always seemed to have a good close game with them, which has always been nice. A lot of us are good friends," Yakimoff said. He said he grew up playing with Sacco and knows a bunch of other North Haven players well.
"Even, if you saw, after Billy's goal, we were all hugging each other, all good friends," Yakimoff said.
The teams' dressing rooms are separated by maybe 10 feet at the end of a hallway at Northford (though they spent intermissions in team rooms closer to the rink). Players went back and forth after the game.
"I think the kids are relatively friends. The hallway thing is a great atmosphere. Jimmy and I get along really well. The kids get along," Avena said as DiNapoli walked past.
"That's a lie!" DiNapoli shouted back with an exaggerated wave.
"Jim says we're a very good practice team," Avena shouted back.
"It's a battle of the hallway. Records get thrown out the window even though both teams are good this year. It was a great atmosphere. That's what high school hockey is all about."
And here's how Branford-North Haven ended, with Andrew Sacco's 29th save, then Billy Linder's shot that found its way home #cthk pic.twitter.com/qxSXjKp5IS

— Michael Fornabaio (@fornabaioctp) February 20, 2020
The Hornets scored 65 seconds into the game. Spencer Engstrom sent a cross-ice pass to hit Blake Kustra in stride up the right wing. Kustra used a defenseman as a screen and beat Sacco up high.
The Indians probably had an edge in play for two periods and answered on a power play late in the second. Eli Brubacher beat his man on the left-wing boards and fired a pass to Aaron Racino, alone at the front of the net.
"The fans were wild. It was a lot of fun for the players," DiNapoli said. "We share a hallway, like Chris was saying to you. You go to battle. That's what both clubs do. The tightness of that game is not a surprise to me or to us. We've watched them all year just get better and better and better. I think they're in it for the long run.
PLAYER OF THE GAME
Tough to pick between the goaltenders. Jared Yakimoff finished with quantity, but Andrew Sacco may've had him in quality.
DOWN ON D
Branford has been without two regular defensemen for a couple of weeks, and they'll be without one of them, Jake Rivera, for the rest of the year. Linder and Chris Donadio have played the bulk of the minutes, but Mike Farricielli and Finn Thompson have picked up time on the back end.
Defenseman Max Manware and forward Matt Morgan could be close to returning, though DiNapoli said both still have steps to take in getting cleared.
QUOTABLE
"It'll sting a little more in a couple of weeks if we lose like that, but I think we can grow from it and learn from it now. They are the best team in the division, and we just skated with them. Hopefully we can carry that momentum through the last couple of weeks into the tournament." — North Haven coach Chris Avena
mfornabaio@ctpost.com; @fornabaioctp
BRANFORD 2, NORTH HAVEN 1 (OT)
NORTH HAVEN……………0 1 0 0—1
BRANFORD…………………1 0 0 1—2
Records: North Haven 10-5-3, 4-1-2 SCC Division II; Branford 15-2-1, 7-0. Goals: NH—Aaron Racino; B—Blake Kustra, Billy Linder. Assists: NH—Eli Brubacher, Donnie Funaro; B—Spencer Engstrom 2, Chris Donadio, Danny Farricielli. Goalies: NH—Andrew Sacco (29 saves); B—Jared Yakimoff (35). Shots: NH—36; B—31.