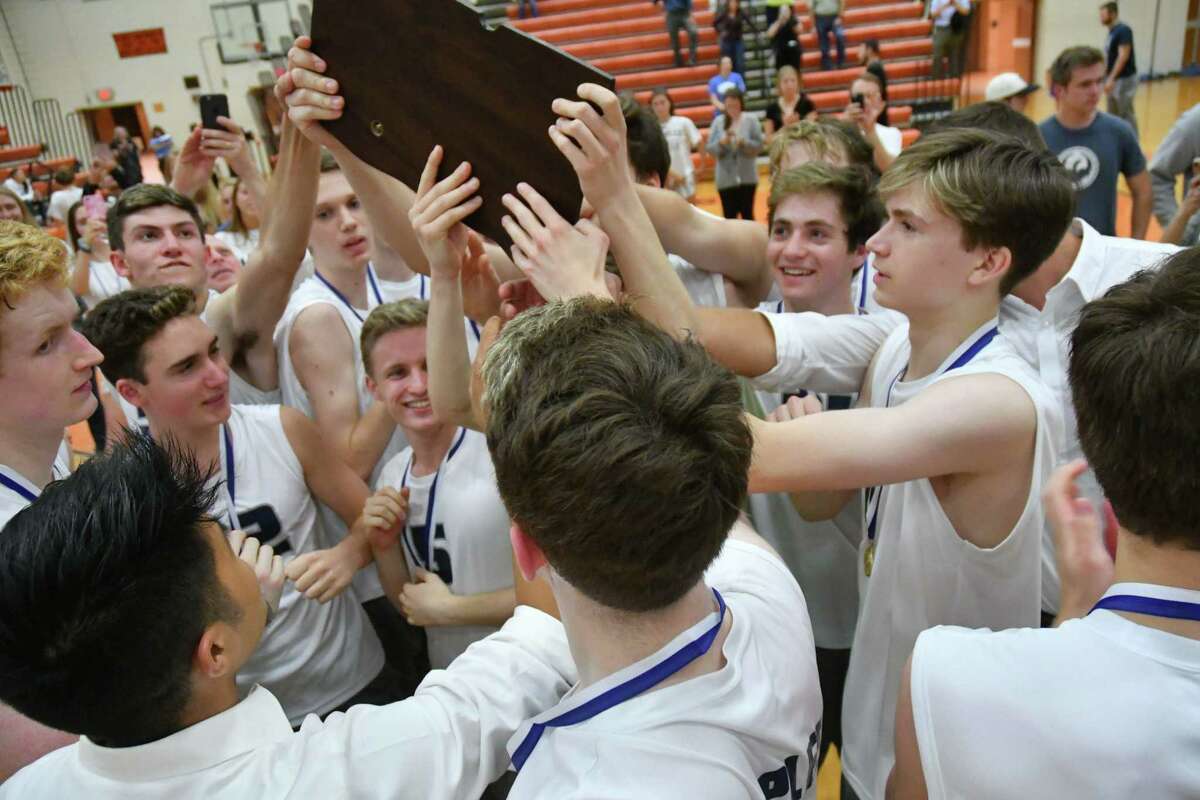 SHELTON — Entering the fifth and final game of the Class L championship match, the Staples boys volleyball team knew it had to get off to a good start.
A three-point advantage out of the gate was all the Wreckers needed.
The top-seeded and undefeated Staples squad took the lead early in the best-of-five final and never trailed, winning its first state title since 2013 with a 3-2 victory over Ridgefield.
The 23-0 Wreckers bested the Tigers by a 25-16, 26-24, 22-25, 20-25, 15-13 score.
"It took me four years to be on a championship team and that's all we wanted for our senior years," said Staples hitter Stedman van Arsdale, whose 22nd and final kill of the night deflected off the hands of a Ridgefield blocker and fell to the court. "All we wanted for our senior year was to get a medal and get that banner up in the gym that will be there forever."
Staples' David Kalinowski has two kills and two blocks as Staples turns a 24-22 deficit into a 26-24 win to take a 2-0 lead in Ridgefield. #ctvb @GameTimeCT pic.twitter.com/hylUesA7QV

— John Nash (@NikonNash) June 8, 2018
After taking a 2-0 lead, the Tigers — who lost to Staples three times by 3-0 scores during the season — stormed back to tie the match.
"Any team can beat any team on any given day," Staples coach Dan Cho said. "We have to show up with our best."
After not playing their best for a couple of games — the Wreckers handed Ridgefield the third game by being ruled out of position on the serve during game point — a quick start was needed in the fifth game.
"Throughout the season, we've been pushed back (by opponents) a lot so we had to ask ourselves, how can we fight back?" Staples senior middle hitter David Kalinowski said. "I just think everybody focused and said let's get on a run at the beginning and see where that's going to take us."
Tied at 11-11, Luke Press' kill from the back row started Staples' closing run to the championship.
"Staples is a great team. They deserve it," Ridgefield coach Lidania Gonzalez Cibere said. "We could have gone home early tonight, but we kept fighting. I'm really proud of them. I'm so proud they kept digging deep and getting to the fifth set because in the fifth set anything can happen."
While van Arsdale's 22 kills led Staples, along with eight blocks, setter Logan Carsten had 53 assists, 13 digs, six kills and a trio of aces.
Sam Greenberg had 27 digs while Press had 11 kills and 10 digs and William Hotch had 10 kills and four digs.
For Ridgefield (20-3, with all three losses coming to Staples), Christian DeVivo had a whopping 42 kills in a LeBron-ian effort. Setter Andrew Knachel had 57 assists while William Hunter had 15 digs and Eric von Recklinghausen and DeVivo had 13 digs each.
Staples wins game one 25-16 #ctvb @GameTimeCT pic.twitter.com/sN9qfo8nxB

— John Nash (@NikonNash) June 8, 2018
GAME-CHANGING MOMENT
The match could have turned out vastly different for Staples if not for the heroics of Kalinowski at the end of game two.
Ridgefield actually led 24-22, but couldn't close the Wreckers out.
Kalinowski was the reason. He had a kill to make it 24-23 and then blocked two shots to give Staples a 25-24 lead.
He capped off the set with another kill, giving the Wreckers a 2-0 lead.
"Kalinowski was huge," Cho said. "He stepped up and as a senior who has to show leadership. He's not a captain, but you can show leadership without that title and that's what he did."
Kalinowski said he just didn't want to go home on the losing side of things.
"(Cho) said in the timeout one of us had to step up and try to get some momentum on our side," he said. "So I just told myself I wasn't going home a loser tonight, I'm not going home feeling bad about myself. I'm giving it everything I had and it worked out, I guess."
PLAYER OF THE GAME
While Staples had the best team, Ridgefield had the best player on the court.
The high-flying DeVivo was all but unstoppable with his 42 kills — coming from both the front row and back row.
"Christian was great," Gonzalez-Cibere said. "He's been a starter for three years and he's played in a state championship game. He's done everything I've ever asked him to do."
QUOTABLE, PART ONE
"I said to my setter, Logan, I know I've been sucking this set, but just give me the ball. I want to finish this out. I know I can do it," van Arsdale said of his championship-clinching moment. "He gave me the first ball and I got it over, but they got it back to us. He got it up to me again, but I was in no position to kill it, so I just went up and hoped for the best. Luckily, it hit their hand and then the floor and we were able to win."
QUOTABLE, PART TWO
"They were never scared," Gonzalez Cibere said. "My kids don't fear anybody. They step on the court and they want to play volleyball with each other and they're happy to do that."