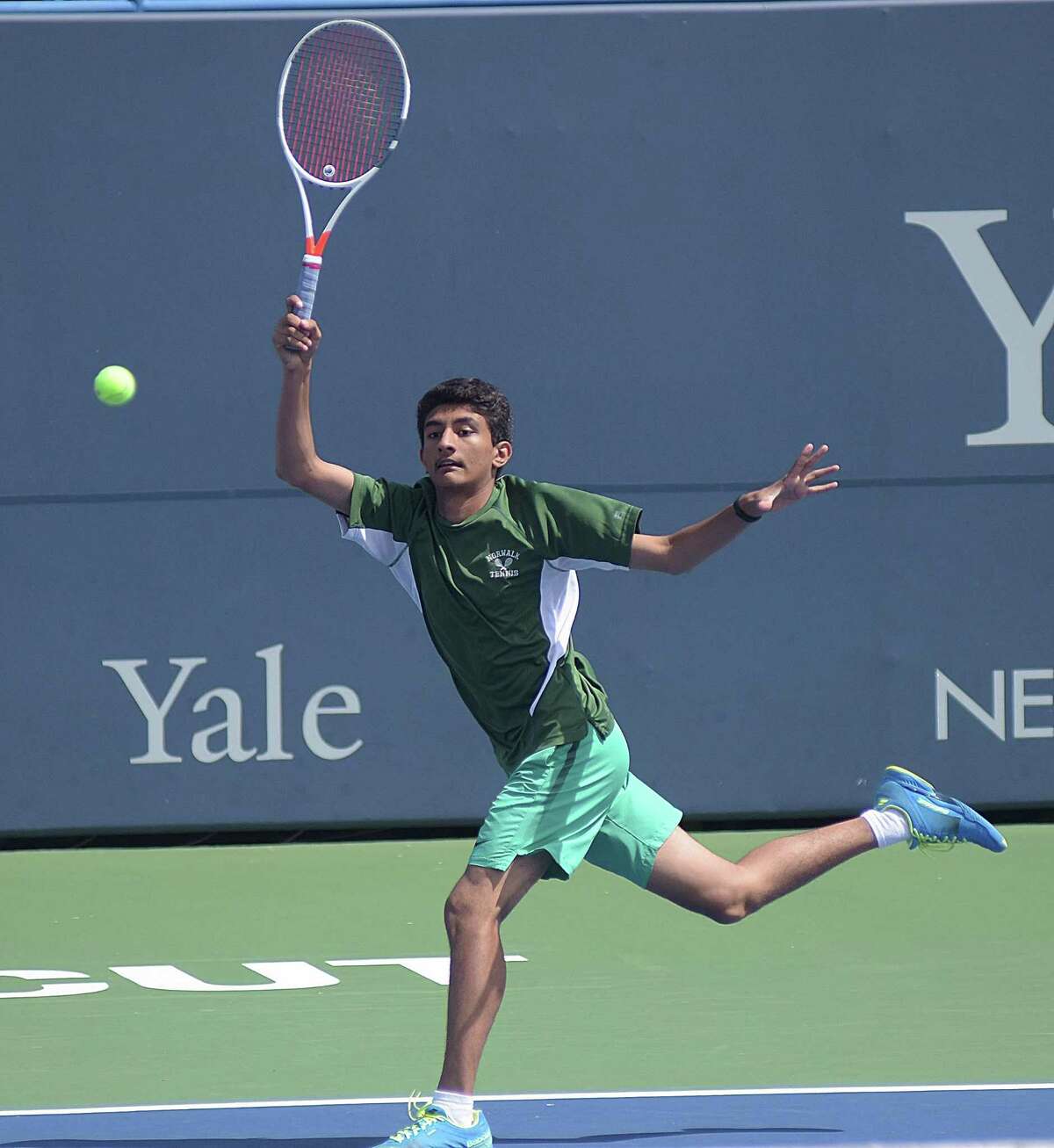 NEW HAVEN — For Staples High School's Evan Felcher the State Open Boys Singles Championship final Wednesday at the Connecticut Tennis Center had a tinge of revenge in it.
But most importantly, it was about a senior making the ultimate statement to close out a wonderful high school tennis career.
Felcher repeated as State Open boys singles champion as he defeated Andrew Ilie of Trumbull High, 6-1, 6-2.
"To win back-to-back State Open singles titles is a really great honor," Felcher said. "This unbelievable win makes all the work and all the experience I gained along the way in my high school career worthwhile. It was special playing in the big stadium, especially on a day there wasn't much wind or sun (overcast clouds throughout the day). It's an experience I'll treasure."
Felcher was focused Wednesday since Trumbull sophomore Ilie had beaten Felcher in the recent Class LL singles championship final.
Felcher never allowed Ilie and his big power tennis game to settle into Wednesday's match. Felcher led 5-0 in the first set. At 3-2 in the second set, Felcher captured the last three games to eliminate all drama.
"I learned from the three-set loss in the Class LL final. I was too edgy mentally last time. My goal was to stay composed and have fun today," Felcher said. "Andrew (Ilie) and I train together. His game has improved and grown a lot. But my return game was on point today."
Ilie, a sophomore blessed with a great first serve, has a bright future.
"Evan was making shots. He was the better player today," Ilie said. "My serving wasn't exactly what I wanted. His return game was great."
And now, Felcher moves on to his next adventure: playing college tennis at the University of Oregon.
"Evan was locked in emotionally. He was prepared for the battle," Staples boys tennis coach Kris Hrisovulos said. "He played great defense. It's rare to see anyone repeat as State Open champion. Evan missed the first half of our FCIAC season due to illness. He was a bit fresher today. He had a lot left in the tank."
NORWALK'S HOSOKAWA/DAVE EARN DOUBLES GOLD
In the 10 a.m. boys doubles final on the Stadium court, Norwalk's Taishi Hosokawa and Prem Dave captured the State Open doubles crown by topping Staples High's Eric Greenberg/Jack Tooker, 6-3, 6-3.
It was a sweet victory for Hosokawa as he was at the Connecticut Tennis Center two years ago when his brother Seiji Hosokawa captured the State Open boys singles gold medal.
"Watching Seiji win that day made me want to have a chance to play here," Taishi Hosokawa said as his brother was a spectator Wednesday. "Now I have a gold medal for myself."
Hosokawa and Dave — who both played singles during the regular season for Norwalk High — raced out to a 5-1 edge in the first set. At 3-3 in the second set, they broke Staples' serve twice to close out the triumph.
"The fast start really helped," Norwalk's Dave said. "We've both played doubles in some USTA tournaments. We have good chemistry to be a good doubles team."
Staples' Greenberg and Tooker fought hard to had no answer to stop Norwalk's duo.
"I lost all my service games," said Greenberg, a lefthander. "Still, reaching the final was special. It's a good way to end my high school career."
"Norwalk played both guys back on the baseline to receive our serves," Tooker said. "They were able to play to their strengths. We had a tough time adjusting to that."
rdepreta@stamfordadvocate.com
STATE OPEN CHAMPIONSHIP
At Connecticut Tennis Center, Stadium court
BOYS SINGLES FINAL: Evan Felcher (Staples) def. Andrew Ilie (Trumbull), 6-1, 6-2.
BOYS DOUBLES FINAL: Taishi Hosokawa/ Prem Dave (Norwalk) def. Eric Greenberg/Jack Tooker (Staples), 6-3, 6-3.