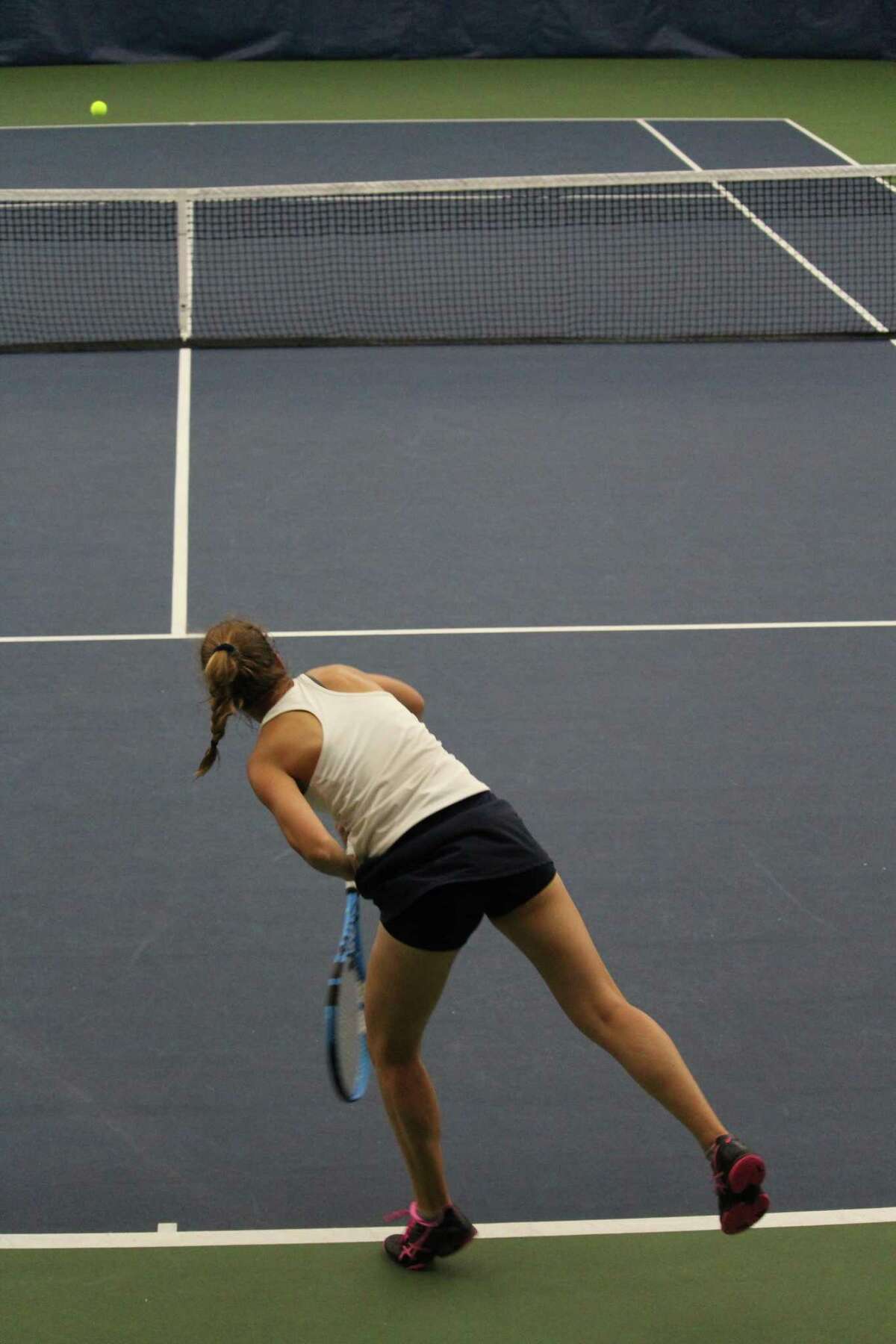 NEW HAVEN—With all seven matches of the girls Class L tennis finals happening simultaneously on the courts at Yale University, the crowd was spread out, creating a mostly docile environment.
Three hours later however, with Staples and Darien tied at three, everyone in attendance was perched above the No. 2 singles match.
What they saw was No. 4 Staples' Olivia Foster edge out No. 3 Darien's Emilia Callery 7-5, 0-6, 6-4 to win the Class L title 4-3 Friday afternoon.
"It's great, having everyone behind you cheering is really great," said Foster of the crowd, which roared loudly with every point. "It really helps you when you're out there and you're feeling tired and needing some extra energy."
The win was Staples' second title in three years as the Wreckers have advanced to the finals in the past four seasons. It also marked the first time in program history that Staples has won both the FCIAC and state titles in the same season, after defeating Darien by the same 4-3 score in the conference finals last week.
"Darien is a phenomenal team," Staples coach Paco Fabian said. "Part of why it's so satisfying that we won is because Darien is such a great team, it's so hard to get a victory against them."
While Foster and Callery were battling two courts away, it was the No. 4 singles match that had half of the viewers' attention.
With Daren trailing 3-2 at the time, Katie Wiley was vying to stave off a late run from Staples' Alisyn Kercher in order to tie the match and give her team a chance to win.
Like Foster, the added intensity of playing in front of a growing crowd aided the freshman's performance.
"I actually really like it when my friends cheer me on," said Wiley, who won 5-7, 6-3, 6-3 to set up the dramatic finish. "It's really good for motivation, it helps to pump me up a lot."
PLAYER OF THE MATCH
Alyssa DiMaio, Staples. The No. 1 player, whom Fabian called one of the best ever to play at Staples, had what he described as one of the biggest wins in program history, defeating lifelong rival Lilly Ma 6-1, 6-0.
"Honestly, I couldn't think of a better place to win, and win like that," said DiMaio of the win, which was Ma's first loss in two years. "Especially against this team and where we are and it's the state finals. That was honestly the time to do it and I'm so happy that I was able to pull it out."
QUOTABLE
"At the start of the season, we had eight new players, which was the most we've had in a few years," Darien coach Anna-lise Brown said. "I think there was a lot of questioning and new faces to the team and when I look at them today, win or lose, I'm looking at a championship team. They've really come a long way, they've worked really hard and they really jelled. And I think our results show it."
NO. 4 STAPLES 4, NO. 3 DARIEN 3
(at Yale University)
Singles: Alyssa DiMaio (S) def. Lilly Ma 6-1, 6-0; Olivia Foster (S) def. Emilia Callery 7-5, 0-6, 6-4; Emily Wiley (D) def. Carine Geijerstam 6-2, 6-3; Katie Wiley (D) def. Alisyn Kercher 5-7, 6-3, 6-3. Doubles: Kristin Butler/Hannah Bjorkman (S) def. Emily Neuner/Juliet Homes 7-5, 6-3; Elaina Cummiskey/Quin Wolters (D) def. Gabriela Vega/Olivia Gordy 2-6, 6-2, 6-4; Lily Smith/Natalie Carozza (S) def. Caroline Homes/Daniela Castellanos 6-0, 7-5.