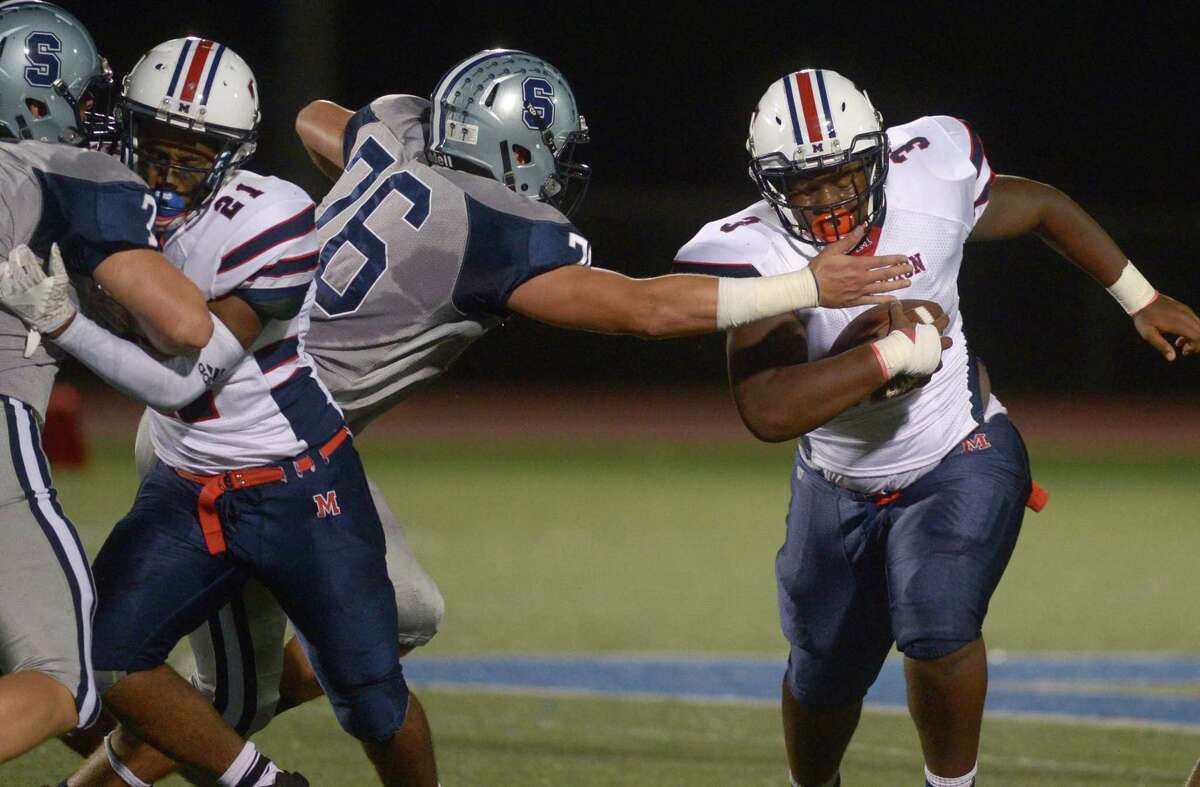 WESTPORT — Jake Thaw threw three touchdown passes and Staples scored on its own kickoff Friday night as the Wreckers cruised past McMahon on homecoming, 38-14.
McMahon scored its first points of the season in the second quarter on a Jermayne Daniel plunge and briefly led 8-7, but Staples hit the easy button the rest of the way while improving to 3-0.
Staples' starters came out late in the third quarter ahead by a comfortable 35-8 margin. Thaw completed 11 of 15 passes for 196 yards and no interceptions, connecting with Mark Didio four times for 81 yards and two scores, and Adam Petro three times for 67 yards and the other touchdown. Running back Tim Luciano was effective on the ground, rushing 13 times for 68 yards (5.2 yards per carry).
"We were just thinking, 'bounce back,' " Thaw said of the moment McMahon took the lead. "We've got a team that's really confident; we've got a lot of composure. Our receivers made plays, our O-line did a great job of protecting and our defense buckled down.
"After that first touchdown, I think it definitely kind of knocked us back into reality. We got a little distracted with homecoming, sloppy with the penalties, but once they went up 8-7 we really buckled down and had a good performance."
The most unusual play of the game took place just after halftime when Staples scored on its own kickoff. The McMahon returner attempted to let the ball roll out of bounds for a penalty that would've given the Senators great field position on the 40-yard line. However, the ball abruptly bounced back toward the field, and Staples' Michael Thompson recovered and ran 10 yards into the end zone, pushing the lead to 28-8.
Staples coach Phil Treglia credited both kicker Bradley Cox and Thompson for making the play happen.
"First of all, it's all about our kicker," Treglia said. "He kicked it from the hash to the numbers, which is what we were trying to do. Thompson went full speed and the ball just bounced his way and he made a great play. It was a perfect start to the second half."
PLAYER OF THE GAME
Staples running back Tim Luciano. He didn't reach the end zone, but the Wreckers wouldn't have been in position to score had he not kept drives alive by picking up yard after yard.
QUOTABLE
"We got a resilient team, a tough team," Thaw said. "We went down 8-7 and were able to battle back and scored 31 straight points. We're never going to say die. No matter what team it is, what game it is, whether it's the New York Giants or Darien High School, we're never going to say die and we're going to keep going until the whistle."
GET WELL SOON
Best wishes to McMahon's Brian Ehlers, who got popped with a cheap shot on a punt return and was injured. An unsportsmanlike conduct penalty was assessed and and the offending player was ejected. McMahon coach Jeff Queiroga said Ehlers was being evaluated for a rib injury.
UP NEXT
Staples heads to Ridgefield next Friday while McMahon (0-3) hosts Ludlowe. Both games are at 7 p.m.
STAPLES 38, McMAHON 14
McMAHON 0 8 0 6 — 14
STAPLES 7 14 14 3 — 38
S — Mark Didio 36 pass from Jake Thaw (Bradley Cox kick)
M — Jermayne Daniel 1 run (Kelete Sherald from Patrick Coulter)
S — Adam Petro 10 run (Cox kick)
S — Petro 48 pass from Thaw (Cox kick)
S — Michael Thompson 10 recovered kickoff return (Cox kick)
S — Didio 38 pass from Thaw (Cox kick)
S — Cox 31 FG
M — Michael Macari 10 pass from Patrick Coulter (end of game)