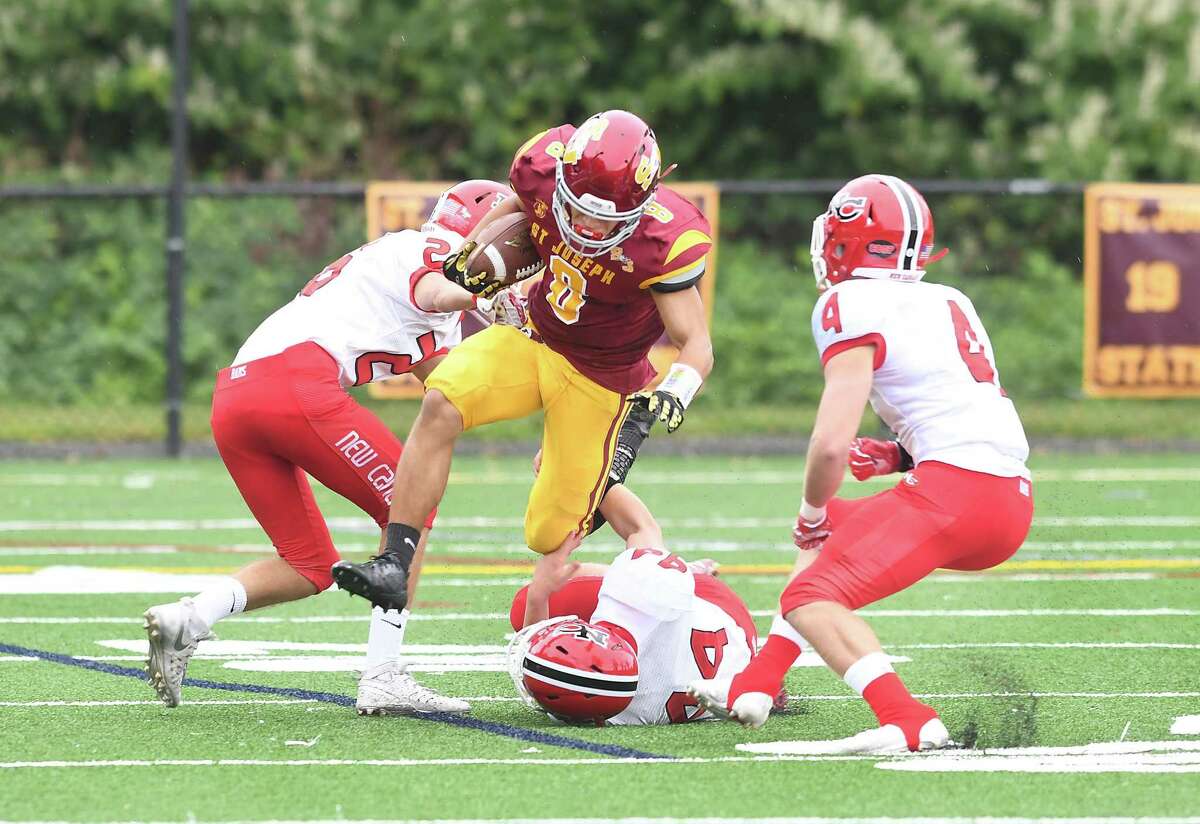 TRUMBULL — The St. Joseph football team is a reoccurring nightmare for New Canaan.
Last season the Rams started the year ranked No. 1 in the state and lost by three in a shootout with the Hogs.
Saturday, New Canaan once again sat at No. 1 in the GameTimeCT / New Haven Register Top 10 poll, this time No. 3 St. Joseph left no doubt, shutting out the Rams 28-0 in front of its home crowd.
"They're loaded," St. Joseph coach Joe Della Vecchia said of a Ram team with four Division I commits. "I told the guys before the game that they're the same kids we played against last year. You could have four Division I guys, but we're going to come as a team and have 60 guys together and that was the difference; our guys hung together the entire time."
After missing a field goal on its first possession and squandering good field position for the entire first quarter, the Hogs finally broke through early in the second.
A Cole DaSilva interception set up the Hogs at midfield and St. Joseph took advantage of a New Canaan unsportsmanlike conduct penalty and a defensive pass interference that negated an interception leading to Jaden Shirden (31 carries, 108 yards, two touchdowns) scoring from two yards out.
Two possessions later, the Hogs rode Shirden four-straight plays, loosening up the defense to allow David Summers (11-29, 184 yards, one touchdown, three interceptions) to hit Will Diamantis with a 40-yard strike.
"It just felt like we were too emotionally charged, so we tried to calm things down a little bit and see what Jaden could do," Della Vecchia said. "Just try to keep them off-balance and see if they could run the ball…if you give him the ball, he's going to make some positive things happen."
St. Joseph went in to the half with a 14-0 lead, but neither team was especially excited about their performance, as they combined for six turnovers in the first two quarters.
"We have all year to get ready for a game like this and to play like that, there's definitely something wrong and I don't blame our kids for that," New Canaan coach Lou Marinelli said. "I think we have to look at what we're doing. We have great kids and to play like that, I don't understand it."
It was the Hogs that had it figured out in the second half, keeping the vaunted New Canaan attack off the board and holding Notre-Dame bound quarterback Drew Pyne to 164 yards and three turnovers.
Shirden added his second score in the third quarter from four yards out and Summers put the exclamation point on the route with a two-yard scamper in the fourth.
PLAYER OF THE GAME
Shirden, St. Joseph. The junior running back ended up being the difference in the game, running for 108 yards and two scores for the Hogs.
"I wanted to do my best to make my team win the game," Shirden said. "I want to thank God, my line, my coaches, the best quarterback in the state and probably the best defense. I'm so happy right now."
SELF-INFLICTED WOUNDS
Like a season ago, New Canaan's biggest downfall came at the hands of New Canaan. The Rams turned the ball over four times, had problems getting the snap off all day in the rainy conditions and were penalized seven times for 87 yards.
"You're talking to a guy that's more surprised than anybody, because I thought we were ready," Marinelli said. "I thought we were going to be competitive and we weren't even competitive and we shot ourselves in the foot again. We as coaches have to look at ourselves and I particularly need to look at what we're doing, because to put that on the field is embarrassing, and that's not to take anything away from St. Joe's, they brought it to us."