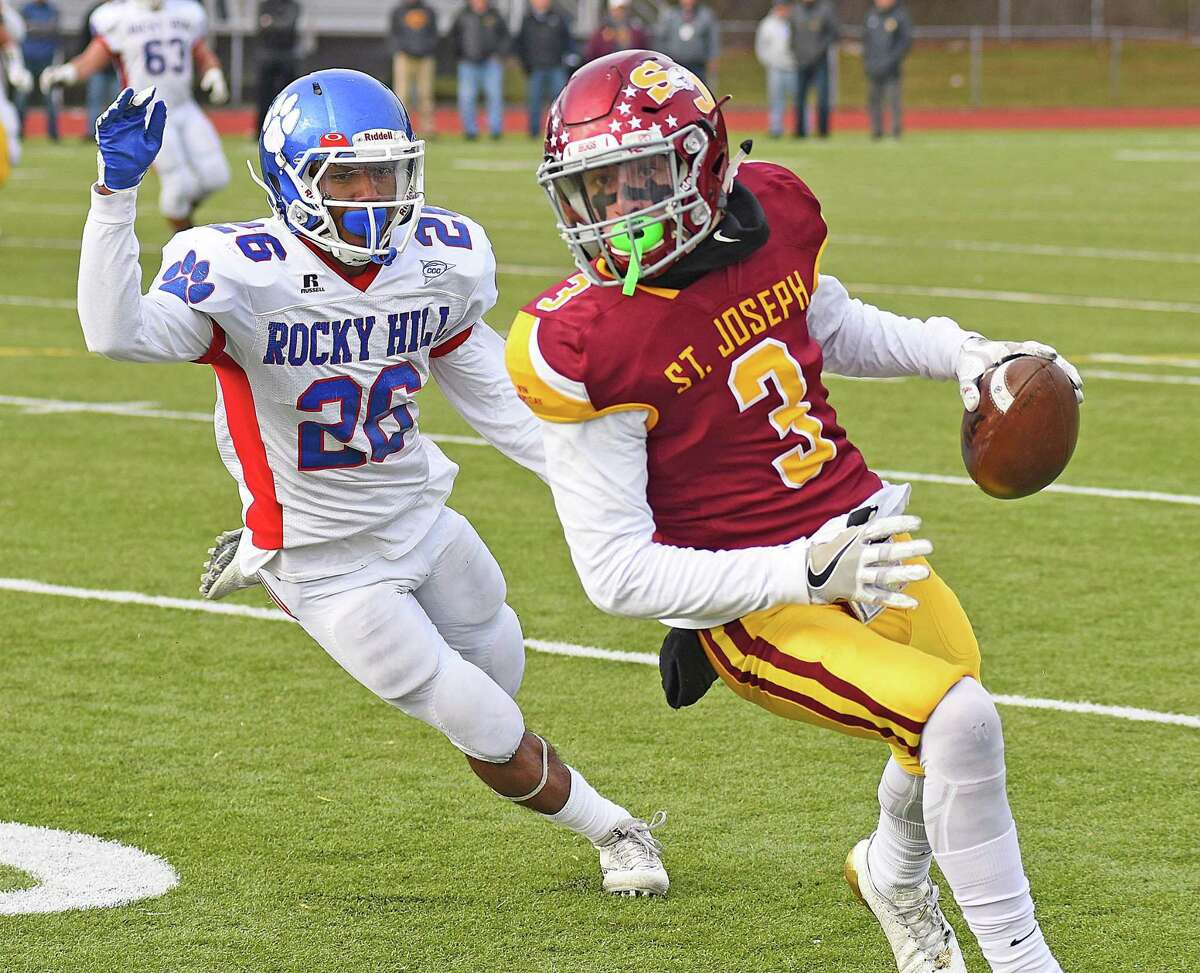 TRUMBULL — It might be called McDougall Stadium, but in the past six days St. Joseph junior quarterback David Summers has absolutely owned the 6,000 square yards that covers that plot of historic gridiron turf.
Five days after leading his team to a 62-point win in the Class S quarterfinals, Summers threw five more touchdown passes in Sunday's semifinal, and even rushed for another, to lead the second-seeded Cadets to a 49-20 win over third-seeded Rocky Hill.
The victory sets up the state small's school final everybody wanted to see — St. Joseh against undefeated Ansonia, on Saturday at a site to be determined.
Summers, the transfer from Fairfield Warde, was 16-for-22 for 233 yards in addition to those five touchdown passes. He also rushed the ball six time for 50 yards.
"I think right now, there is so much pressure on us moving forward, but we're just playing to the best of our ability," Summers said. "The offensive is playing great, the defense is picking it up, the o-line is playing so well and the receivers are running great routes and not dropping the ball. We're just clicking on all cylinders."
Summers hit favorite target Jared Mallozzi for three scores — from 11, 26 and 15 yards away.
"He runs great routes and he has hands like I've never seen before," Summers said. "He catches everthing. During the offseason, we got together a lot and ran routes and that helped us out a lot."
Summers helped bury the Terriers for good by scoring on a 35-yard run on the Cadets' opening drive of the second half, pushing the Trumbull school's lead to 42-14.
He also connected with Philip Pasmeg twice from 49 and 7 yards out.
WFSB 3 Connecticut
"You can't take anything away from St. Joe's," Rocky Hill coach Mark Fritz said. "They're a great program, a great team, they came out and executed well. Hats off to them. We knew how good they were. We saw on film that they'd be different from any team we played all year and that showed today."
Rocky Hill finished the season 11-1.
A ROCKY HILL TO CLIMB
St. Joseph won the toss and opted to take the ball first. It took the Hogs six plays to take a 7-0 lead as Summers hit Mallozzi on his 11-yard scoring pass.
Rocky Hill then fumbled the ensuing kickoff with St. Joe's Connor Murphy recovering and giving his team a short field. Seven plays later, sophomore Jaden Shirden rushed the ball in from a yard out to make it a 14-0 game.
"That was big," St. Joseph coach Joe DellaVecchia said. "I think for us, we felt if we could get up two scores and make them chase us, their style of offense doesn't suit that."
Fritz concurred, "It doesn't help our offense, falling behind 14 points. You never want to fumble the first possession you have against a team like that. You can't give them extra possessions because they make them count."
It got a little worse for Rocky Hill after the Terriers turned the ball over on downs at its own 46.
Three players later, Summers-to-Mallozzi again made it a 21-0 game.
THE ANSWERS
When Rocky Hill did get on the board, on Joseph Ferreira's 1-yard plunge, the Hogs wasted little time in answering.
On the Hogs' first play from scrimmage after the touchdown, Summers hit Pasmeg over the middle for a 49-yard touchdown strike.
The second time Rocky Hill scored, on Will White's two-yard run, it took St. Joe's just six plays to answer.
PLAYER OF THE GAME
St. Joseh's David Summers. Again.
In two state tournament games, both played at McDougal, Summers is 30-for-38 for 507 yards and 11 TD tosses.
He has 44 touchdown passes on the season, which is tied for fifth all-time in Connecticut history.
He also broke Jordan Vazzano's school record of 41 touchdown passes in a season, set in 2013.
THE SHOWDOWN QUOTE
"They're Ansonia. They're really good," DellaVecchia said. "They're the program everybody wants to be. We're looking forward to playing them, but I'm sure they're looking forward to playing us, too. I think it's going to be a great game and we can give everybody want they want."
ST. JOSEPH 49, ROCKY HILL 20
ROCKY HILL 0 7 7 6—20
ST. JOSEPH 21 14 14 0—49
SJ—Jared Mallozzi 11 pass David Summers (Luke Kirby kick)
SJ—Jared Shirden 5 run (Kirby kick)
SJ—Mallozzi 26 pass Summers (Kirby kick)
RH—Joseph Ferreira 1 run (Joseph Catania kick)
SJ—Philip Pasmeg 49 pass Summers (Kirby kick)
RH—Will White 3 run (Catania kick)
SJ—Pasmeg 7 pass from Summers (Kirby kick)
SJ—Summers 35 run (Kirby kick)
SJ—Mallozzi 15 pass from Summers (Kirby kick)
RH—Danny Cavallaro 1 run (pass failed)
Records: St. Joseph 11-1; Rocky Hill 11-1