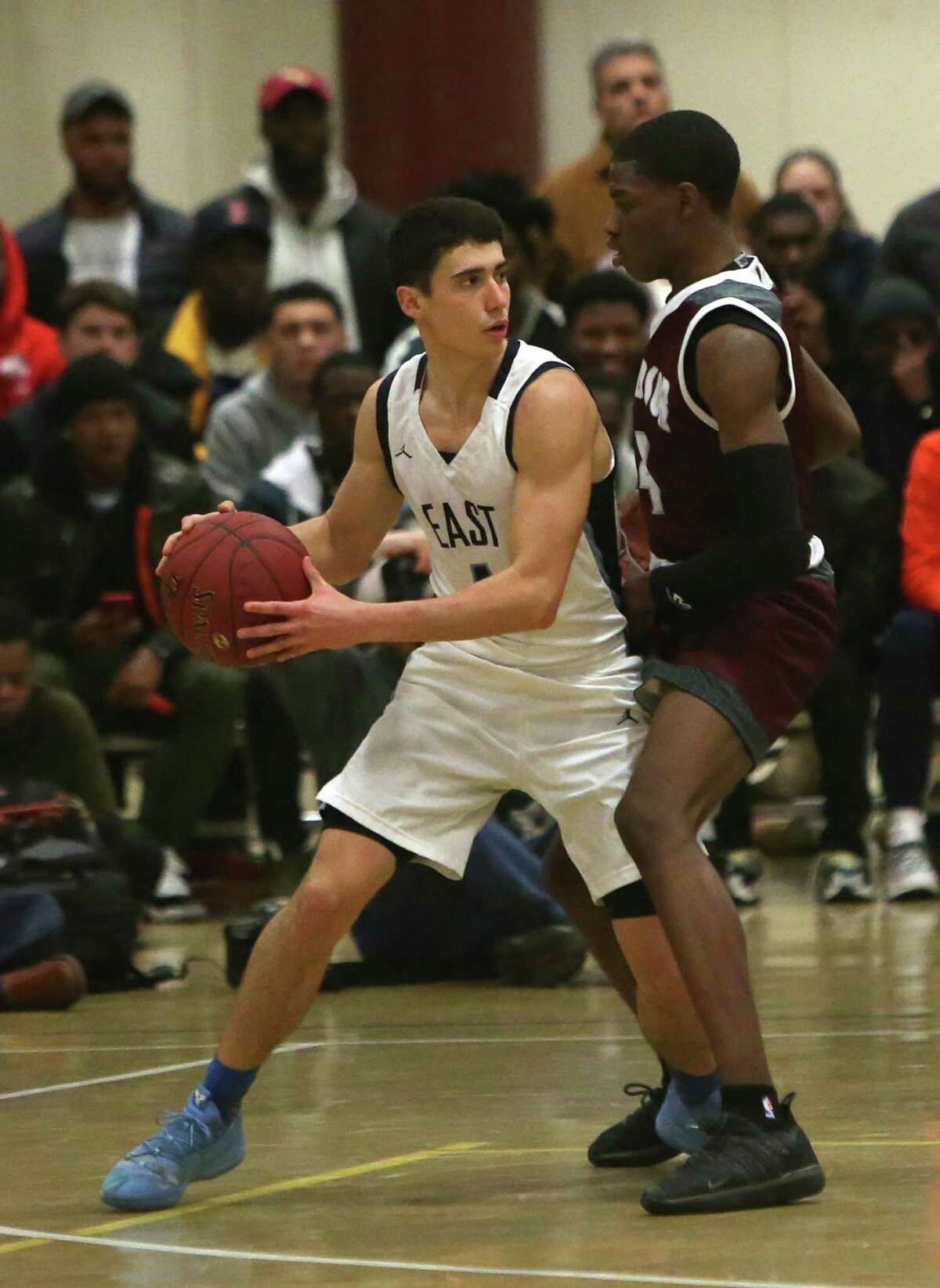 HARTFORD — Calling it a tale of two halves in Thursday's Central Connecticut Conference basketball final showdown would be selling both Windsor and East Catholic both short.
The two league powerhouses traded jabs and body blows. Windsor dominated the first half, East Catholic the second.
East Catholic almost came all the way back from 23 points down in the third quarter. The Eagles were down as few as 1 and were within a basket to tie or take the lead several more times.
But the second-seeded and sixth-ranked Warriors hung to defeat previously-unbeaten and top seed East Catholic 87-85 before a sellout crowd of 1,500 at the Babe Allen Fieldhouse.
"We can always shoot it well, but the deal is to play good defense," Windsor coach Ken Smith said.
East had a chance with .9 left, but cant get the shot off. WINDSOR Wins the CCC Championship, 84-82. What a game #ctbb pic.twitter.com/bkgueH8o1N

— Sean Patrick Bowley (@SPBowley) March 1, 2019
Windsor junior guard Amir Spears lit up the Eagles for 41 points, including two huge pullup jumpers late in the game to keep East Catholic (23-1) behind.
"I've been in the gym the whole year," Spears said. "Coach Smith has us in the gym working on shooting every single day and it paid off."
He also said Windsor's blowout home loss to East Catholic in the final week of the regular season ultimately spurred the Warriors to this tournament title.
Windsor's Amir Spears, who went off for 41(!), on what this CCC Championship win over East Catholic meant to him
Since he didn't play last year? a lot #ctbb pic.twitter.com/3mOL9Jdi8O

— Sean Patrick Bowley (@SPBowley) March 1, 2019
"I feel like we needed that loss to come together as a group," Spears said. "We weren't sharing the ball like (Smith) said. We didn't sacrifice."
Said Smith: "That's him. You see he runs the huddles, I tell him go ahead he is a leader and I'm trying to help him become a better leader."
Spears scored the last eight for the Warriors (21-3), who have now beaten East Catholic twice over the last two seasons — both times at Bulkeley. The last one was in double-overtime at the buzzer in the Division I state tournament quarterfinals.
"I didn't get to play last year, so this is big for me, personally," said Spears, who transferred in from Northwest Catholic.
But it was three plays in the final 2.7 seconds that East Catholic coach Luke Reilly questioned.
The first was when Jaylin Hunter (29 points) was fouled in the corner. The officials determined it was a 1-and-1 situation, not three free throws.
"Ask anybody who was at the game, what was he doing if he wasn't shooting a three from the corner?" Reilly said. "There are 2 seconds left, we are shooting a three."
East wanted a three-shot foul for Jaylin Hunter with seconds left. But refs called it on the floor. Here's the play. #ctbb pic.twitter.com/AK9LG8A0b8

— Sean Patrick Bowley (@SPBowley) March 1, 2019
Hunter made the first free throw but missed the second one intentionally. The ball went out of bounds, the buzzer sounded and Windsor began to celebrate and some fans poured onto the court. The officials huddled and determined there were .9 seconds left.
"Then we got the rebound and there was a lot of contact there," Reilly said. "You can ask anybody else who was at the game."
Said Smith: "I don't know and I don't see how (the officials) could know. How do we know exactly how much time there was?"
Here's the series following Jaylin Hunter's intentionally missed 1-and-1 with 2.7 seconds left, down 2. East Catholic wanted a foul here, too, but instead got the ball on the baseline with 0.9 left #ctbb pic.twitter.com/3PSDUcqJp8

— Sean Patrick Bowley (@SPBowley) March 1, 2019
And, on the game's final play, Joey Reilly, who scored 13 of his 23 points in the final quarter, came off a screen to the same corner where Hunter was fouled, but the buzzer sounded before he could get a shot off.
"The last play, there was also contact and I've never seen in a championship game where the clock is not equipped to put .9 seconds on," Reilly said. "So the instruction was to have the scorekeeper count in his head and then hit the button and he hit the button before the ball even got inbounds.
"There was a lot to that sequence that will be very interesting to watch on film from our perspective. There was a lot of room for human error late in the game, and that is too bad, but unfortunately for us, we lost it in the first half."
Jordan Riley added 23 points for the Warriors, who snapped East Catholic's string of consecutive CCC titles at three. The two teams can only meet again in the Division I state final at the Mohegan Sun.
"It's hard to win this one four times in a row," Reilly said. "It's the second-best tournament in the state behind Division I. Unfortunately, we played so poorly in the first half, but did enough in the end to have three controversial calls in a row and to not be able to put 0.9 seconds left on the clock, that is bothersome in a championship game when you have so much invested."
Windsor shot 11 of 18 in the second quarter to establish a 51-29 halftime lead.
"We played incredible defense against one of the best teams in the state," Spears said.
WINDSOR 87, EAST CATHOLIC 85
WINDSOR (87)

Corey McKeithan 6 1 1-2 16, Amir Spears 5 6 13-18 41, Jordan Riley 5 4 1-1 23, Lawrence Foreman 2 1-3 5, Shomar Leapahart 1 0-0 2 Blake Ooloji 0 0-2 0. Totals 19 11 16-26 87.
EAST CATHOLIC (85)

Joey Reilly 6 3 2-2 23, Jaylin Hunter 4 5 6-8 29, Matt Knowling 8 5-5 21, Matt Byman 3 0-0 6, Sam Walch 0 0-0 0, Chris Jones 1 1 1-3 6. Totals 22 9 14-18 85.
Windsor 22 29 18 18 — 87
East Catholic 14 15 26 30 — 85
3-point goals: W–Spears 6, Reily 4, McKeithan; EC–Hunter 5, Reilly 3, Jones.