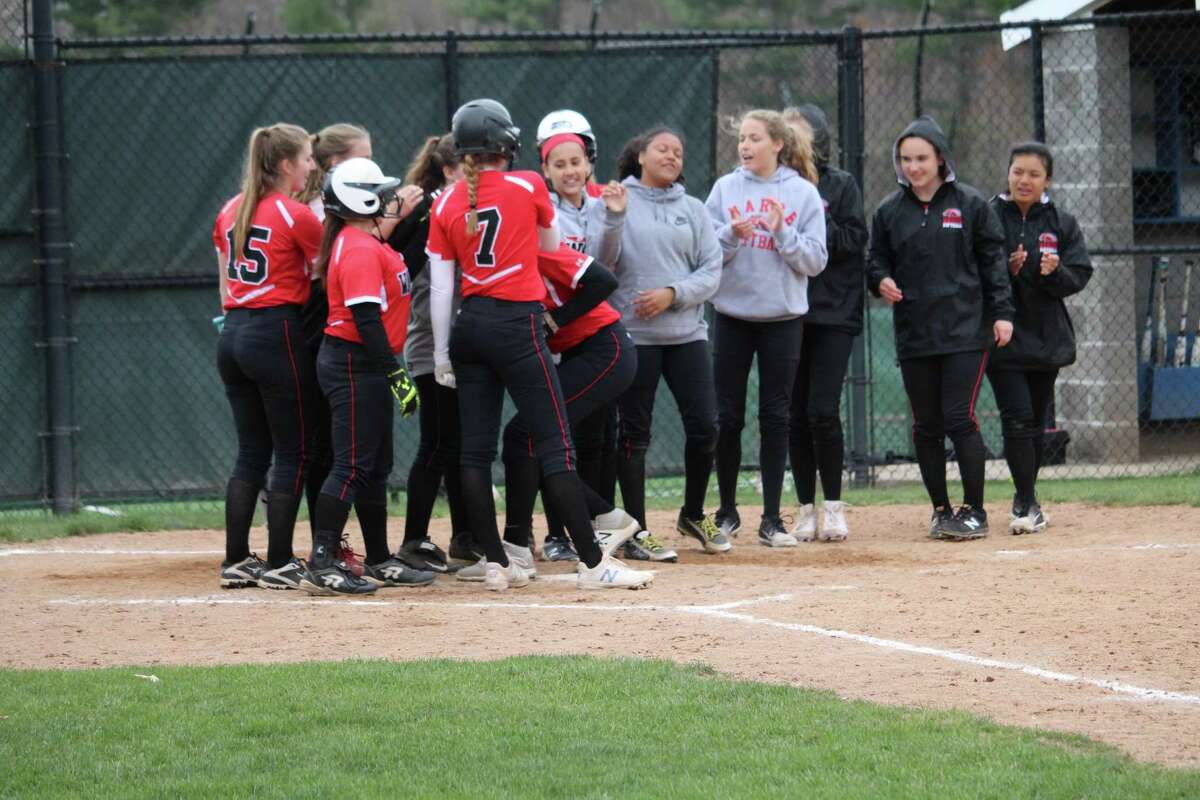 DARIEN—Mired in somewhat of a logjam in the FCIAC softball standings, it was the little things that would make the difference between Darien and Fairfield Warde on Monday.
Namely, avoiding costly mistakes and hitting when it mattered.
Warde's Olivia Vadas did both, pitching a complete game with 12 strikeouts and hitting two home runs, the second a two-run shot that gave the Mustangs a 6-4 road victory over the Blue Wave.
"We've been playing a lot of close games," Warde coach Gary Quiricone said. "One-run, two-run games, and to be able to come back in the later innings is huge for us going forward."
Tied at four in the seventh, Amanda Petrizzi led off the inning with a single, and Vadas hammered the next pitch over the centerfield fence for what proved to be the game-winning runs.
"I knew that (Darien) kept coming back no matter how many runs we were putting up and it was important to get ahead before I went out to pitch," Vadas said. "I was just trying to help the team, keep it simple in my head and not put too much pressure on myself."
Darien broke the ice in the top of the first when Hailey King led off with a triple and Kalani Caruso drove her in with a single.
Molly Meehan tied it in the next frame with an RBI double, and Warde (7-4, 5-3 FCIAC) grabbed a 3-1 lead in the third on Vadas's first two-run homer.
King and Caruso would tie it at three for Darien (6-6, 4-5) in the bottom of the third, both scoring on wild pitches, but Warde went back up in the top of the fourth after leadoff hitter Sophia Sancho singled with one out and eventually came around to score on an error.
"We gave away too much and that's really the difference," Darien coach Nick DeMaio said. "That's why we haven't been as successful as we've been in the past. You can't give a good team and a good pitcher anything extra. A few errors and we can't overcome that."
King's solo home run in the fifth once again tied it for Darien, but the Blue Wave were unable to get anything else despite putting two girls on with one out in the bottom of the seventh.
PLAYER OF THE GAME
Vadas, Warde. The junior pitcher struck out 12 batters in seven innings, but her best work came at the plate where she homered twice and drove in four.
"She stayed tough in the end there and, you can't ask for any more than that," Quiricone said. "She did a great job closing it out and those two homeruns saved us there."
TOP HEAVY
Darien's top two hitters Hailey King (2-3, HBP, HR, three runs) and Kalani Caruso (1-3, BB, RBI, run) accounted for all of Darien's runs on the day while the rest of the lineup combined for just two hits.
"Hailey really had a great game, and as strong as the top of the order was, we got nothing out of the bottom of the order, so that won't work," DeMaio said. "You have to get some contribution from the bottom of the order to bring these players back up and around again."
FAIRFIELD WARDE 6, DARIEN 4
WARDE 012 100 2 — 6 11 1
DARIEN 102 010 0 — 4 5 1
Records: Fairfield Warde 7-4, 5-3 FCIAC; Darien 6-6, 4-5. Batteries: FW—Olivia Vadas and Elizabeth Kanel D—Grace Karas and Caroline Krueger. Highlights: FW—Olivia Vadas threw a complete game and hit two home runs. D—Hailey King reached base four times and scored three runs.