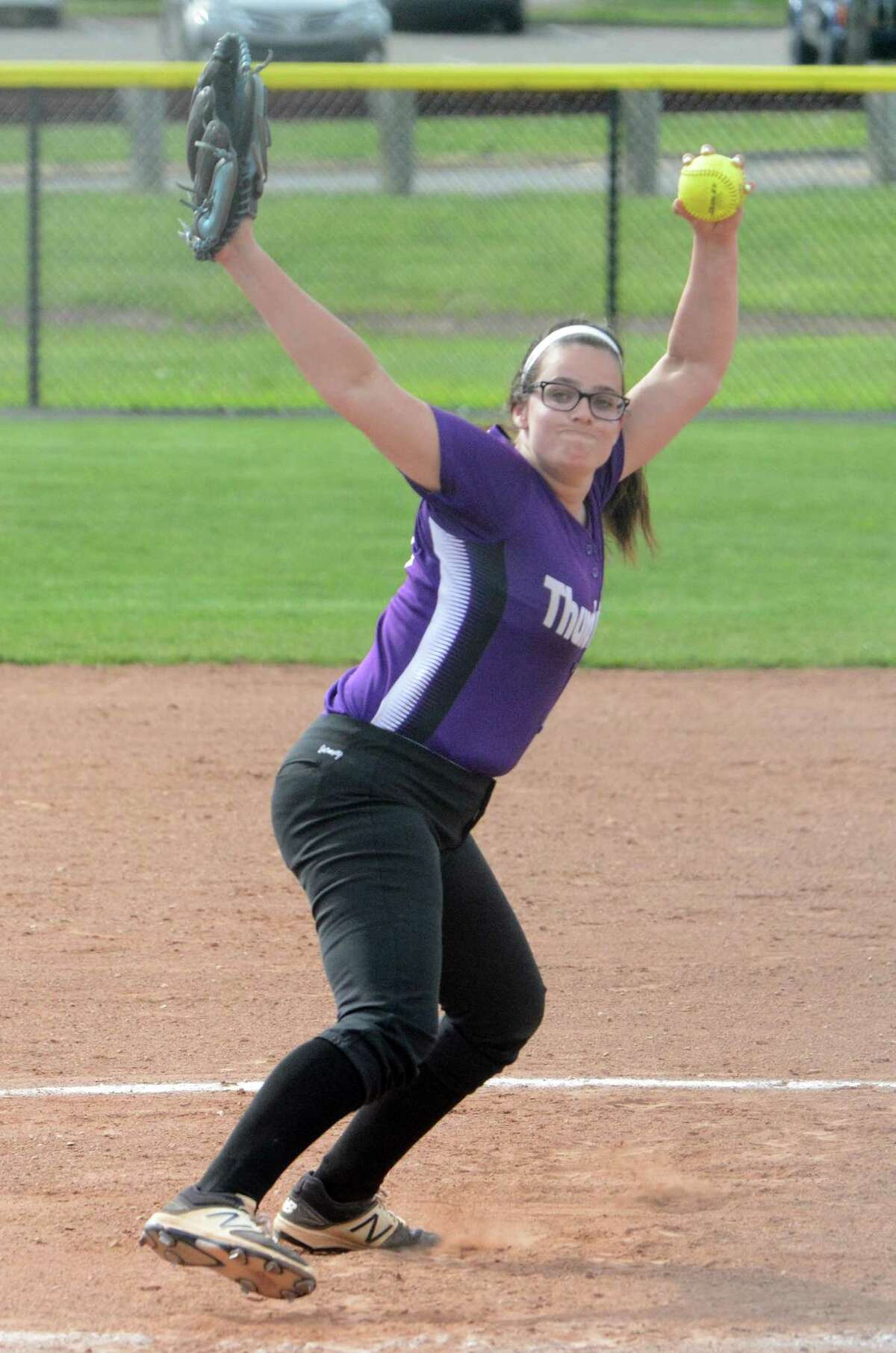 Whether it's high school, travel or even youth in some years, Sydney Senerchia was rarely the first pitching option on her teams.
That seems inconceivable given what she has done in her first full season as the undisputed ace.
Playing on a host of stacked teams kept Senerchia out of the spotlight, but those days are long gone now. The senior — who has a 15-0 record with a 0.15 ERA to go along with 187 strikeouts in 95 innings pitched —— has led the No. 3 Thunderbirds to an 18-0 start this spring with her ferocious left arm firing one strike after another.
An unrivaled mental toughness is what separates Senerchia — who will be headed to play for St. Peter's University after graduating in June — from her competitors, her coach explains.
"You can see she knows she has a job to get done in the circle, and the task is getting the batter out," said North Branford coach Nick DeLizio after Senerchia fired a gem in a 2-1 win over Griswold Monday. "Nothing fazes her big games like this; she's battle tested and knows what she has to do."
Unlike many top pitchers in the state — many of whom start as freshman — Senerchia had to wait her turn before finally showcasing her skills. She made a combined seven appearances her first two seasons as Lindsay Golia — another hard-throwing lefty who is now at Trinity College — was mowing down batters.
A transition came down the stretch last season when the Thunderbirds won eight of 10 before winning the Shoreline title for a third straight year. That was followed by a memorable run to the Class M championship game.
The momentum has carried over into 2018 where the Thunderbirds are two wins away from a perfect regular season. Senerchia's bat has also made an impact; she's hitting .341 this season.
"I'm so proud of us over the last few seasons, especially this season," Senerchia said. "Last year we didn't start so hot and I think that affected us a little; going into this season we were worried about the same thing. But we started strong, hit the ball hard and played great defense."
SUPPORT GROUP
Senerchia's biggest supporter shares the same dinner table. Russ Senerchia has been involved with the North Branford Little League program for the past decade, helping rejuvenate the program along with Pete Ramada — whose daughters Danielle and Angelina are on this year's team — and Brian Haeckel, among others.
"My dad has been the biggest influence on me softball wise probably out of anyone," Sydney said. "He's coached me, comes to every game and we talk pitching a lot. He's had a huge influence on these group of girls because we've all played for him in the past."
Sydney learned the game from her dad at a young age before Russ began coaching her little league teams. With Russ as a coach, Sydney was a key contributor on her 10U team that won a state championship.
"My favorite memory is winning that state championship, getting to run around the field with a lot of different banners," recalled Sydney, who has spent all but one year of her life in town. "A majority of (this year's Thunderbirds) I've played with since Little League to some degree; that's why our team is really close."
Senerchia pitched the state title clincher over Granby before the team went to Pennsylvania for regionals. That age group went very close to winning another state title at 12U, but ran into nemesis Seymour.
A half-dozen of those standouts are on the varsity program this year, leading the team to one of the best seasons in school history. Senerchia has spent the last five years pitching coach Lauren Person, honing her craft learning one skill after another.
"We have fun during my lessons and makes it not tiresome," Sydney said. "You can go and have a conversation; I'm grateful we've known each other so well because it helps with my pitching."
INTO THE SPOTLIGHT
Senerchia helped the Thunderbirds defeat Griswold and Northwestern to reach the team's first state final in more than 40 years. The game against the Highlanders was her arrival on the big stage as she belted a grand slam in addition to tossing a three-hit shutout with eight strikeouts to reach the final.
There Seymour handed North Branford a 4-3 defeat; the close loss would typically be met with frustration, but Senerchia described a happy-to-be-there attitude that made her ride home easier to stomach.
"A lot of the girls were crying but Sydney had a smile on her face because she knew she did well," Russ said. "I think she was mentally drained after that run; she was happy she did her job, left it all out there and certainly pitched well enough to win."
Senerchia plays her club softball for the Connecticut Charmers 18U team — for Seymour assistant Neil Swanchak — along with several of players from Seymour including Jenna Geffert, another top pitcher in the state who is headed to a Division I school (Colgate).
"The girls that were on the Seymour team I play with them so I still kind of get some slack with that but in a good way," Senerchia said. "I didn't get too emotional because North Branford wasn't expected to get there, so just getting there was awesome enough. I think this year we're going to have passion and be really motivated."
Signing off a memorable journey with the school's first state championship would be the storybook ending for Senerchia and her teammates she's spent more than the four years of high school with. North Branford will likely be one of the top two seeds for the tournament.
And they'll have the ultimate ace to lead them there.
"She's more mentally tough and prepared than she gives herself credit for," Russ said. "She's been fortunate to play on a lot of good teams for good coaches. She's never been out in front; she's always been a No. 2 option on pitching staffs, which always drove her. She's experienced some tough losses and that's made her more resilient."