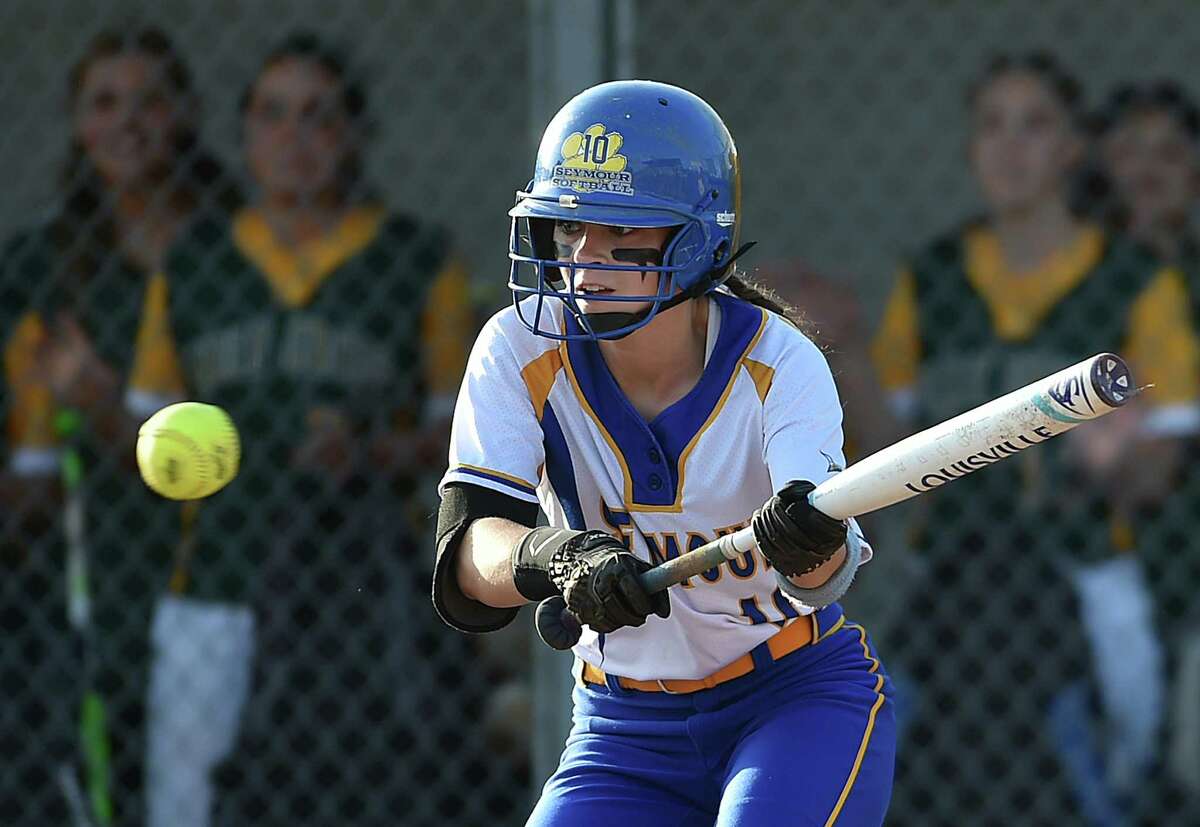 SEYMOUR
The numbers are extraordinary, yet so believable. If you've pitched to Seymour's Becca Johnson this season, you would probably nod your head in agreement.
Johnson has stepped to the plate 48 times in this, her senior season. Forty-one times she has reached base. She has 31 hits — which is good for a ridiculous .816 batting average — to go along with 10 walks.
"It's crazy," her younger sister and teammate, Alyssa, said. "She just goes up there and does it. I don't know how."
"She's phenomenal" pitcher Jenna Geffert added. "She gets up and we all know that she's going to get on base someway or somehow. It's phenomenal."
Softball, you see, is supposed to be difficult. Hitters tend to fail more than they succeed. Johnson, however, has a knack for making it look easy.
"I think she had a streak there where she was on base 17 or 18 times in a row with hits or walks," Seymour coach Ken Pereiras said. "She's just been great."
Make no mistake, Johnson, the school record-holder for career hits, is not immune to slumps. It's just that one has to dig a little deeper to find the last time the outfielder struggled at the plate.
By most accounts, it was freshman year. Johnson, a natural right-hander, was learning for the first time how to hit from the opposite side of the plate. That change came with a new swing designed to create more contact.
Becca Johnson gives Seymour the lead back with an RBI single in the top of the 3rd #ctsb

9-8 they lead Holy Cross pic.twitter.com/eroJArAmnF

— Pete Paguaga (@PetePaguaga) April 21, 2018
"I wasn't a very good righty hitter," Johnson recalled. "I was pretty bad. I had some speed so my travel coach, Neil Swanchak, who used to coach here, he thought it would be a good idea if i started slapping and utilizing my speed. I switched over the beginning of my freshman high school season and worked on it that entire year."
Johnson went on to hit a modest — by her standards — .432 as a freshman. Her average rose to .580 and .620 each of the next two years, respectively. She's up to 189 hits for her career.
"Speed kills in this game," Swanchak said. "If you're able to learn the basics of slapping, this is what you make yourself into — an absolute triple-threat."
Many times, it doesn't matter how teams try to defend Seymour's leadoff hitter. She can lay down a bunt when the infielders are back. She can slap a single by them when they're in. And she can hit for power, as evidenced by her 12 career doubles and eight career home runs.
"Basically, what I do is I read the defense," Johnson explained. "I see where they're playing me. I see a hole that I can hit. I've been working a lot on placing the ball. I'll see a spot open and I'll look to put it in that place. It's really tough.
"A lot of slappers are just lefty slappers, so they'll put it on the ground and try to beat it. I really just do whatever works."
Johnson said she occasionally returns to hit right-handed against weaker pitching so as not to throw off her timing. Her lone home run this season, yes, that came from the right side of the plate.
"I've never actually slapped one out," Johnson said with a laugh. "I've come so close a couple times. I've hit the bottom of the fence. Hopefully, this season, I'll be able to do it. We'll see."
Her methodical approach has worked wonders for the Wildcats, who find themselves ranked No. 1 in the GameTimeCT/Register poll following an 11-0 start. The Wildcats are averaging a whopping 15.2 runs per game due in large part to Johnson's propensity for getting on base.
"She's a leader at the top of the order. She gets on base," said Pereiras, who has watched Johnson steal 24 bases and score a team-high 28 runs this season. "She's very quick. We use her speed. She steals bases and she goes first to third on hits — she'll score on anything from second base."
Opposing pitchers have tried all season to get Johnson out. If there's a way to do so, Geffert, a junior right-hander, sure isn't saying.
"Oh my gosh. If I had to face her," Geffert said, "I don't know what I would throw to her, to be honest."
If there's an open base, what about just walking her?
"Either way, she's probably going to get on," Geffert added. "You might as well go at her."
Geffert has followed the footsteps of her sister, Raeanne, who was a three-time all-state pitcher and led Seymour to state championships in 2014 and 2016. Jenna plans to play alongside the hero of last year's Class M final — Johnson went 4-for-4 and was named MVP in a 4-3 victory over North Branford — at Colgate University.
The Wildcats' rich history — the Naguatuck Valley League powerhouse has won 11 state championships, including eight since 2000 — has only increased the spotlight surrounding Johnson.
"When you think about it, you look at our program, we've been good for a lot of years," said Pereiras, who has been with the Wildcats for 29 seasons, including 14 as head coach. "Our record since I've been here is incredible. We've lost 28 games in 14 years.
"I think that we get kids early when they're young, and they all want to be a part of it. They work hard."
Did You Know?
Besides softball, Becca Johnson played volleyball and ran sprints on the indoor track team at Seymour. She's also a black belt in karate.
"It's scary because whenever we fight, I know she definitely can beat me up," her sister, Alyssa, a freshman at Seymour, joked. "She's definitely the stronger of us two.
"She has the snapped boards in her dresser still that she karate-chopped."