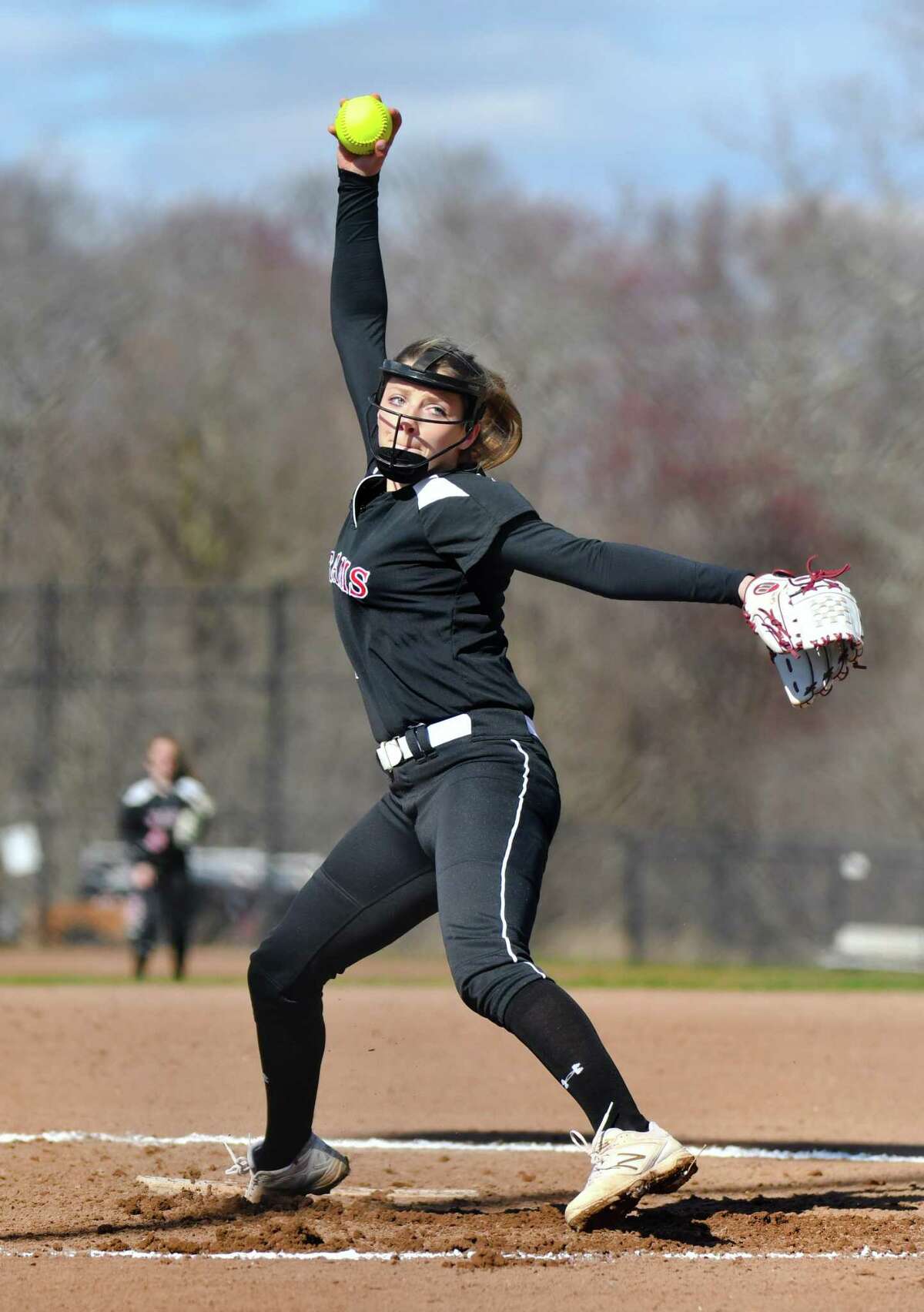 NEW CANAAN — It took extras, but Stamford earned its first conference win of the season Wednesday afternoon.
The Black Knights scored four runs in the eighth to down New Canaan 7-3 on the road. It was their second victory over the Rams this season, though the first was non-conference.
"We did what we had to do," Stamford coach Melissa Giordano said. "It doesn't always have to be a big hit if we take advantage of little things, we do what whatever we can to score."
In the eighth it was Dana Serrichio taking advantage of having two runners on, driving in the go-ahead run with a single to center.
"I was just trying to stay calm, all we need is singles," Serrichio said. "Our team was staying really loud, we just wanted to get base hits and stay confident and get runners in."
Stamford (3-4, 1-3 FCIAC) was able to get three more runners in via an error, a fielder's choice and a walk.
A two-out triple from Kara Fahey put New Canaan up one in the third inning, but Stamford took a 2-1 lead in the fifth on a double from Amy Covino after Diana Magarian and Serrichio both reached on balls that went no more than six feet.
New Canaan (3-5, 2-3) retook the lead in the bottom half of the inning on a two-run triple from Gillian Kane. The senior pitcher was 3-4 at the plate and tied her own New Canaan record by striking out 14 batters in the contest.
"Gill has been a bulldog for us on the mound," Rams coach Joel Geriak said. "I think she got a little tired in the eighth finally, but she pitched a great game and gave us a chance to win so that's all you can ask."
Stamford tied it at three in the sixth on an opposite-field triple from Tonianne Ferraro and Kane's counterpart, Stamford freshman Kim Saunders, held the Rams scoreless for the rest of the way.
"She bared down," Giordano said. "She focused on her and Amy, our catcher, and she got the job done, hit her spots and kept the ball low."
PLAYER OF THE GAME
Serrichio, Stamford. The junior shortstop was 2-4 on the day and had the go-ahead hit in the eighth inning.
QUOTABLE
"Good teams are going to make good on those mistakes," Geriak said of Stamford. "They got a couple nice breaks, there were a couple calls that didn't go our way. It's part of the game, but the good news is as a young team we're fighting back and our bottom of the order is hitting the ball this year, which is great."
STAMFORD 7, NEW CANAAN 3 (8)
STAMFORD 000 021 04—7 8 0
NEW CANAAN 001 020 00—3 8 3
Records: Stamford 3-4, 1-3 FCIAC; New Canaan 3-5, 2-3. Batteries: S—Kim Saunders (W) and Amy Covino; NC—Gillian Kane (L) and Kara Fahey. Highlights: S—Dana Serrichio went 2-4 and drove in the go ahead run. Amy Covino was 2-4 with two RBI. NC—Gillian Kane struck out 14 batters and went 3-4 with two RBI.