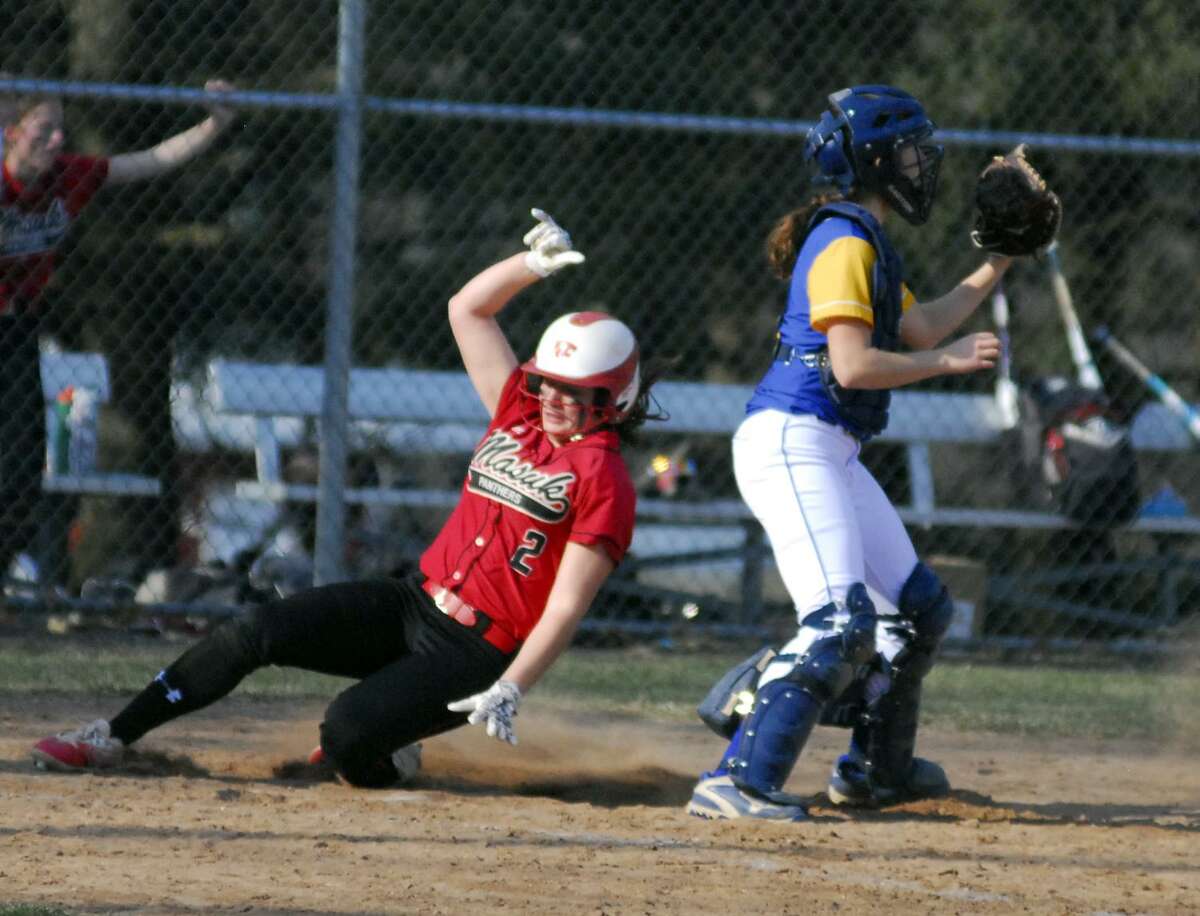 MONROE — Sam Schiebe typically does it all for the Masuk softball team in the circle.
On Friday against perhaps the biggest challenger in the defense of their SWC title, the Panthers' ace let her bat speak as loud as her arm.
Schiebe tossed a four-hit shutout with eight strikeouts and drove in all three runs as Masuk blanked conference rival Newtown 3-0 in non-league tilt. The Panthers sit at 5-0 and have allowed just one run this season.
"Our pitchers have been doing very well and our defense has been there," said Panthers coach Leigh Barone. "I feel like our defense hasn't been challenged because our pitchers are pitching so well, but today we made the plays. It was nice to test that (today)."
Schiebe had a two-run single in the bottom of the first to seize the lead, then added to it with another RBI single in the third for the No. 4-ranked Panthers in the GameTimeCT/Register poll.
Masuk beats Newtown 3-0 #ctsb pic.twitter.com/cg00v8WVB9

— Ryan Lacey (@RyanLacey11) April 13, 2018
"Scoring early in this game helped us gain confidence," Schiebe said. "(In the first) I saw an inside pitch and I got my hands to the ball and made it work; but it didn't make us comfortable because we kept trying to score."
The Nighthawks (2-3) had chances to score the upset, particularly in the late innings. Newtown stranded a runner at third after a double by Tess Mubarek in the fourth, the first hit of the game off Schiebe. The visitors then had runners on second and third with one out and the bases loaded with two outs in the sixth, but a pair of strikeouts ended the threat.
"We can definitely hang with them," Newtown coach Joanna Closs said. "We're just missing that one big hit. We had runners on base, we just needed that one hit. Masuk is a very good team and always have been; they have a good pitcher and are solid all around."
Schiebe gets a strikeout with the bases loaded, Masuk leads 3-0 mid sixth #ctsb pic.twitter.com/dTjcosQzZY

— Ryan Lacey (@RyanLacey11) April 13, 2018
Schiebe pitched a 1-2-3 seventh to ice the game.
It was the third straight close loss against a quality opponent for Newtown; the Nighthawks lost to Barlow before a 5-4, nine-inning defeat to St. Joseph. Sara Kennedy yielded just five hits in the defeat, striking out five.
"We're trying to focus on the positive and make sure they understand although it's three losses in a row the games don't mean as much now because they're non-conference games," Closs said. "The next time we play them is the really important one."
TEST PASSED
Masuk has received lights-out pitching from both Schiebe and sophomore Madison Procyk so far this spring. The win over the Nighthawks was the fourth straight by shutout.
"We know that we have each other, so if one of us isn't on then the other one can come in and back the other one up," Schiebe said.
QUOTABLE
"We're confident but not too confident," Barone said. "Because we feel like we're getting a lot of attention and we're trying to take that into every game and that every inning is 0-0. They're doing a great job of that even though we're putting up a lot of runs."
MASUK 3, NEWTOWN 2
NEWTOWN 000 000 0 — 0 4 0
MASUK 201 000 0 — 3 5 0
Records: Newtown 2-3, Masuk 5-0. Batteries: N—Sara Kennedy and Kendra Saunders; M—Sam Schiebe and Erica Pullen. Highlights: M—Schiebe had eight strikeouts, and went 2-for-3 with three RBI.