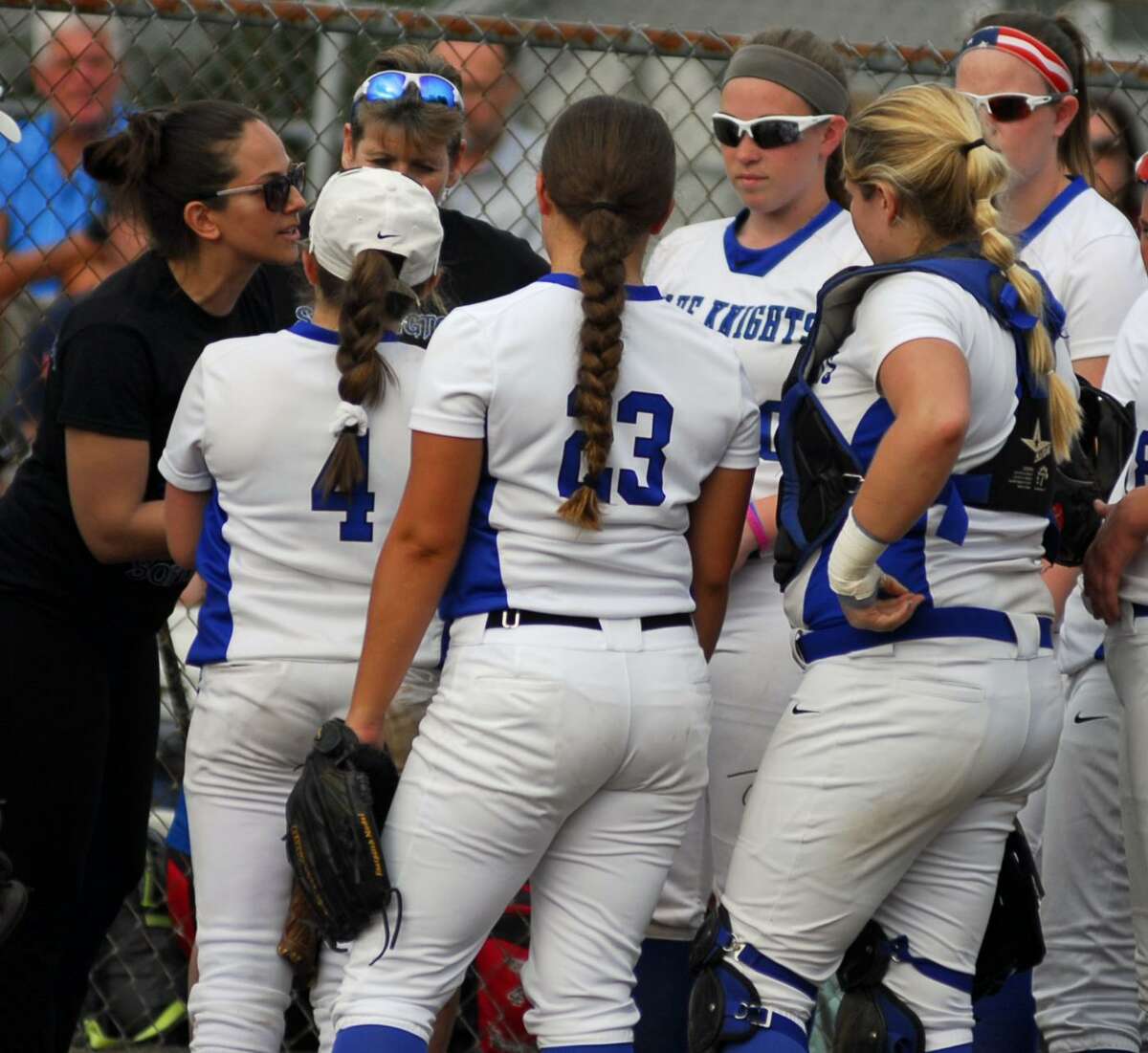 With a team batting average close to .500 at the midway point of the season, No. 2 Southington has mashed their way to a 10-1 record behind everyone on the varsity roster contributing in some way.
The Blue Knights' offensive depth is their biggest asset, coach Davina Hernandez said after her team cruised past Fitch 13-3 on Friday.
"We had several girls come in and blast it through the gap and to the fence," Hernandez said. "We've had a difficult time getting some set starters because the girls are continuing to push each other. They're really competing, and the bats are coming alive."
Southington then suffered its first loss of the season Sunday as NFA blanked the potent offense in a 2-0 decision.
Prior to getting shut out, few contained the Blue Knights.
Seniors Sarah Myrick and Frankie Ferrante are key lineup pieces while junior Abby Lamson is hitting above .500. Eight different Blue Knights have already hit home runs, including several from underclassmen.
Southington leads Fitch 5-0 in the third inning #ctsb pic.twitter.com/77iZ4SqsGP

— Ryan Lacey (@RyanLacey11) May 4, 2018
"We have a lot of depth with our underclassmen," said senior Kara Zazzaro. "In so many games this year they come in and there's no dropoff; everyone comes in, hits well and plays good defense. That's solid for us."
The win over Fitch avenged one of two defeats the Blue Knights suffered in the regular season.
Zazzaro — one of just four seniors on the team — is a force in the circle. Entering the game against the Falcons, she had a 0.27 ERA in 52 innings pitched with 89 strikeouts. She's more than one of the best pitchers in the state, though. Zazzaro leads the Blue Knights in hitting.
Zazzaro cruising 8-0 mid five #ctsb pic.twitter.com/RdmcBUq7CX

— Ryan Lacey (@RyanLacey11) May 4, 2018
The game against the Falcons also marked the beginning of a busy stretch for Southington, which continued in the loss to NFA Sunday. Six games in eight days will conclude with a visit to Windsor on Friday.
Southington last lifted the Class LL trophy in 2015.
"We don't talk about it too much, but there's a certain level of expectation that comes with playing for this team," Zazzaro said. "We have high standards for ourselves; we make sure we get the best out of everybody and improve every game. There's a great tradition at Southington."
SCC RACE
Amity tops Hand 7-5 to give Tigers first loss #ctsb pic.twitter.com/omsXoRPsQR

— Ryan Lacey (@RyanLacey11) May 5, 2018
The race in arguably the deepest conference in the state had several twists and turns last week, as the last undefeated finally fell and a host of evenly matched squads have realistic hopes of ending Cheshire's two-year reign as champions.
Amity avenged a 11-10 opening-day defeat with a 7-5 win over Hand (12-1) on Saturday. The Rams own a win over the Spartans while Guilford (10-4) and North Haven (11-3) are both lurking with strong records.
The lack of a supremely dominant pitcher in the league has led to several slugfests between the top teams while opening a door for a team to make a run to the championship.
"There are a lot of teams who can win because there really isn't a dominant pitcher at this point," Hand coach Mike Niekrash said. "Everybody has a chance and it will be whoever is hot going into the playoffs. I think what it comes down to is who plays the best defense."
Amity improved to 12-2 after defeating Hand. The Spartans host Cheshire (12-1) May 14.
"The SCC is always tough; the toughest league I feel," Spartans coach Sara Hale said. "No one has taken it away and each team can be in it; it's going to be a battle to the end."
MILESTONES
Congrats to @CHSRamsSoftball Head Coach Kristine Drust and Assistant Jaymie Sommers on getting win (100-13) on Monday! #ctsb pic.twitter.com/swxCUjFfBS

— Greg Lederer (@glederernews) May 1, 2018
There were several milestones hit across the state last week, including at Cheshire, where coach Kristine Drust notched her 100th career win in a 12-3 rout of Fitch.
Berlin coach Jason Pires collected his 200th win in the Redcoats' 7-4 decision over New Britain Tuesday. Pires reached the number in his 15th year with the team.
On the diamond, Guilford senior Amanda King notched both her 100th career hit and 500th career strikeout. King is hitting .476 with 20 RBI while going 10-3 with a 1.67 ERA and 99 strikeouts in the circle.
Lyman Memorial senior Katee Meese also had her 100th career hit last week. New Britain's Gabby Roy broke the school hit record and now has 103 career hits.
Congratulations to Gabby Roy for breaking the NBHS record for most career hits in softball.

Last night, she recorded her 103rd hit during the team's 10-0 victory over Wethersfield.

We'll have a full feature story about Roy next week!#HurricanePride #ctsb pic.twitter.com/WaSPm4Drq1

— NB Hurricanes (@NBHurricanes) May 4, 2018
PERFECTION
Final Score:
Stamford 8 Staples 0
Perfect game pitched by Kim Saunders!!#ctsb @fciac @StamfordAD pic.twitter.com/0rg8pQPOYV

— Stamford Softball (@SHSBKSoftball) May 2, 2018
Stamford freshman Kim Saunders notched a perfect game Wednesday, going the distance with eight strikeouts as the Black Knights blanked Staples 8-0.
GAMES TO WATCH
SOUTH WINDSOR AT E.O. SMITH, 3:45 p.m. Monday: Panthers have won seven straight games.
GUILFORD AT CHESHIRE, 4 p.m. Monday: Rams hope to stay undefeated in SCC when Indians visit.
BROOKFIELD AT BARLOW, 4:30 p.m. Thursday: 12-2 Bobcats continue to surprise; a pair of one-run losses from being undefeated
OXFORD AT SEYMOUR, 7 p.m. Friday: Wolverines pushed the No. 1 team in the state in an 8-6 loss earlier this season.
SOUTHINGTON AT WINDSOR, 7 p.m. Friday: Windsor gets its chance to knock off the CCC heavyweight.