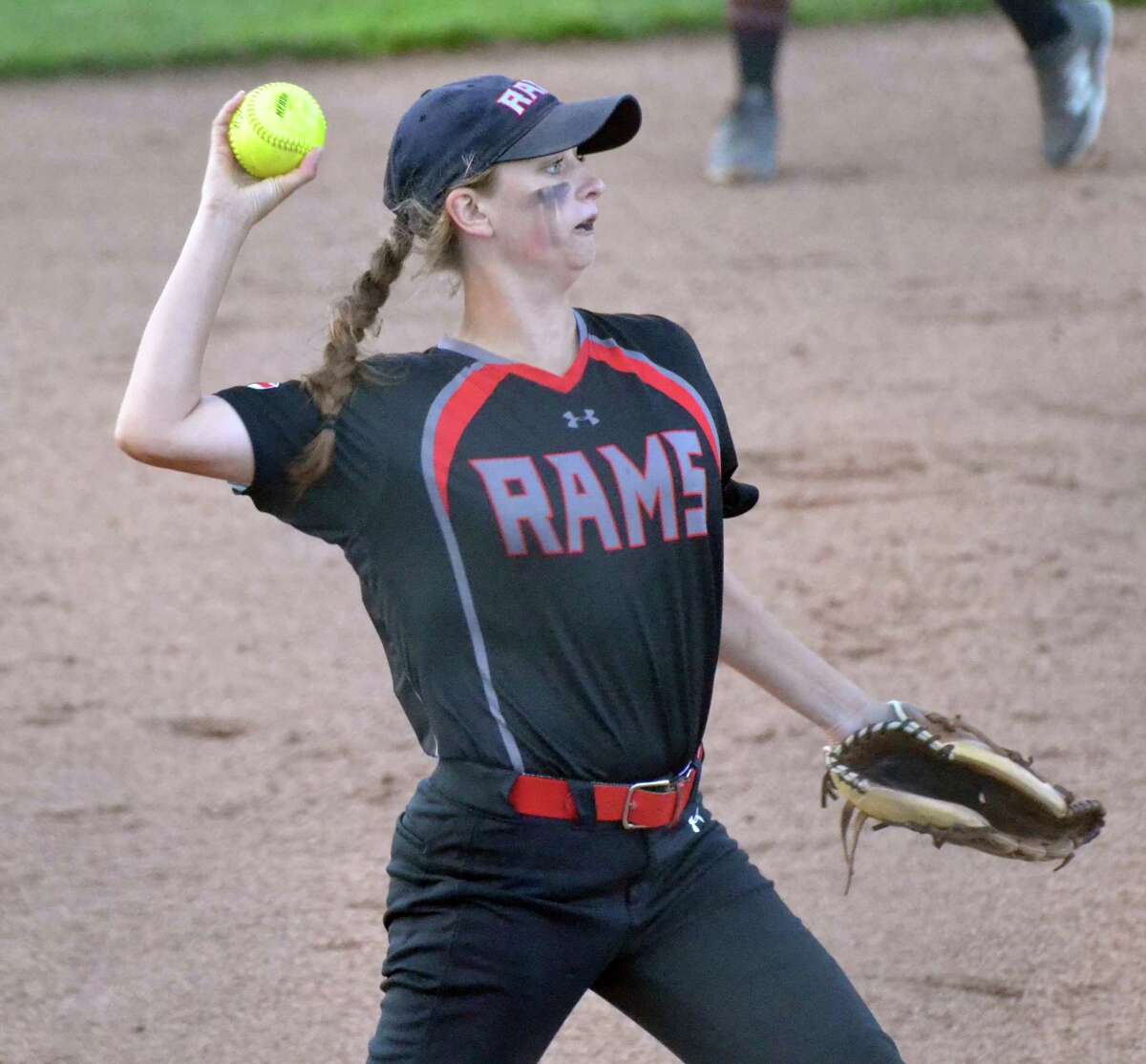 With five seniors and a nice blend of underclassmen, Cheshire appears to have all of the tools to be where it always has been when tournament time arrives.
The Rams went 23-3 a year ago, reaching the Class LL semifinals after a surprise early exit from the SCC tournament. A lot of returnees have been key contributors since their freshmen years and could form something special in 2019.
"It's gone pretty well," said Rams coach Kristine Drust. "We had some unanswered questions going into the season, which is exciting; it leaves the opportunity for new players. We have players stepping up into their roles. The girls are excited."
One of those is junior Ari Perlini, who has power to all fields and plays excellent defense. Lindsey Abramson missed last season with a knee injury but has added a component to the offense, Drust said.
RAMS WIN!!!! #postgameselfie #dingerfordanni pic.twitter.com/iVXrMCkibp

— CHS Ram Softball (@CHSRamsSoftball) April 4, 2019
Senior Mia Juodaitis was an All-SCC selection for both volleyball and basketball this season already, playing with several teammates on the softball diamond. Juodaitis — who scored her 1,000th career point in January — hit .452 a year ago. Many players have played two and three sports together from the youth levels.
"You can see it in their dynamic and camaraderie," Drust said. "On the field it truly is just closeness; they really are sincerely the best group of the girls and I love being around them."
The biggest change comes in the circle where Bri Pearson replaces Natalie Amato, who pitched to a 1.30 ERA with 175 strikeouts in a very competitive SCC. Pearson, a sophomore, displays a maturity beyond her years, Drust said.
"The best part of her game is her composure," Drust said. "She doesn't get too high or low. She's a balance of a power pitcher who keeps you off balance; she's a student of the game."
EARLY DAYS
St. Joseph and Trumbull are each expected to have outstanding regular seasons with a possible collision course in the FCIAC playoffs. Both claimed solid out-of-league wins in the opening week as the Cadets toppled Newtown 6-4 while Trumbull rallied in the seventh to beat Seymour 5-4.
Weather has already played a factor. The showdown between No. 1 Masuk and No. 2 St. Joseph was pushed back to April 20. St. Joseph then had Saturday's showdown with Cheshire postponed to a date TBA.
Masuk, Southington, and Norwich Free Academy breezed through early action while Amity, Seymour and Griswold suffered early losses.
The early winner was North Haven, which has gone 3-0 with each win coming over quality opposition in Norwalk, Coginchaug and Amity. Hartford-bound Lauren Card has emerged as one of the top pitchers in the state and is off to an electric start.
TOP PERFORMANCES
Congrats to Cali Jolley for collecting her 100th career hit in a 10-4 win over crosstown rival Foran #ctsb @JLHSAthletics pic.twitter.com/OWOo7gQL70

— Law Softball (@JLawSoftball) April 3, 2019
Lauren Card, North Haven: Tossed shutouts against Coginchaug and Norwalk to start the season.
Sam Schiebe, Masuk: Pitched a six-inning shutout and went 3-for-3 at the plate in a 12-0 win over Fairfield Ludlowe.
Anna-Maria Groskritz, Granby: Tossed a shutout in an 8-0 win over Rockville.
Angela Grinrod, Stratford: Tossed a no-hitter in a 13-0 win over Bunnell.
Jessica Pereschino, St. Paul: Notched her 100th career hit in a 18-2 win against WCA.
Cali Jolley, Law: Also hit the 100-hit mark in a win against Foran.
Sarah Cote, NFA: A third to join the century banner as the Wildcats beat Stonington 11-4
Alex Ferriouolo, North Haven: Belted a walk-off homer to send her team to a bit 2-1 win over defending Class LL champion Amity.
Shannon Quinn, Danbury: Hit a tie-breaking homer in the sixth to give the Hatters a 2-1 win over Law.
Jessica Persechino celebrated her 100th Hit today in the 18-2 win against WCA #ctsb pic.twitter.com/sVURLORuJo

— St. Paul Softball (@StPaul_Softball) April 4, 2019
GAMES TO WATCH
Southington at Bristol Eastern, Monday, 3:45 p.m.: The Lancers could be a dark horse contender to win Class L. All-State pitcher Erin Girard is strong in the circle for a team that is returning eight starters.
Ludlowe at Danbury, Monday, 4 p.m.: Both hope to challenge the top two in the FCIAC for a conference title; the Falcons claimed a 5-4 win a year ago.
St. Paul at Seymour, Monday, 4:15 p.m.: Falcons were lone team to knock off the Wildcats during the regular season a year ago. St. Paul has put up 39 runs in two early-season wins.
Lewis Mills at Northwestern, Wednesday, 3:45 p.m.: Two of the top teams in the Berkshire League square off. Northwestern has won 33 straight regular season games.
Valley Regional at Coginchaug, Wednesday, 4 p.m.: The Shoreline conference appears there for the taking for any number of schools. North Branford has won the last six titles but that could change.
West Haven at East Haven, Monday 4:15 p.m.: West Haven is off to a 3-0 start for the first time in more than a decade; Yellow Jackets dropped tough decisions to North Branford and Cheshire.