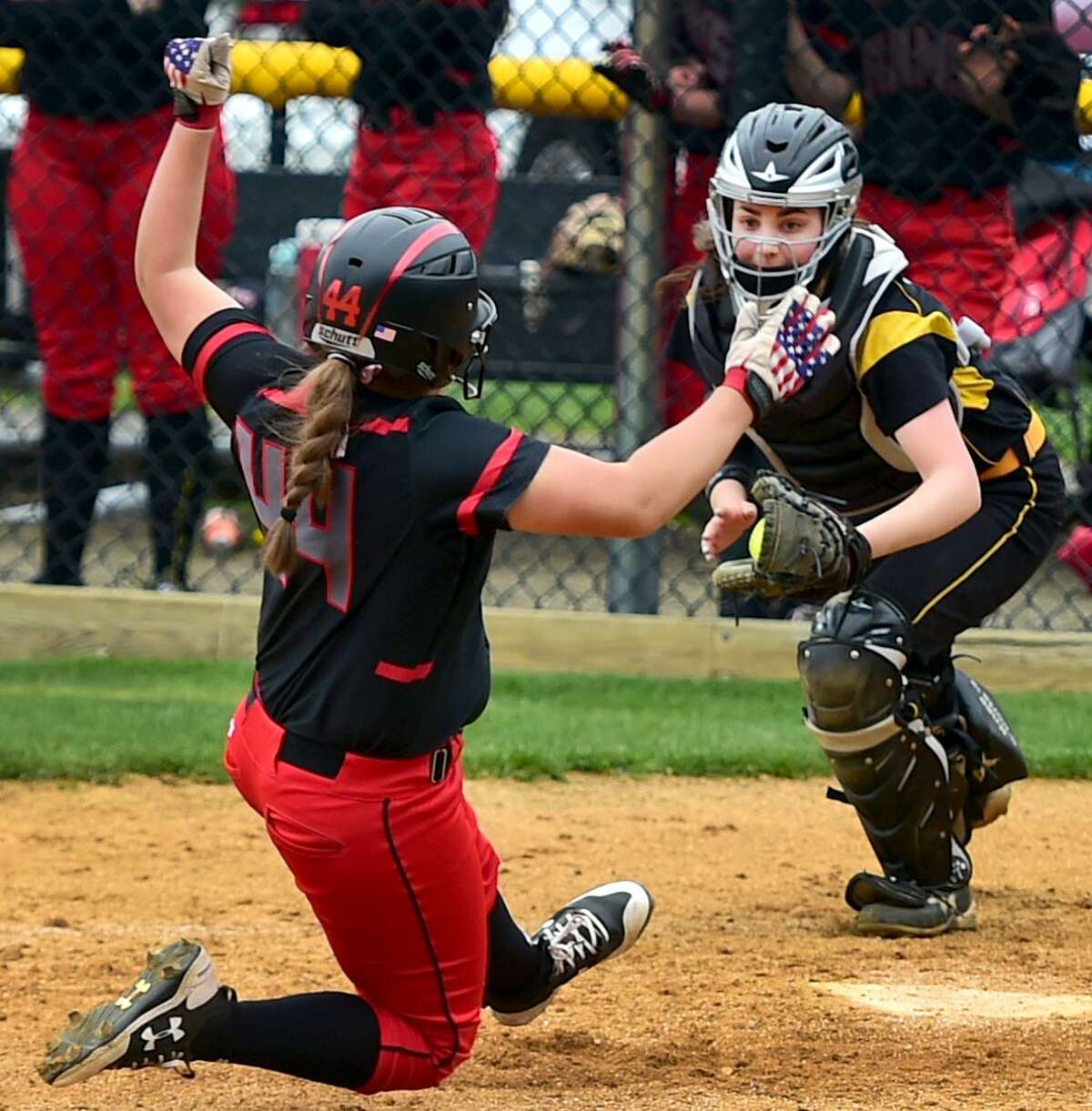 Teams across all the conferences are making their final preparation for the postseason, when hardware will he handed out. While many leagues have clear favorites, or just two teams with a realistic chance of winning, one conference has several.
The SCC features more than a handful of teams capable of winning both conference and state titles, a testament to the sheer depth of the league. One team that accomplished the latter last year continues to lurk after some early-season growing pains.
Amity has won seven of its last eight game games with just one week left in the regular season. The Spartans sit at 12-4 three-quarters of the way through a schedule that features some of the league's best teams. It has been done with a relatively inexperienced roster that was largely turned over from last year's Class LL winning group.
"It's been going very well," said Amity coach Sara Hale. "They jelled early on and it's been coming together. We're trying to take it game-by-game and make those adjustments. Hopefully things start clicking right; if all pistons are firing we'll be hard to beat in the postseason."
Wins usually follow in Woodbridge, though. Amity is No. 8 in the Class LL rankings and will be a tough out in both tournaments. Amity is led by a mostly sophomore and junior lineup with just three seniors on the roster. Third baseman Marissa Dwyer is one of the top players in the conference while senior catcher Rachel Crow is the de-facto leader of the squad.
"Daisy (Brownfield) and Rachel are two of our seniors," Hale said. "They really have put the team on their shoulders. We didn't have to tell them; they just kind of know it's a young team. They're doing a nice job."
The growth of the Spartans can be summed up in 24 hours against their arch rival. Last Tuesday Amity fell 3-0 to Cheshire as Bri Pearson fired a no-hitter. The next day — thanks to an earlier rainout — the Spartans made the necessary adjustments and responded with a 3-2 win. It was the first triumph for Hale over Cheshire.
"It was a cool environment going from playing them away and playing them home back-to-back," Hale said. "I was super proud of my girls; obviously we struggled in the first game but we made adjustments. We saw what (Pearson) was throwing and made suggestions."
Sophomore Kelly Pritchard and junior Abby Fletcher have split time in the circle all season long.
Elsewhere in the SCC, Lyman Hall had a special win Wednesday as its 4-3 triumph over Guilford was a fundraiser for one of the school's teachers.
The Trojans wore Orange ribbons in honor of teacher John Mackey, who is battling Leukemia. Mackey threw out the first pitch of the game and his family attended the game. The game also served as a fundraiser; the proceeds went to the Mackey family.
DOWN TO THREE
With teams wrapping up their regular-season schedule in the next 10 days, there are just two teams that remain undefeated across the state besides No. 1 St. Joseph: No. 4 South Windsor and No. 8 Valley Regional.
The common thread: Ace pitchers who have multiple years of varsity experience with little success for the opposition.
Valley Regional's Addy Bullis and South Windsor's Maria Hanchuk have mowed down batters at an incredible rate so far. Through 14 games Bullis had a 0.74 ERA with 177 strikeouts in 94 innings pitched. She's allowed just seven extra-base hits for the Warriors, who have never won a state title and has just one state final appearance in school history.
It's a similar story with Hanchuk, who through 13 games had a 0.51 ERA with 173 strikeouts in 83 innings. After blanking Southington 5-0, Hanchuk hasn't allowed a run since a 10-2 win over Windsor.
Each are excellent hitters as well for their respective teams. Bullis is hitting .605 with 26 hits while Hanchuk is batting .489 with nine doubles.
FINE PERFORMANCES
Bri Pearson, Cheshire: Threw a no hitter in a 3-0 win over Amity.
Payton Doiron, St. Joseph: Fired a five-inning perfect game perfect game in a 14-0 win over McMahon.
Lauren Card, North Haven: Threw a five-inning perfect game in a 17-0 win over Sheehan.
Maria Hanchuk, South Windsor: Punched out 14 batters in a 5-0 win over Southington. Has fired seven shutouts in a row.
Hannah Lemke, Hale Ray: Hit for the cycle (5-for-5 a double, triple and home run) in a win over Portland.
McKenzie Dayton, New Milford: Went a combined 7-for-7 with three doubles in consecutive wins over Bunnell and Immaculate. The sophomore is hitting .623 this season.
Ava Hampton, St. Paul: Had three hits — including a home run — in a 17-14 win over Woodland. Woodland's Kylie Bulinski had two home runs in the same game.
Addy Bullis, Valley Regional: Fired a one-hitter with 16 strikeouts in a 2-1 win over Cromwell.
GAMES TO WATCH
Hand at Cheshire, Monday, 4 p.m.: Tigers closing season in a flurry, having won entering seven of eight games.
Amity at West Haven, Monday, 7 p.m.: Spartans rebound from being no-hit to down Cheshire; Westies face tough stretch to close season.
Seymour at Holy Cross, Tuesday, 3:45 p.m.: Top seed in the NVL tournament potentially on the line.
St. Paul at Bristol Eastern, Tuesday, 4 p.m.: Battle of Bristol features two quality teams.
Coginchaug at Valley Regional, Tuesday, 4 p.m.: Warriors have edged many of their Shoreline rivals to remain undefeated. Another test awaits against Coginchaug.
Danbury at Trumbull, Wednesday, 4 p.m.: Hatters in a tough battle to get a home game in the FCIAC tournament.
Montville at Norwich Free Academy, Thursday: 4 p.m.: ECC heavyweights line up against one another before conference tournament.
Amity at East Haven, Saturday, 11:30 a.m.: Spartans close brutal week against another quality SCC foe before Monday's quarterfinals.