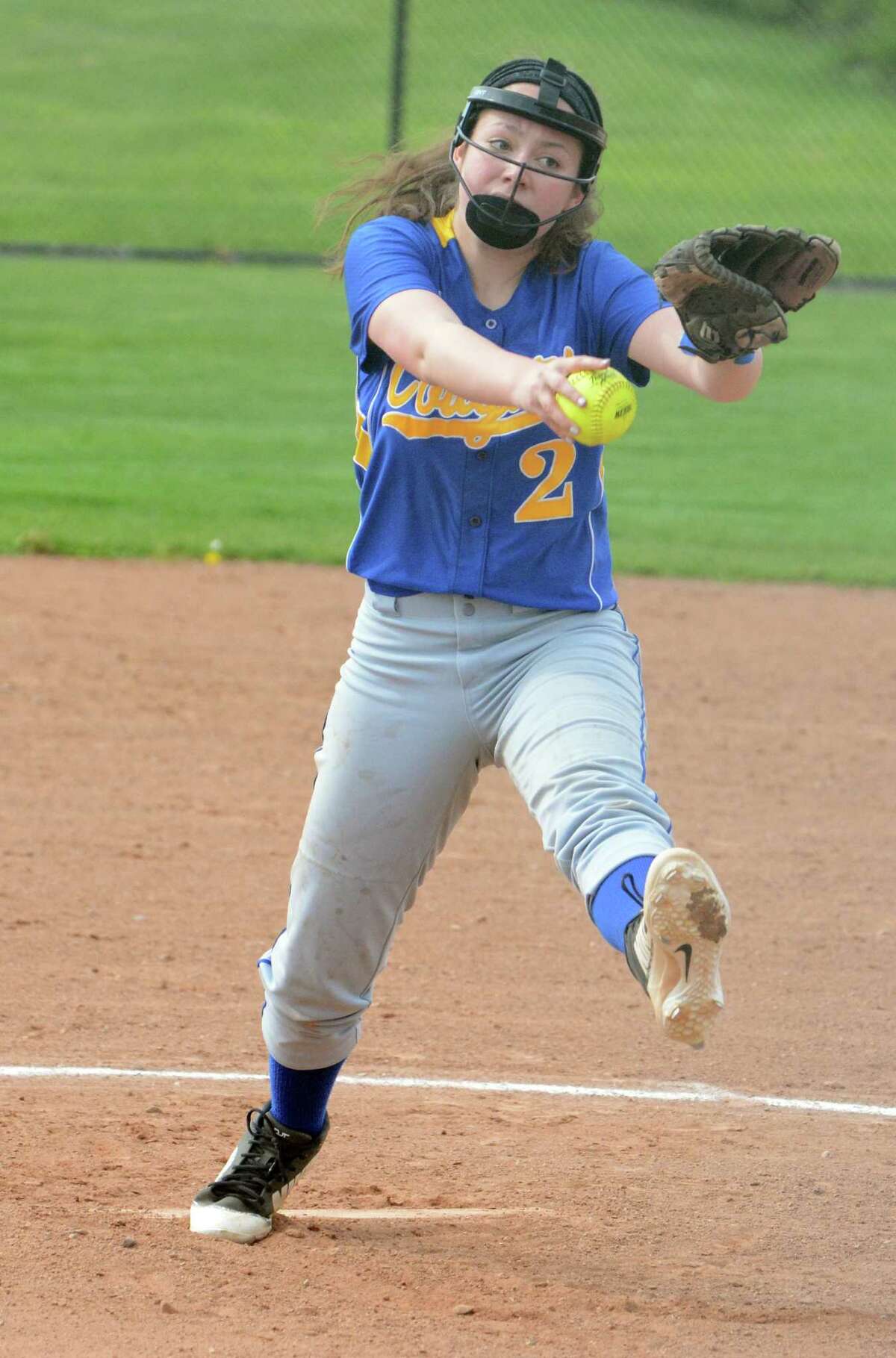 NORTH BRANFORD — Add another team to the growing list of those that have found out giving North Branford an early lead is going to make it impossible to win.
Not with Sydney Senerchia on the mound for the Thunderbirds.
Haddam-Killingworth joined that club Friday when North Branford scored three runs in the bottom of the first inning en route to a 6-1 Shoreline Conference softball victory over the Cougars. The Thunderbirds (ranked fourth in the GametimeCT.com state softball poll) are now 17-0 this spring.
In a scheduling oddity, it was the second time in three days that North Branford played Haddam-Killingworth. The Thunderbirds won Wednesday, 4-0. Before Friday's game, North Branford coach Nick DeLizio told his team that he wanted to jump on top of Haddam-Killingworth early.
They did just that as Jada Miconi reached on an infield single to lead off the bottom of the first and Olivia Hemstock followed with a run-scoring double to leftcenter to make it 1-0. After Kayla Despres brought home Hemstock with a sacrifice fly, Katy Pedersen scored from third on an error.
"We wanted to establish the lead early and pick up where we left off (Wednesday)," DeLizio said. "They played us very deep at their place, but they were limited to the fence line today and we found the gaps."
"We gave up single runs Wednesday and were never really out of it," Haddam-Killingworth coach Jeff Talbot said. "If you give them three early runs, you're in trouble. Take them away and it's a 3-1 game."
Miconi singled and Hemstock doubled her in again with two outs in the second inning to make it 4-0.
Haddam-Killingworth came right back in the top of third inning to do something no other team had done in all 13 of Senerchia's starts this spring. They scored an earned run.
Amanda Minervino double and went to third on a fielders' choice. Ali Hannigan then singled to center to plate the first earned run against Senerchia (14-0) of the season.
After that, Senerchia was practically unhittable. She allowed just a Minervino single in the fifth inning, while she struck out 11 of the final 15 batters of the game. She had a total of 14 punchouts in the contest.
"That probably irked her a little bit," DeLizio said. "She started bringing it and you could see the speed was increasing in the game as she worked off the fastball."
The Thunderbirds tacked on a pair of runs in the fifth inning as Katy Pedersen singled in Hemstock, who had walked, Senerchia then helped herself with a run-scoring single to close out the scoring.
Haddam-Killingworth fell to 9-7 with its fourth consecutive defeat.
"We just played three games with teams that are undefeated in Northwestern and North Branford twice," Talbot said. "We lost to Cromwell Monday by a run. I know it's four in a row, but it's all against good teams."
NORTH BRANFORD 6, H-K 1
(at North Branford)
HK 001 000 0—1 6 1
NO. BRANFORD 310 020 x—6 10 0
Records: HK, 9-7. North Branford, 17-0. Batteries: HK – Brooke LaTouche, Adelle Biondi (6) and Faith Mauri. NB – Sydney Senerchia and Kayla Despres. 2B: HK – Amanda Minervino, Faith Mauri. NB – Olivia Hemstock (2), Angelina Ramada. RBI: HK – Ali Hannigan. NB – Hemstock (2), Despres, Senerchia, Katy Pedersen. Winning pitcher: Senerchia (14-0). Losing pitcher: LaTouche.