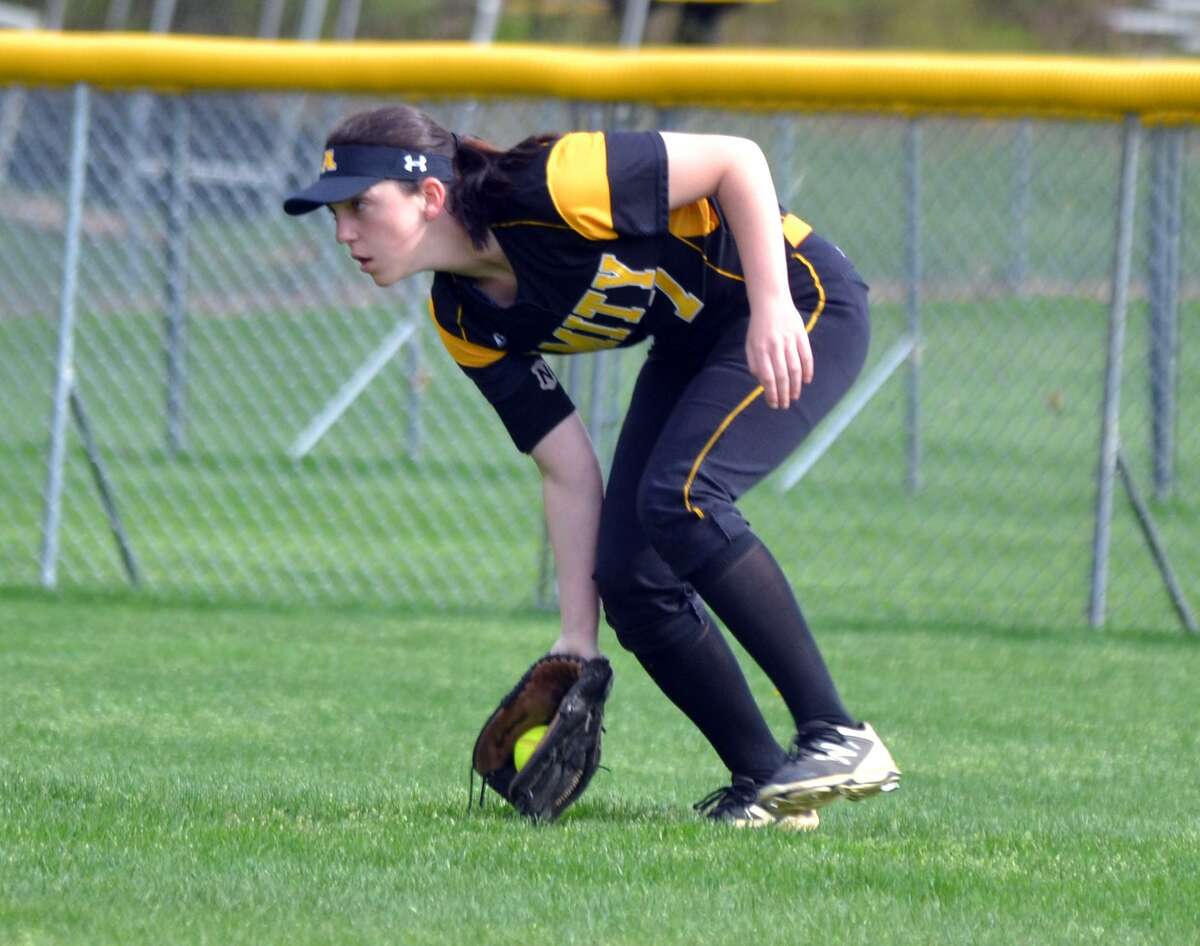 WOODBRIDGE — Amity freshman Kelly Pritchard only faced one batter in her team's matchup against SCC rival Hand in a back-and-forth game Saturday, but it was in the highest of pressure moments.
The third Spartans pitcher of the day threw two strikes followed by three balls, but got cleanup hitter Abigail Geshwind — the potential tying runner — to pop out to preserve a 7-5 win. Amity (12-2) handed the Tigers (12-1) their first loss and avenged an 11-10 defeat in its season-opener.
In a game with hard hits all over — and out of — the field, Amity escaped against the top of the Tigers' lineup in the seventh unscathed. Spartans reliever Grace Whitman retired two batters — including one that was snared by shortstop Nicole Koshes — before yielding a double, which prompted Pritchard to enter the game.
"For a freshman to come in seventh inning and the last out was crucial," said Amity coach Sara Hale. "That's going to build up her confidence; she can take it and go far for us. The two outs for Grace was big for us, too."
Amity tops Hand 7-5 to give Tigers first loss #ctsb pic.twitter.com/omsXoRPsQR

— Ryan Lacey (@RyanLacey11) May 5, 2018
Amity belted three home runs, including a two-run shot from Marissa Dwyer that punctuated a five-run third inning. Brooke Matyasovsky and Danielle Nordyk hit solo shots for the Spartans, who allowed two runs in the first before grabbing a 6-2 lead.
"I think we were seeing the ball and we talked after each pitch," Matyasovsky said. "I think that we were all up and everyone on the bench was helping us at the plate."
Hand — which got two runs in the first on a sac fly and wild pitch but ran into two outs on the basepaths — chipped away at the lead, including an RBI single from Taylor Leckey in the sixth that made it 7-5. Hand left runners on second and third in the frame, though, squandering a chance to get level.
Carly Marchitto gets a two run single Amity leads 3-2 in the third #ctsb pic.twitter.com/Hz13YIKTbz

— Ryan Lacey (@RyanLacey11) May 5, 2018
"We left too many people on base today," Hand coach Mike Niekrash said. "Especially early in the game was had baserunning blunders; it's high school softball, these things happen. (Koshes' catch in the seventh) was the key play in the game, really. One inch higher and that's a triple; she made a great play."
Koshes made all three putouts in the seventh to preserve the win.
"You have to give Amity a lot of credit, they pounded the ball today," Niekrash said.
RBI single for Taylor Leckey cuts Hand deficit to 7-5 #ctsb pic.twitter.com/3ER5hBAlCD

— Ryan Lacey (@RyanLacey11) May 5, 2018
PLAYER OF THE GAME
Brooke Matyasovsky, Amity: One of several Spartans who hit the ball hard each time they came to the plate. Went 2-for-3 with a double and home run.
QUOTABLE
"We are a good hitting team and we've been hitting well," Matyasovsky said. "There's not a bad part of the order so it's tough all the way through."
AMITY 7, HAND 5
HAND200 111 0 — 5 8 1
AMITY105 100 X — 7 10 1
Batteries: DH—Abigail Geshwind (L) and Lily Arida; A— Abigail Fletcher, Grace Whitman, Kelly Pritchard and Jillian Ciccarelli. Highlights: DH—Christina Coric had three hits, including an RBI double. A—Brooke Matyasovsky went 2-for-3 with a home run and double. Carly Marchitto had a two-run single. Danielle Nordyk and Marissa Dwyer hit home runs Records: Hand 12-1, Amity 12-2.